10 Essential Eats in Milan, Italy
Most travelers pass through Milan for a night or two during at the start or end of a tour in Italy, flying in or out of Malpensa airport. They view Leonardo Da Vinci's "Last Supper," visit the Duomo, eat in the Galleria Vittorio Emanuele II, stroll around the Brera and believe they have seen Milan. Nothing could be farther from the truth. The real Milan is hidden. To love it, one must know and live the literal and figurative city of giant closed doors and spectacular interior courtyards.
Traditional Milanese cuisine is rich: not only because of the widespread use of butter, but because Milan has always been one of Italy's most affluent cities. The most iconic dishes of Milanese cuisine reflect the luxurious tastes of its upper class. Saffron — an ingredient pricier than gold — sets the Milanese risotto apart from the competition, while cotoletta calls for veal, making it the single most expensive item on a traditional Milanese menu. Some of the most popular dishes, however, are more humble, such as the ubiquitous polenta and minestrone, a rustic vegetable soup.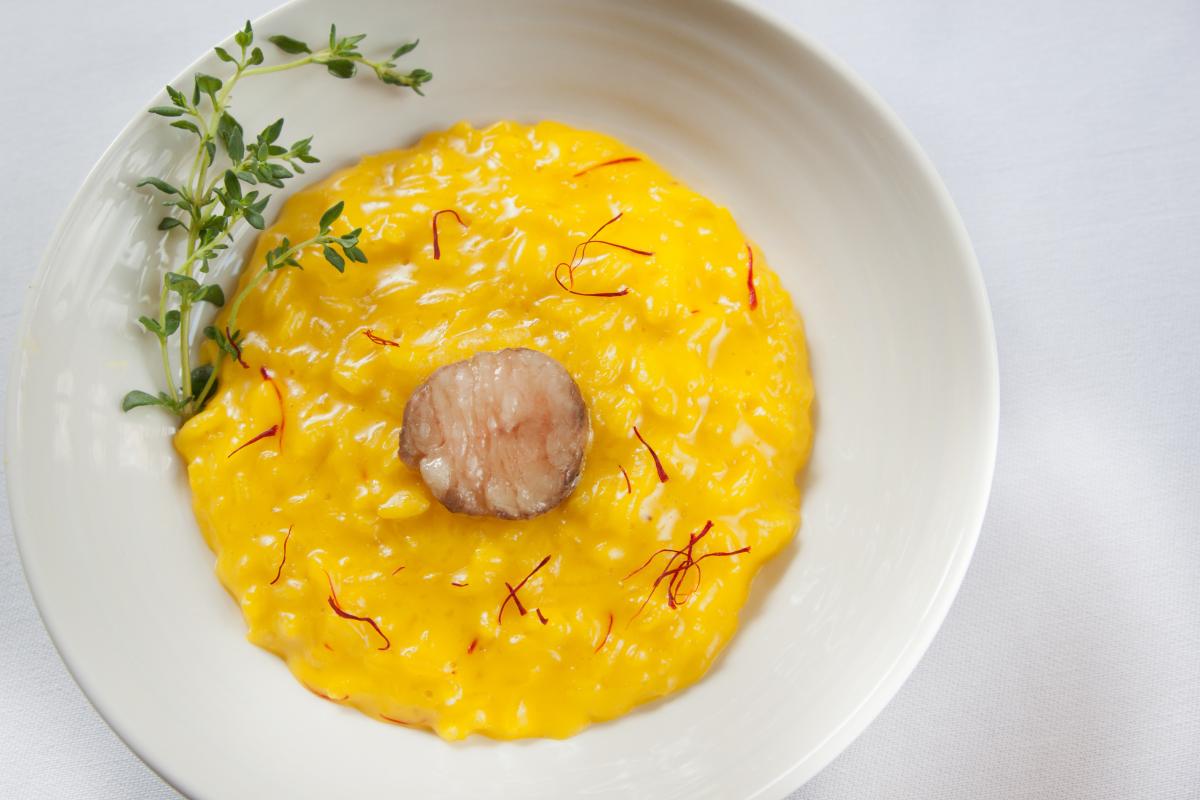 Saffron Risotto @ Ratanà / Image courtsey of saucemilan.com
The beautiful 19th-century industrial building that houses Ratanà is not unlike the old man's house in the movieUp," the only remaining historical construction in a neighborhood razed to the ground and completely rebuilt to become the futuristic Isola-Garibaldi project. The name of the restaurant is itself a tribute to the old times: Ratanà was the nickname of a half-priest, half-healer who cured the poor people of the quarter more than 100 years ago. Born and bred Milanese chef Cesare Battisti offers a modern take on Lombardy's traditional recipes. The saffron risotto here is arguably the best the city has to offer. The creaminess (thanks to copious amounts of butter), coupled with the flawlessly cooked top-notch riso carnaroli by Riserva San Massimo, makes for textural perfection.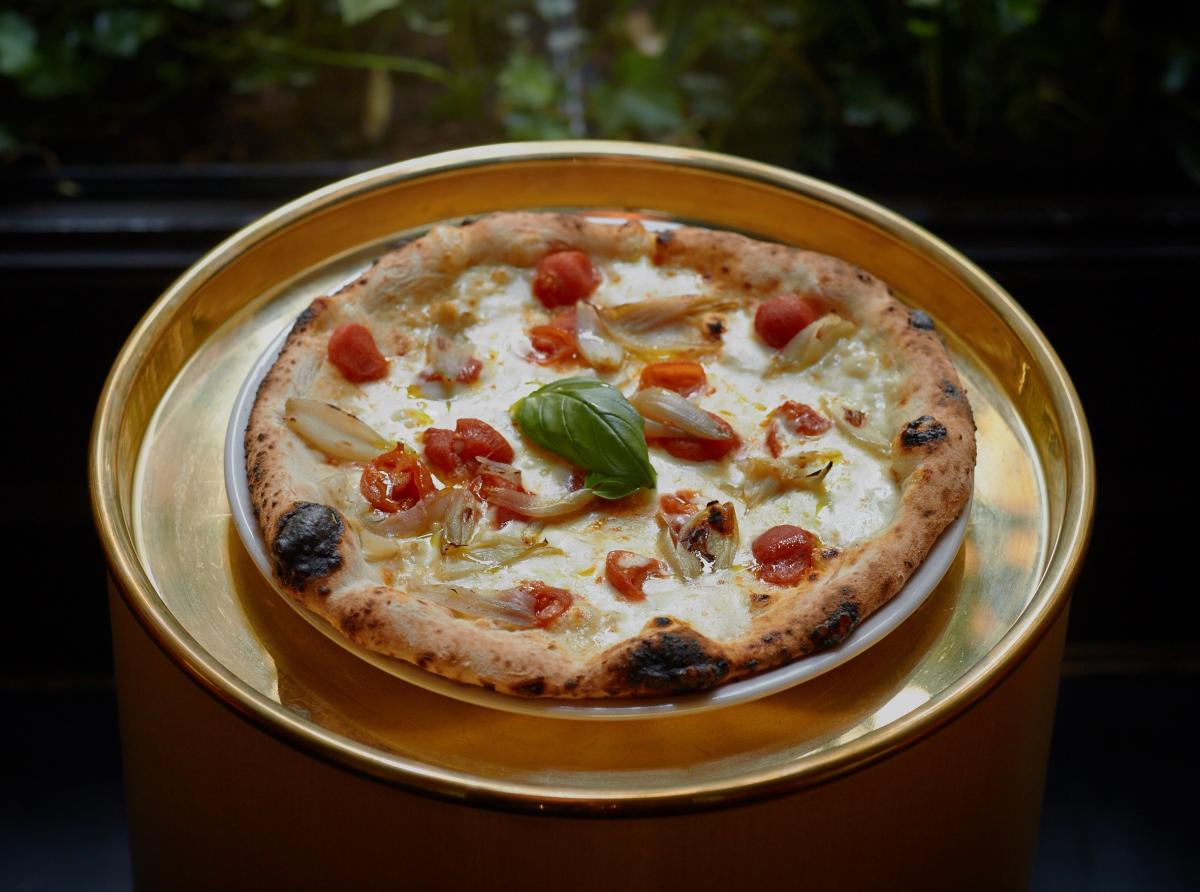 Pizza Marinara @ Dry Milano / Image courtesy of saucemilan.com
Even in Italy, finding really good pizza is hard. Despite what Neapolitans would like you to believe, it's not about having the perfect water. The No. 1 rule? The dough — not the toppings — is what pizza is all about, and Dry Milano's delicate, flavorful dough is exactly what makes its pizza stand out. By the way, pizza is just half of what makes this sleek, industrial-chic venue popular: Dry serves outstanding Prohibition-era cocktails. Call ahead or be prepared to wait in a line of beautiful Milanese. The people-watching will keep you busy. Go for a "less is more" approach and try the pizza marinara, with just tomato sauce and garlic.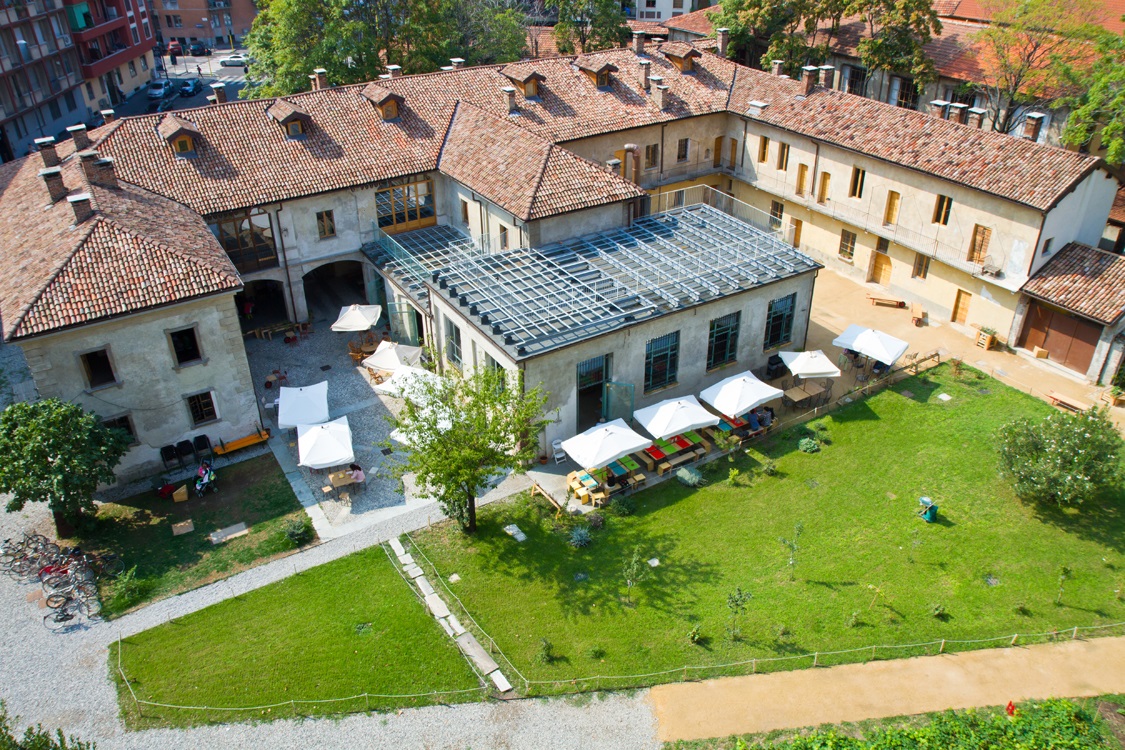 Homemade Spaghetti @ Un Posto a Milano / Image courtesy of saucemilan.com
Visiting Milan today, it's difficult to imagine that until a century ago, parts of the city now almost central were considered "countryside." Yet Cascina Cuccagna, an 18th-century farmhouse, offers proof. Three years ago, following an extensive renovation, the Cascina reopened to the public with one of the most interesting restaurants in town, Un Posto a Milano — literally, "a place in Milan" (quite the understatement). Un Posto a Milano serves unpretentious farm-to-table food, always fresh and delicious, with a lot of vegetarian options and a focus on local ingredients. As soon as the weather warms up, the beautiful courtyard with its vegetable garden becomes one of the most frequented places in town. The homemade spaghetti with squid ink, julienned squid, garlic, oil and a chilli peppers is a must-try.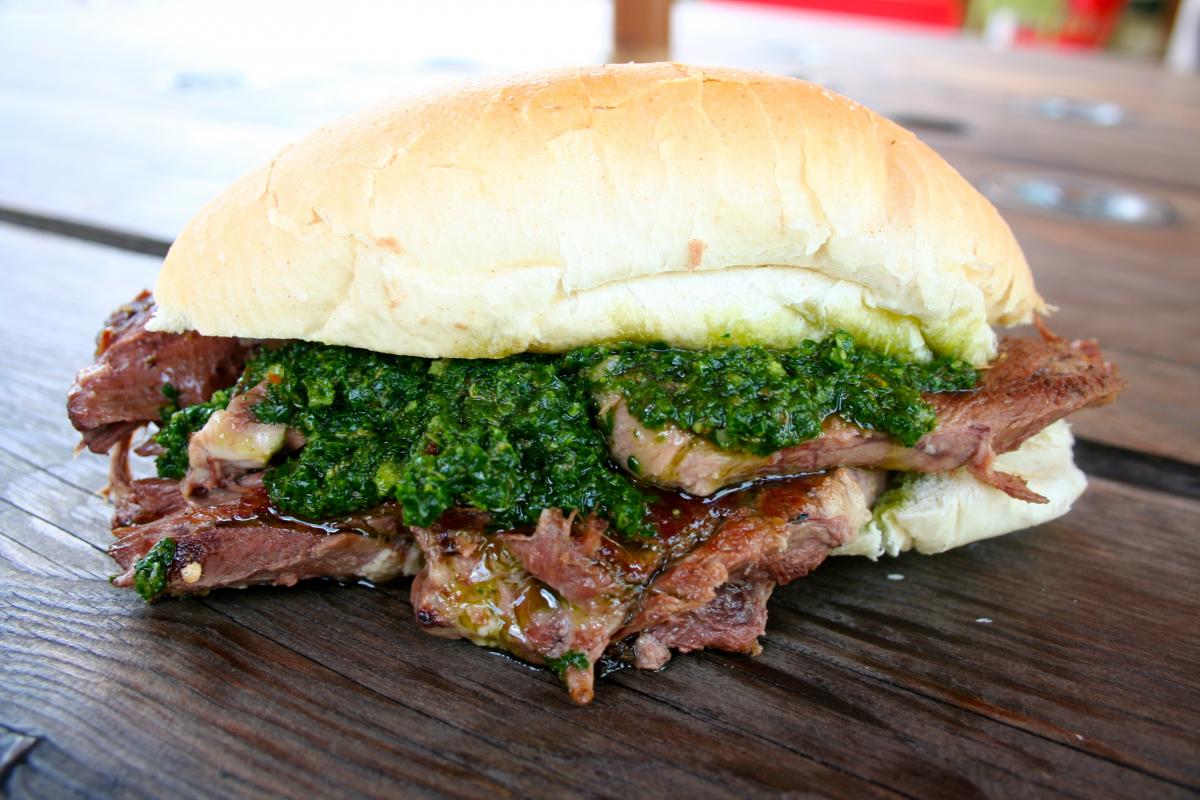 Panino Con Lampredotto @ Mangiari di Strada / Image courtesy of saucemilan.com
Getting here is certainly not easy, but a street-food paradise awaits you at the end of the onerous trek to the outskirts of Milan. Take your pick from chef Giuseppe Zen's glorious array of street-food specialties that span all of Italy: from north - such as jota, a bean-and-sauerkraut soup typical of Trieste – to south - fried Neapolitan pizza. Because it's open only for lunch, it is best to arrive early, as seats can be few and far between, particularly during the cooler months, when the outdoor garden is closed. Once you score a table, order the panino con lampredotto. Made with beef tripe, a cow's fourth stomach, this sandwich is a street-food staple in Florence.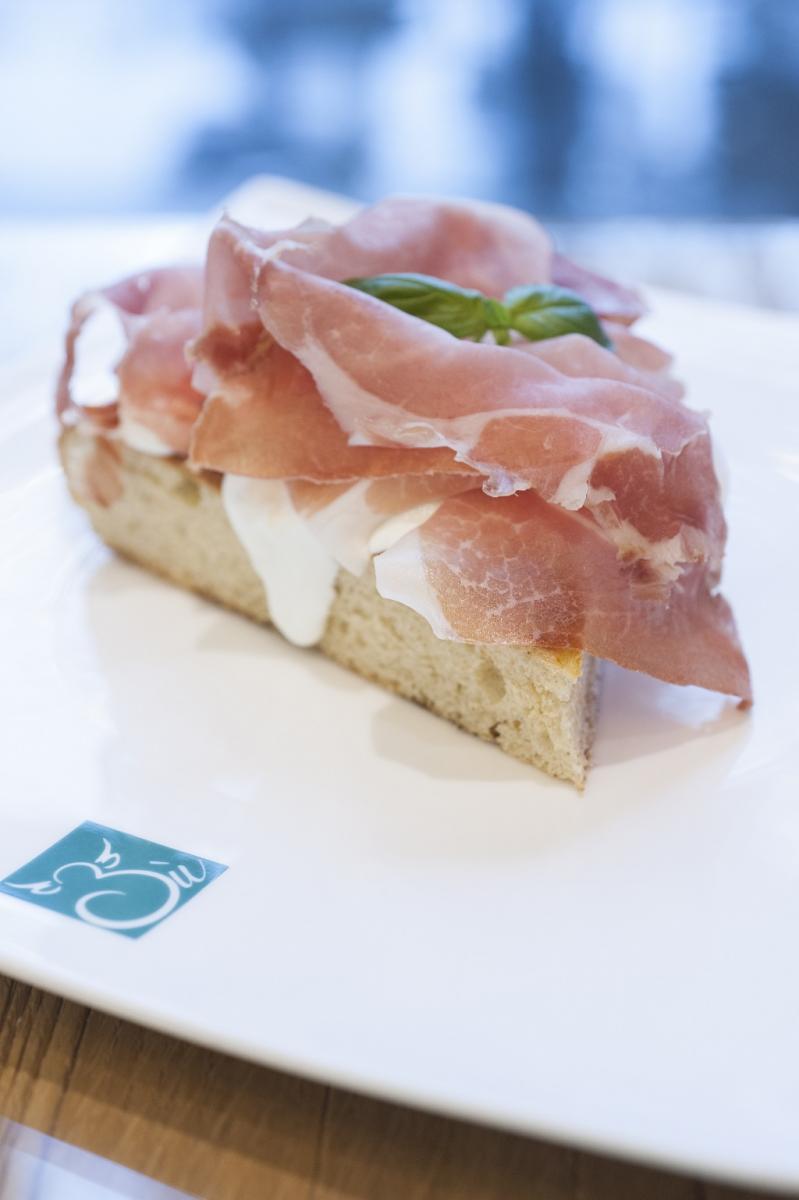 Focaccia @ LadyBù / Image courtesy of saucemilan.com
The cheese doesn't stand alone, but it certainly steals the spotlight at LadyBù, a collaboration between the chefs of Il Luogo di Aimo e Nadia and Anteo, a mozzarella producer in Lazio. Chef Nico Rizzi, an Aimo e Nadia alum, serves crave-worthy dairy-centric dishes you will mull over long after the cows — or in LadyBù's case, the buffalos — have come home. One of the few places in Milan offering excellent bang for your buck, the generously portioned pastas don't exceed €12. You'd be remiss if you didn't start with the stracciatella- and prosciutto-topped house-made focaccia.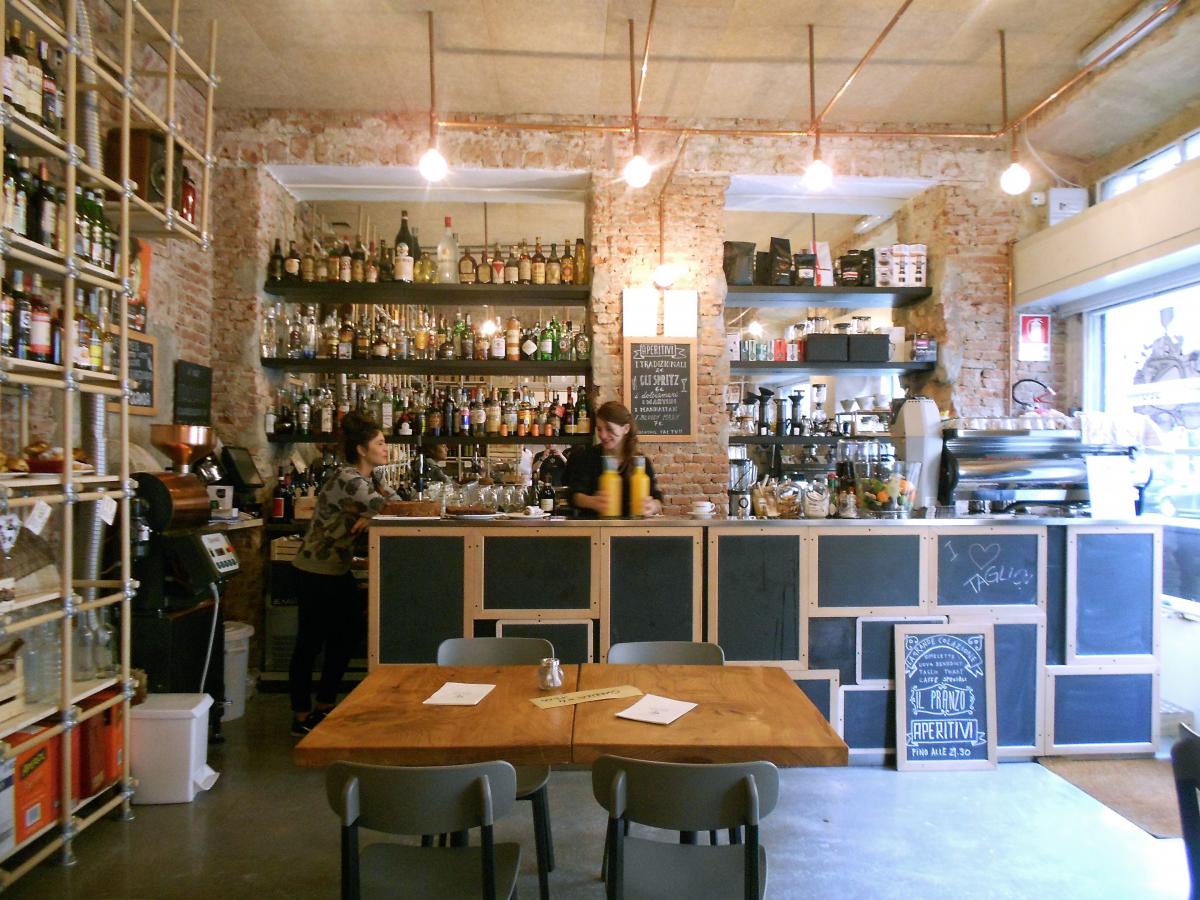 Pane e Salame @ Taglio / Image courtesy of saucemilan.com
This restaurant and gourmet shop has been a welcome addition to Milan's food scene since its 2013 opening. Open all day, Taglio offers breakfast, lunch and dinner as well as an aperitivo, or you can pop in for what is Milan's best cup of coffee mid-day. The menu includes Eggs Benedict for breakfast, risotto alla Milanese, eggplant parmigiana and cotoletta sbagliata, a traditional Milanese cutlet made with pork instead of veal. You'll find a number of quality meat and cheese plates for aperitivo and the wine list features a thoughtful selection of small -- mostly natural and biodynamic -- Italian producers. Pair a glass with the pane e salame ("bread and salami"). It is such a basic and simple plate that the Milanese use the expression as a colloquial descriptor for something or someone that is — well — basic and simple. Traditionally, bread and salami is a popular after-school nosh for partakers of the merenda, a cherished Italian mid-afternoon snack ritual.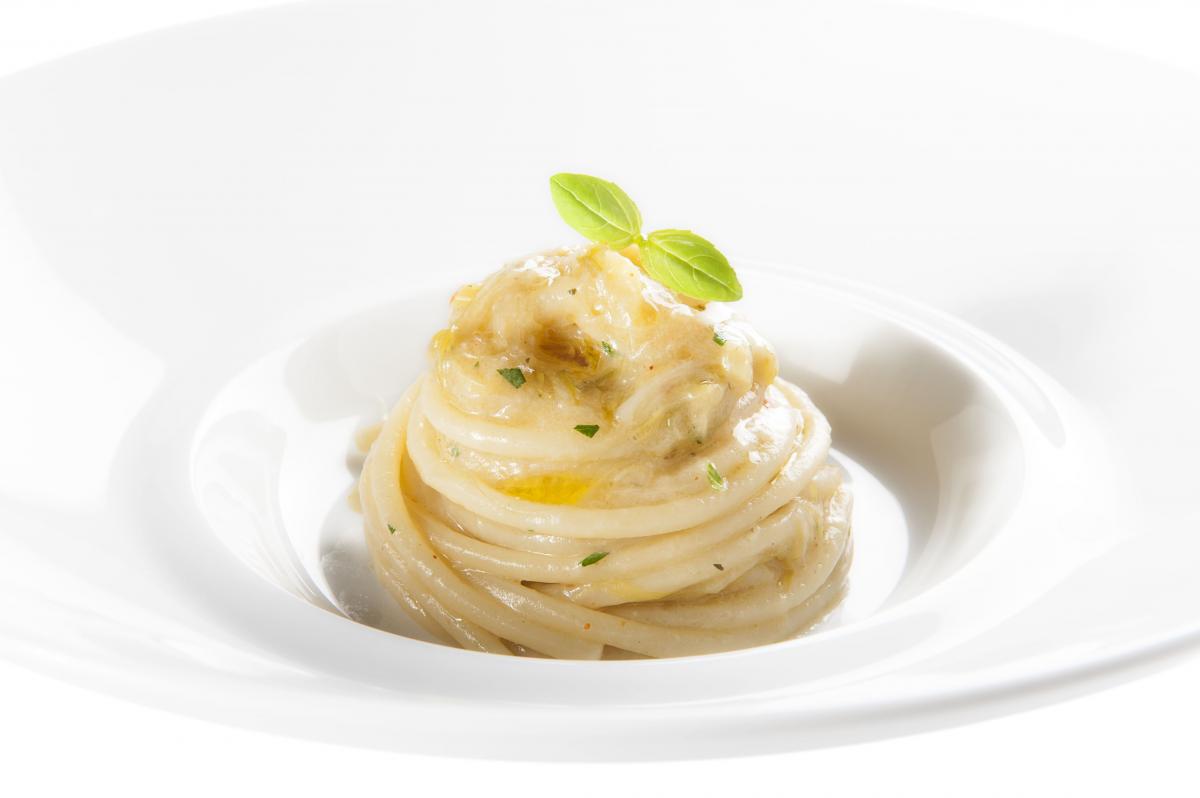 Spring Onion Spaghetti @ Il Luogo di Aimo e Nadia / Image courtesy of saucemilan.com
Chef Aimo Moroni and his wife, Nadia, made history in 1962 when they launched what became their venerated Michelin two-starred restaurant. The affable 81-year-old Aimo, today a regular dining-room presence, has passed the torch on to his daughter, Stefania, while chefs Fabio Pisani and Alessandro Negrini oversee the kitchen. Their elegant, regionally inspired Italian menu includes sweet rhubarb ravioli as well as "Etrurian" soup with vegetables of the season, legumes, whole Tuscan farro wheat, aromatic herbs and dried wild fennel flowers. The fine-dining restaurant swings to the pricier side of the spectrum but is worth every euro. Aimo Moroni added the spring onion spaghetti to the menu at his restaurant approximately 40 years ago, and it is still a highlight of any meal there.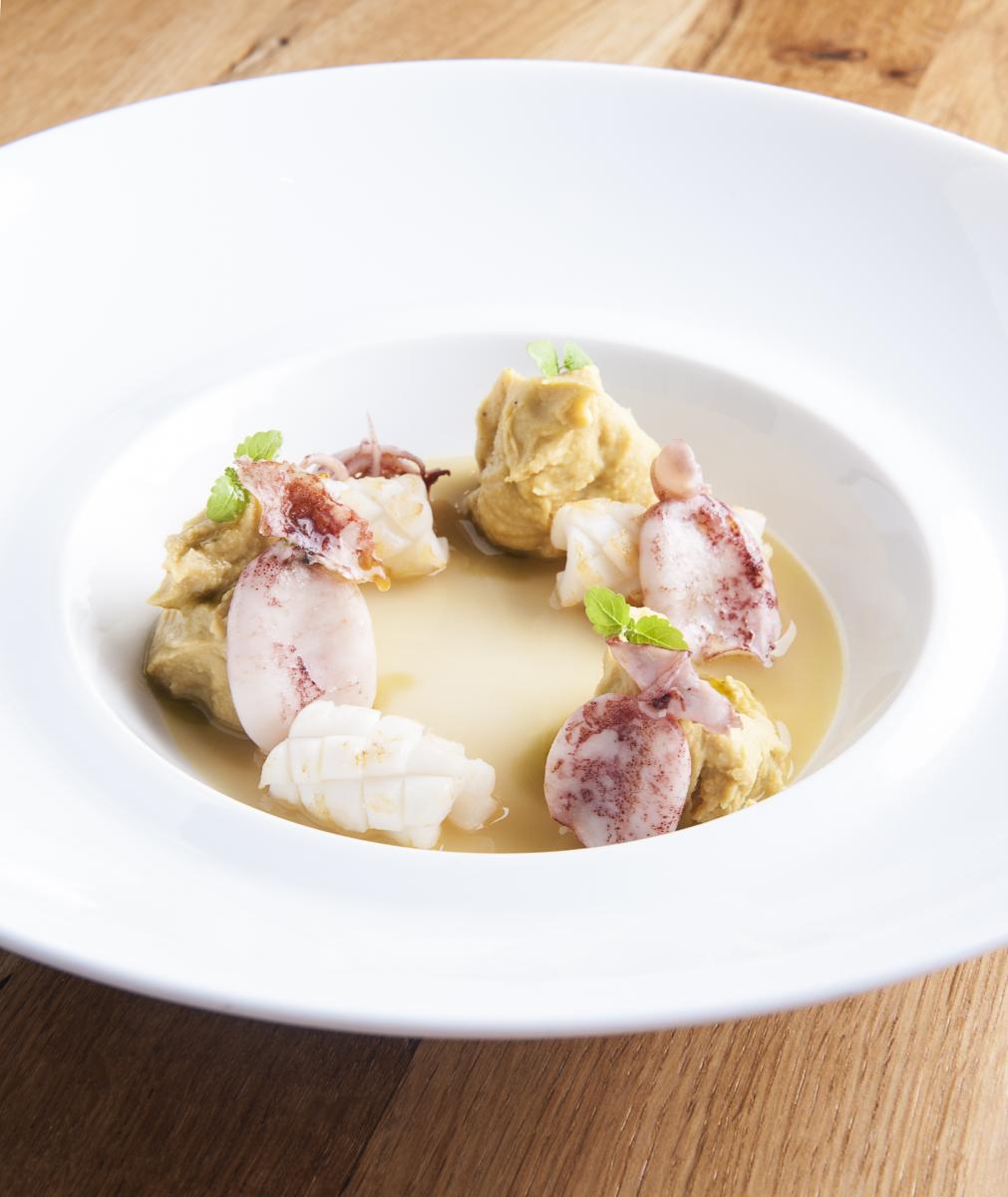 Rosemary's Ceci @ Alice / Image courtesy of saucemilan.com
Alice, Italian for anchovy, is a Michelin-starred labor of love between longtime friends and collaborators Viviana Varese and her dining-room chef consort, sommelier Sandra Ciciriello. For both of them, a fondness for fish flourished at an early age — Varese at her family's Salerno seafood restaurant and Ciciriello at Milan's esteemed fish market. Their enthusiasm for their craft radiates from a menu that showcases imaginative Mediterranean-inspired seafood such as "Pis + Love," a take on pasta e fagioli with mussels and octopus. A must-try: Rosemary's Ceci, a chickpea curry with rosemary extract, blanched squid and squid broth.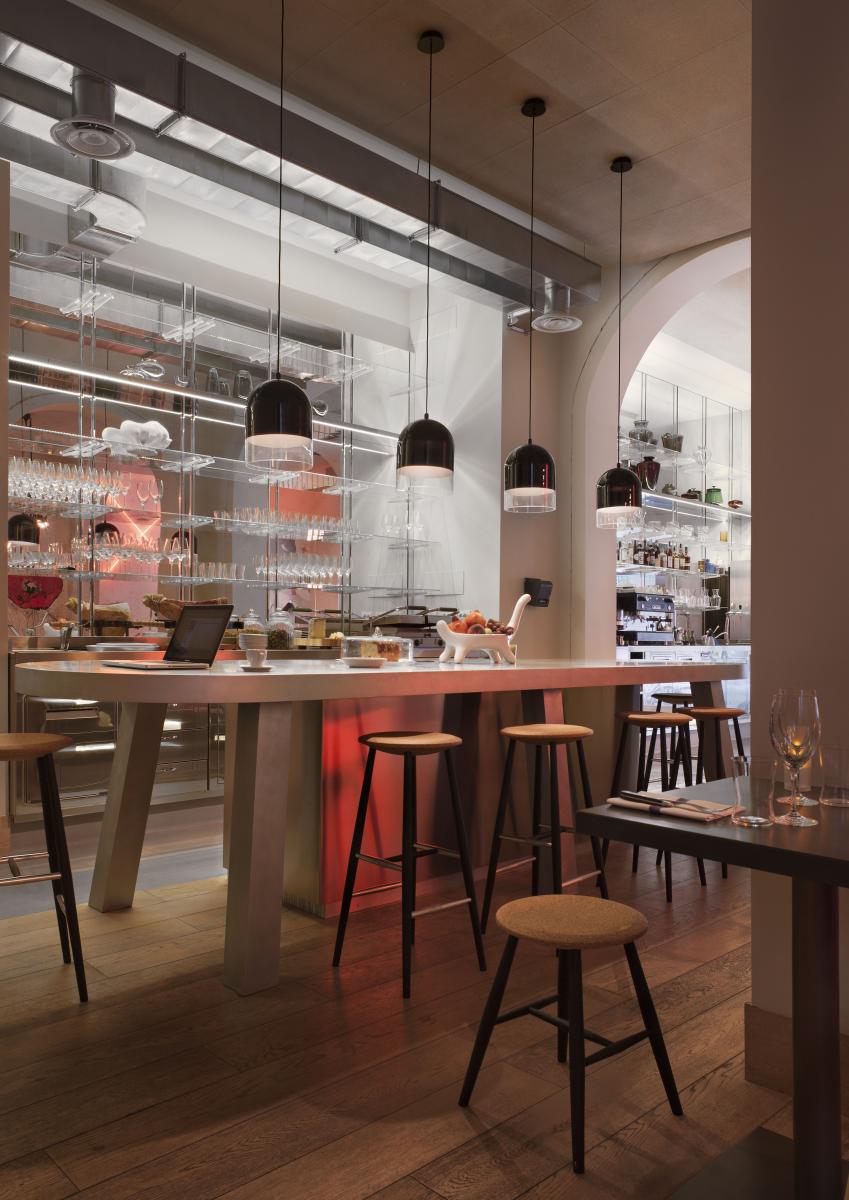 Hamburger Berton @ Pisacco / Image courtesy of saucemilan.com
Pisacco is a contemporary Italian bistro, offering some of the best value-for-money in town. Take your pick from a number of appealing dishes, such as a small roasted chicken with baked potatoes, mortadella ravioli with pistachios and Parmesan broth, octopus with nettles and buffalo ricotta. Arguably the best option in town for aperitivo, drop in between 7 and 8 p.m. for a spread like no other. Appetizers include jars of house-preserved vegetables in oil and vinegar, including bok choy, thistles, pumpkin, Romanesco cabbage, turnips and fennel. Then theres Parmesan potato chips, paprika-caramel popcorn, marinated veal breast, mustard sandwiches, seared tuna with guacamole, Cantabrian anchovies with butter and much, much more. While you're there, order one of the most popular burgers in Milan. The Hamburger Berton, with homemade bread and mayonnaise showcases the very best beef, is named after the revered chef Andrea Berton, one of the restaurant's partners.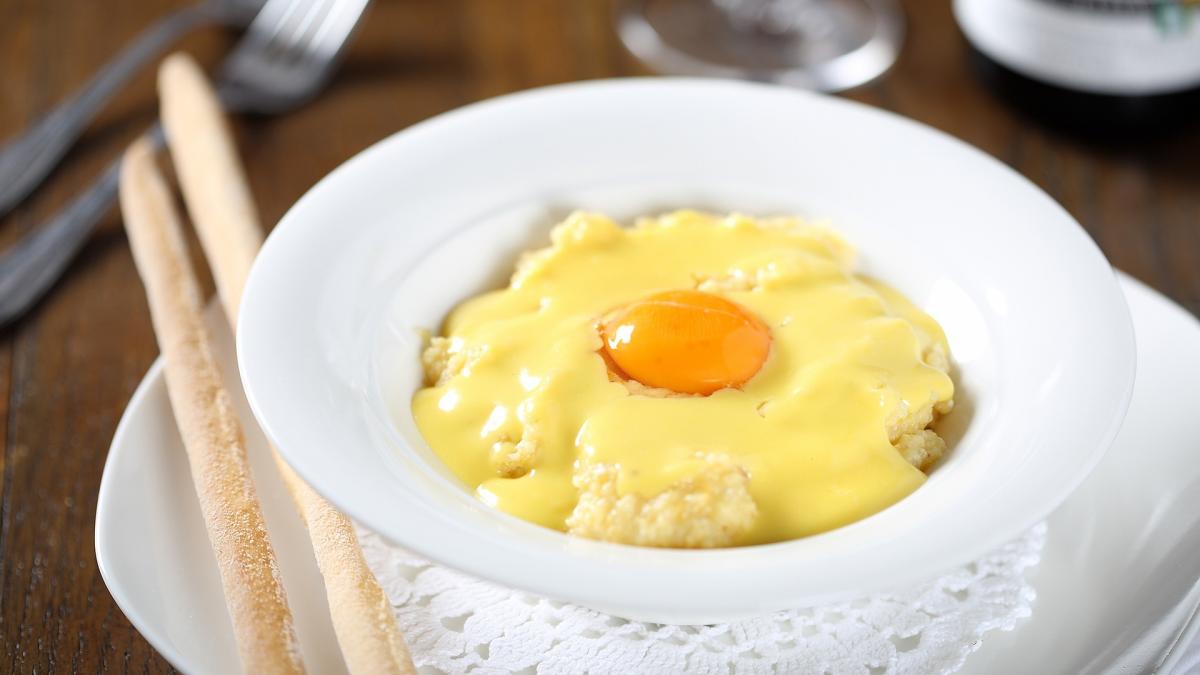 Pasta and Borlotti Bean Soup @ Trattoria Masuelli San Marco / Image courtesy of saucemilan.com
Masuelli San Marco is a delightful old-style trattoria still managed — with enviable stamina — by the elderly Pino Masuelli. Founded in 1921, this restaurant has been serving some of the best classical Milanese cuisine the city has to offer for close to a century. Their polenta - a beloved wintertime recipe - takes hours of continuous stirring to cook it to the point where it's fragrant and unctuous to perfection, and despite normally being just a side to a main meat course, here the polenta shines when prepared with raw egg yolk and Raschera cheese fondue. A must-try: the restaurant's terrific pasta and borlotti bean soup, served with "a standing spoon" (because of the thickness).
Meet the author