San Miguel de Allende's Essential Eats
For years, San Miguel de Allende, a magical city in central Mexico known for its exquisite light, has lured artists and photographers from all over the world. Today, San Miguel is attracting a new type of visitor: the food lover. Recognized as one of the "Best Cities in the World" by Conde Nast Traveler and CNN, San Miguel's profile has changed in recent years with the arrival of a number of talented chefs from Mexico City and the filming of the popular TV show "Top Chef" in San Miguel earlier this year.

San Miguel now hosts two major food shows each year: Sabores San Miguel and the SMA Food Festival. You no longer have to travel to nearby Mexico City to get great food. With a mix of sophistication and simplicity, you can savor everything from international and gourmet cuisine to savory local fare. These picks will give you a flavor for why we think San Miguel's status as the newest culinary center in Mexico is so fitting for a town that, first and foremost, loves to eat. Buen apetito!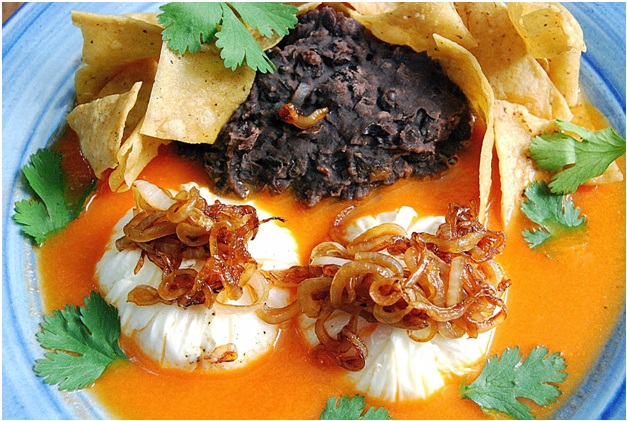 Courtesy of cupcakesandcrablegs.com
When the city comes alive in the magical light of morning, there is no better way to start your day than with a plate of Huevos Rancheros from Lavanda Cafe. After all, breakfast is the specialty of the house and every dish is as beautiful and flavorsome as this one. Karla Becerra Martinez, the chef and a graphic designer by training, is masterfully creating some of the most beautiful and delicious dishes in San Miguel. She has incorporated many of her mother's recipes into the mix, including this ranchero sauce. Don't these perfectly poached eggs look like little balls of Oaxaca cheese? After the eggs are poached, they are placed on corn tortillas, topped with a sweet, semi-fiery red-chili sauce, then garnished with a pile of red caramelized onions Hungry travelers make this spot a morning ritual.

Courtesy of cupcakesandcrablegs.com
There is a holiday almost every week in Mexico and the dish that's served for holiday meals and at weddings, quinceañeras and birthdays is Pozole. Pozole, which means "hominy," is a traditional pre-Columbian soup or stew from Mexico. This deep-rooted culinary tradition is made at La Pozoleria with chicken or pork, pepitas, tomatillos, epazote, spice and a handful of jalapenos. A cure-all, the medicinal brew once had ritual significance. La Pozoleria makes you feel like you're exactly where you should be when you sit down to eat a bowl of soup … at home. As the pozole simmers, an open kitchen allows the scents to fill this restaurant with everything that reminds you how comforting a bowl of soup is, no matter how perfect the weather is outside.

Courtesy of cupcakesandcrablegs.com
There seems to be no rules for what comes out of the kitchen at The Restaurant, other than it has to be good-looking and full of flavor. Chef Donnie Masterton has always cooked with fresh ingredients purchased from farmers and ranchers in San Miguel, many of whom are located within a 5-mile radius of his restaurant. This superb shaved Brussels sprout and kale salad with pecorino cheese, almonds and lemon vinaigrette is a work of art. Don't blame us if you want to eat it every day. We do, too!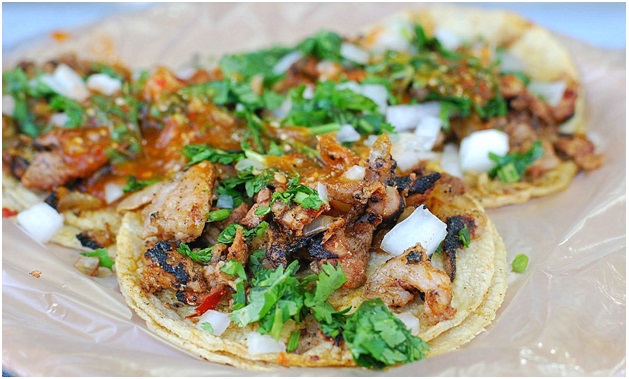 Courtesy of cupcakesandcrablegs.com
Tacos al Pastor delights the hungry traveler looking for an authentic taste of Mexico. Just follow the smoky aroma to our favorite taco cart, Andy's Tacos. Andy's Tacos reached cult status last year when it was featured in the Wall Street Journal. An institution, the tacos are renowned for their just-right spice. Pork is marinated in dried chilies and spice and cooked on a vertical rotisserie. Shaved onto a hot grill, it's finished off to a crispy perfection and the grilled onions compliment the heat of the red chipotle salsa and the sweetness of the pineapple. Although it opens when the sun sets, the 7 a.m. closing accommodates partygoers searching for an after-hours feast and are still intoxicated by the magic of an all-night fiesta.

Courtesy of cupcakesandcrablegs.com
Get a taste of the best flautas in town at San Miguel's favorite cheap eat, El Tucan. Deep-fried perfection, these rolled tacos are stuffed with chicken and evoke memories of all the things we love about food that is thrown into a vat of oil to be cooked. Alex, the owner, cooked in Chicago for years. But don't let his perfect English fool you. He turns out some of the best Mexican food in San Miguel. So how does he make a platter of these delicious, deep fried chicken flautas healthier? By smothering them with so many fresh vegetables, you forget they ever saw a pan of oil to begin with.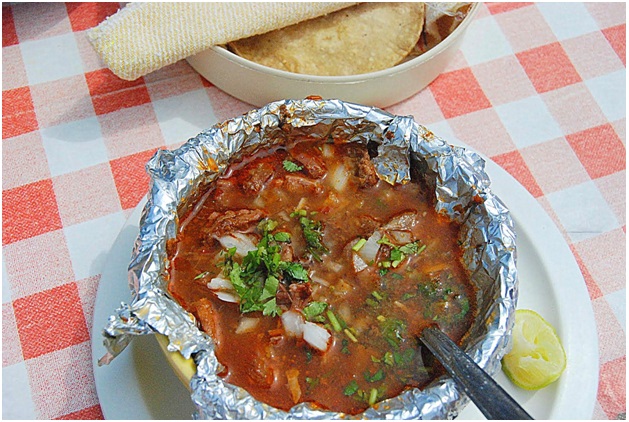 Courtesy of cupcakesandcrablegs.com
Mixiotes, made of pit-barbecued lamb, is the reincarnation of your mother's Sunday pot roast at El Pato Barbacoa Y Mixiotes. Cut with the bone and seasoned with pasilla, guajillo and spices like cumin, thyme, marjoram, bay leaves, cloves and garlic, it is wrapped in small bundles and cooked in the ground overnight. Pilar and Jose Luis, the owners of this small thatched-roof palapa, treat all their guests like family, and by the time you've finished eating, you'll swear an oath to come back. We can't decide what we love more, one of the best dishes we've eaten in San Miguel or the owners. You make the decision. We love them both.

Courtesy of cupcakesandcrablegs.com
With the beach a seven-hour drive from San Miguel, the most sought-after dish in town is seafood. At La Parada, the ceviches are legendary. Ceviche is raw fish or seafood that is "cooked" by marinating in citrus juice. La Parada does a novel take on conventional ceviche by using salmon in the citrus, then topping it with snow pods, seaweed and cucumber. Wash it down with a cool Pisco Sour and you've just taken a quick trip to Lima, compliments of Chef Alexandra Gutt, who is responsible for heightening the profile of mouth-watering, Peruvian flavors in San Miguel.

Courtesy of cupcakesandcrablegs.com
There are plenty of tourist attractions in San Miguel, but none of them are as enjoyable as the tequila class at the 1826 Tequila Bar in the Rosewood Hotel. Grab at least two friends and you get a private class with the resident Tequilier (tequila sommelier). The bar has 120 varieties of tequila and 20 brands of Mezcal to choose from, including Casa Dragones, which makes its spiritual home in San Miguel. One of my favorite Extra Anejos, a tequila aged for at least three years, is the Atelier Del Maestro. I love the hand-painted bottles. At 1826 Tequila Bar, the person to take the last shot gets to keep the empty bottle. Another good reason to drink up!

Bakery and Desserts

Courtesy of cupcakesandcrablegs.com
San Miguel is filled with bakeries and restaurants serving Mexican desserts that are often just too beautiful to eat. The exquisite dessert pictured above, Burnt Caramel Ice Cream with Marshmallow Sauce and Salted Spanish Peanuts from The Restaurant, takes sweet indulgence to the next level. It's the one dessert you'll go home dreaming about. Good enough reason to come back, don't you think? Petit 4 Bakery turns two of our favorite indulgences, chocolate and tequila, into desserts to write home about. Take a cooking class from Chef Paco Cardenas. He provides a superb culinary introduction to the city. Cumpanio has better-than-Paris croissants and brioche. Pair with a Conga, a mixture of tropical fruit juices, climb into the coveted window seat and wish away your morning. Remember, you're allowed to daydream. You're on vacation.

Fine Dining

Courtesy of cupcakesandcrablegs.com
With a significant increase in the number of national and international visitors coming to San Miguel, the demand for top-quality food has never been more central. One of the first chefs from Mexico City to relocate to San Miguel, Chef Victor Manuel Palma is the Executive Chef at the Rosewood Hotel and creates some of the best gourmet cuisine at the 1826 Restaurant, Luna Rooftop Tapas Bar and La Cava, Rosewood San Miguel de Allende's private wine cellar that houses more than 800 bottles of fine wines from Mexico and around the world.
The arrival of Matteo Salas brought a new appreciation for fine dining standards in San Miguel. Aperi, Quebrada #101, has a celebrated chef's table offering a bird's-eye view inside Chef Matteo's kitchen. B'ui Cocina de Campo is one of our new favorites. The Executive Chef, Marko Cruz, is making many of the dining establishments in Mexico City a memory. With his monthly tasting menu, diners enjoy seven courses -- each more visually stunning and delicious than the one you're still likely to be savoring. For a long time, savvy travelers have feasted on the inspiring food of Chef Donnie Masterton at The Restaurant. Thursday is hamburger night, and nothing is better than his remarkable burger creations set between two pieces of bread. A great way to get a taste of the menu is to order some of the appetizers. Which ones are good? Can't help you there. We love all of them.
Rooftops with a View

Courtesy of cupcakesandcrablegs.com
A feast for the eyes, devouring the beauty of San Miguel should be on the top of your list of things to do while you're visiting. Travelers maintain it's their favorite activity, especially while enjoying the tapas and tequilas at their favorite rooftop bar. The Luna Rooftop Tapas Bar at the Rosewood Hotel shows off the best views; a 360-degree spectacle certain to take your breath away, especially at sunset.
La Azotea is one of our favorite rooftops because of the great staff and its signature dish -- a taco shell made from jicama that is filled with lightly-breaded shrimp and topped with fried leeks, chipotle mayo and a tamarind sauce. For people-watching, the list of personalities who frequent this high-style eatery goes on and on.

Tianguis del Marte

Courtesy of cupcakesandcrablegs.com
The Tianguis del Marte, open every Tuesday in San Miguel, is a flight of the imagination for any food lover traveling to San Miguel. The market is jam-packed with culinary options for the traveler eager to give market food a try. The Rodriquez Family Barbacoa, in the far tent, wraps lamb in maguey leaves and cooks it in the ground overnight, resulting in flavors that are well-defined and delicious. Ask for a half cup of the caldo (broth) and an extra helping of barbacoa. With an added dash of cilantro and lime, this breakfast is a must for those in need of immediate comfort food to get back on track after a long night of making memories with your favorite bottle of tequila.
I love beef, chicken and lamb. But pork wins every time when it comes to eating meat in Mexico. What makes Bautista Brothers Carnitas, a stand in the middle tent, a weekly indulgence? The pork is simmered in lard and cooked low and slow until fork-tender. Everything is eaten, so pick your favorite part, from the tip of the nose to the curl of the tail. Now, if only Carnitas came with a warning label. Call this one addiction you don't want to quit any time soon.

Private Chefs

Courtesy of cupcakesandcrablegs.com
Do you love to cook? There are plenty of wonderful hotels in San Miguel. But if you're going to stay longer than a week, small B&B's like Las Terrazas, and other charming rental properties come with a kitchen so you can make some of the well-known Mexican dishes San Miguel is famous for. Or, you can hire a private chef to do the cooking for you. There's nothing better than eating in for a night or two when you're on vacation and the fact you'll save on the cost of the wine you buy at Cava Sautto is an added bonus.
Michael Coon of Casa de Cocinas is a world-renowned food and travel expert and former travel director and co-creator of the CIA's World's of Flavor tours. No one knows global food better than Michael. He gives tasting dinners, classes and leads culinary tours all over the world. E-mail him at insideroute@aol.com.
Laura Buccheri hails from Sicily and makes some of the best Italian cuisine in San Miguel, most notably her desserts. Her multi-cultural cooking experience comes through in everything she makes. La Cucina di Afrodita serves comidas nearly every Saturday and Sunday at her country home just outside of San Miguel. She also leads culinary tours to Italy. You can email Laura at laurabuccheri@hotmail.it
Local favorite Julian Garcia is from Mexico City and has a solid culinary background as a chef in the Riviera Maya as well as Acapulco, Cuernavaca, Puerto Vallarta and Paris. If you have a particular menu in mind, email him or he will create his own selections to give you an intimate taste of some of San Miguel's best cuisine. You can reach him at foodlian07@gmail.com
More on the city's Essential Eats
Recommended features by ExtremeFoodies
Meet the author