10 Essential Eats in Chianti, Italy

Image courtesy of divinacucina.com
Chianti is not just a wine, but also the region where Chianti Classico is produced. Surrounded by woods and rolling hills, incredible vistas are everywhere you look. A vast area in the center of Tuscany, its borders are delineated by the Ombrone River to the north, the Arno to the south, the Chianti mounts to the east and the Val d'Elsa to the west – all nourishing the region's stunning vineyards, wheat fields and olive groves. The long and winding road between Florence and Siena runs through the heart of the Chianti region, also known for its artisan butchers, traditional trattorias and farm-cooked meals. Fresh pasta, wild boar, roast pork and grilled meats are among the most traditional foods enjoyed while sipping wine redolent in the bright flavors of cherries and flowers tempered by an earthy, dusty bitterness.
The menus are also rich in vegetables: Tuscan white beans, spinach, chard and kale, roasted potatoes and, when in season, fried zucchini blossoms. And don't miss the Pecorino cheese made from sheep's milk or the Vin Santo, a dessert wine made from freshly harvested grapes that are hung to dry. The area's bounty results in the ultimate seasonally inspired farm-to-table cuisine.

Salami Tasting @ Antica Macelleria Falorni / Image courtesy of falorni.it
This is a great stop if you want to create a picnic. They have a huge variety of their own salami sliced, vacuum-packed and ready to take with you. This is one of the few places you can get a huge variety of sliced salami and prosciutto. They carry the classic pig, the local Cinta Senese from the province of Siena and wild boar. They recently added tables inside and outside for dining and now are a bistro with a full menu, heavy on the meat. Don't miss the gelato. They have teamed up with Vivoli, the famous gelato shop in Florence, and paired gelato with their products, such as pecorino cheese, finocchiona salami and prosciutto.

Wine Tasting @ Enoteca Falorni / Image courtesy of enotecafalorni.it
If you adore wine-tasting, but don't have time to tour more than one winery on your trip, this is a wine-lover's dream. Located underground behind the COOP grocery store is the old winery cooperative of Chianti. It was converted in 1999 to a wine tasting room with over 140 wines from Tuscany, available with the new wine-tasting system, Enomatic, allowing a tiny taste, a medium sized taste of a full glass of wine. They have recently added dining as well; lunch at 1pm, Merenda (snacks) around 4pm, Apertivo at 6pm and Saturday and Sunday from 7pm, cocktails with food. This is the perfect place to shop and ship wine, they offer a discounted price for shipping. If you are a collector, ask them to open the wine cage with the older more precious wines.

Grilled Meats and Homemade Pasta @ Trattoria da Guerrino / Image courtesy of tavernadelguerrino.it
Trattoria da Guerrino is located in a lovely restaurant in an old family home. The kitchen is tiny, as most home kitchens are. Mom is no longer cooking, but her son, Marco Niccolai, is continuing the family tradition. Most of their food is prepared over charcoal, making this is a wonderful place to try any of the famous grilled items such as the Bistecca alla Fiorentina, ribs or sausages. I would order the wine from the village as well. The priest of the village had his own winery, which now is being run by a local family. In summer you can eat outside on the veranda with an incredible view over the vineyards and woods.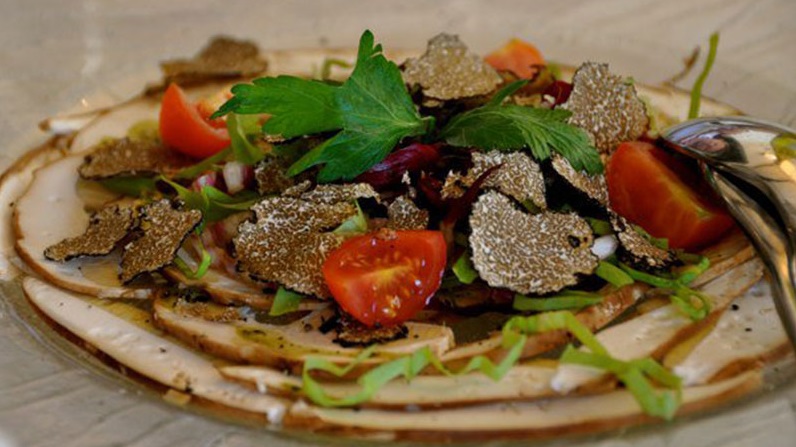 Truffles and Porcini @ Ristoro di Lamole / Image courtesy of ristorodilamole.it
This very tiny restaurant is the kind Tuscans love, up in the middle of nowhere. You take a paved road from Greve turning off before Panzano and head up the tiny winding road to the tiny village of Lamole. There is a small parking lot near the church and then you walk up the hill until you see their little terrace overlooking the valley. This was the towns "alimentari" old shop which grew into a restaurant. Filippo and Paolo are perfect hosts. Here I love to have their antipasto and fresh pasta. I always ask if they have anything with porcini or truffles. The hills of Chianti are filled with porcini in season. Wild boar lives in the hills nearby too so if they have a pasta sauce or a stew, don't miss it. Leave space for dessert, they are all made here and fabulous. The wine Lamole di Lamole is what you should drink if you want local, but the restaurant has an incredible wine list.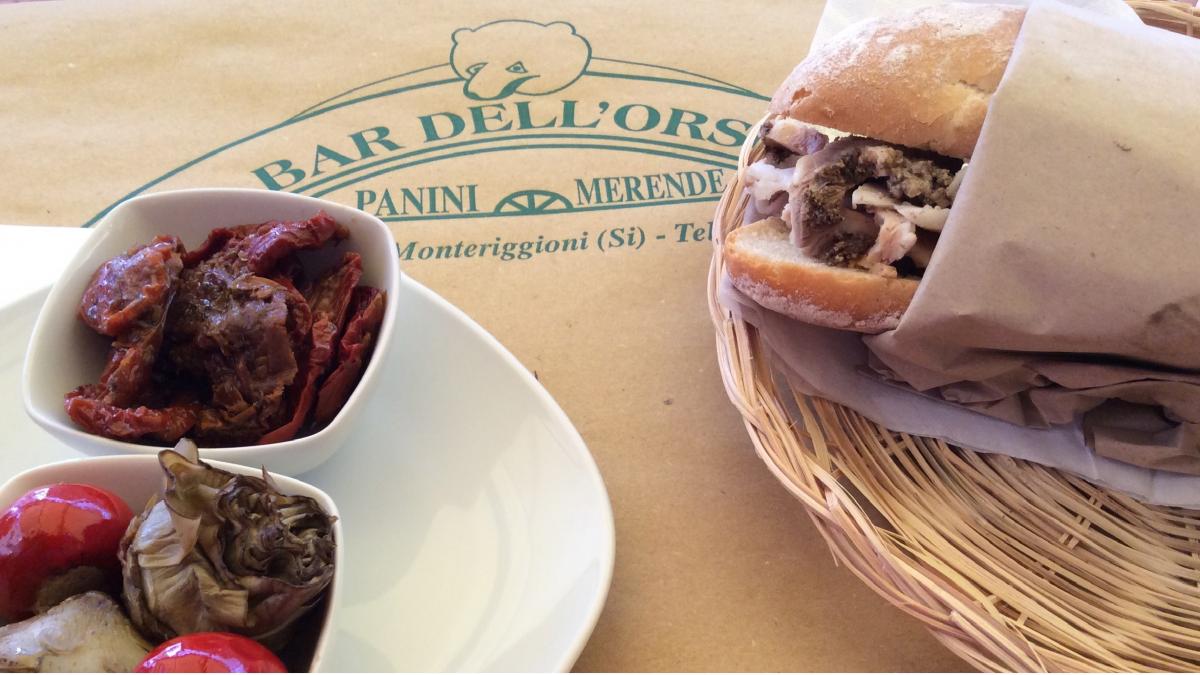 Porchetta Sandwich @ Bar Dell'Orso / Image courtesy of divinacucina.com
Bar dell'Orso is called the Bar of the Bear, for the wooden sculptures inside, but should be called the Pig Bar. This is a temple to pork. This tiny little bar cranks out some of the best food for a "truck stop." There are tables outside almost right on the road or inside, which I prefer. This is the place to get a porchetta sandwich sitting down. As you walk inside, there is a small bar where you can get coffee and a pastry of a glass of wine, but if you keep walking, you will see the temple of pork! Prosciutto hangs from the walls and the display case is full of salami and cheese, as well as preserved vegetables. They specialize in making custom sandwiches, starting with simple porchetta. You can pick what you like and they have rolls or the typical unsalted Tuscan bread in slices. We like to order a porchetta sandwich and an antipasto plate with sliced meats, fresh pecorino cheese, marinated artichoke hearts and stuffed chili peppers. Everything is weighed and the sticker for the price is stuck on the side of your plate. They also serve a full menu and are open for dinner with live music late at night. One of my favorite things to order to go are the hard to find coppiette (chili-infused dried pork jerky strips). They are addicting. If you are really hungry, the fresh pasta with ragu is incredible. We even had a great fish pasta here. They specialize in game, so ask if they have pasta with cinghiale (wild boar).

Tasting Menu @ Osteria di Passignano / Image courtesy of osteriadipassignano.com
This restaurant is on the property of the lovely Badia di Passignano in the hills off the highway from Florence to Siena. It is owned by the Antinori family, wine makers since the 1400's. The restaurant is run by Marcello Crini and his wine list is one of the best in Chianti. I save this for special meals and order the seasonal tasting menu which varies. But you can also just order off the menu.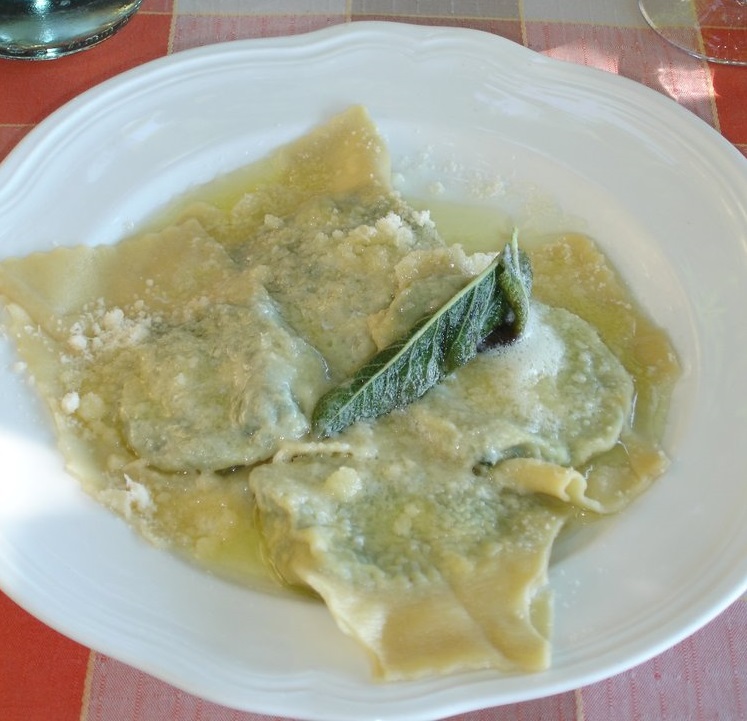 Fresh Pasta @ La Bottega del Volpaia / Image courtesy of Mr. Creosote C.
This restaurant started above the old "alimentari" in the village of Volpaia. The village is owned by a private family and was used as a hunting lodge. Typical rustic dishes cooked by Carla and her Mother Gina, are incredible. Fresh pasta ravioli simply made with classic spinach and ricotta filling and then topped with butter and sage are made daily by Gina.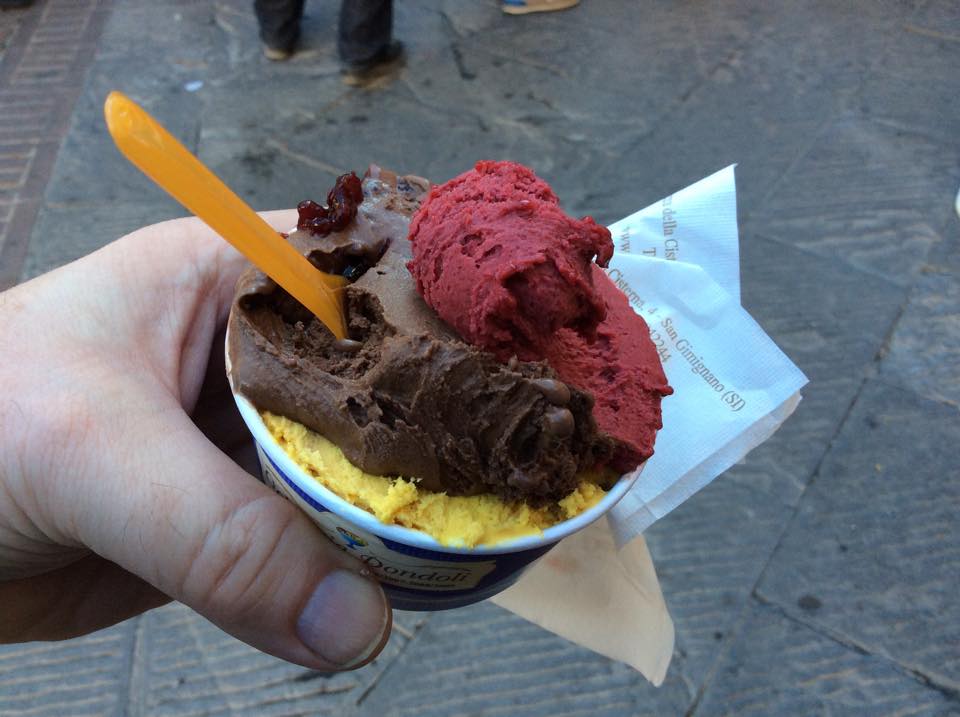 Gelato @ Gelateria Di Piazza / Image courtesy of Gelateria Di Piazza
Sergio Dondoli is a prize winning gelato maker and coaches the Italian team for the pastry Olympics. Don't let the long lines scare you, they have a lot of women working behind the counter and the line moves quickly. Take time to read the menu, some are really creative flavors. I adore Champelmo, pink grapefruit with champagne, Rosemary's Baby, raspberry and rosemary or the Santa Fina with locally grown saffron.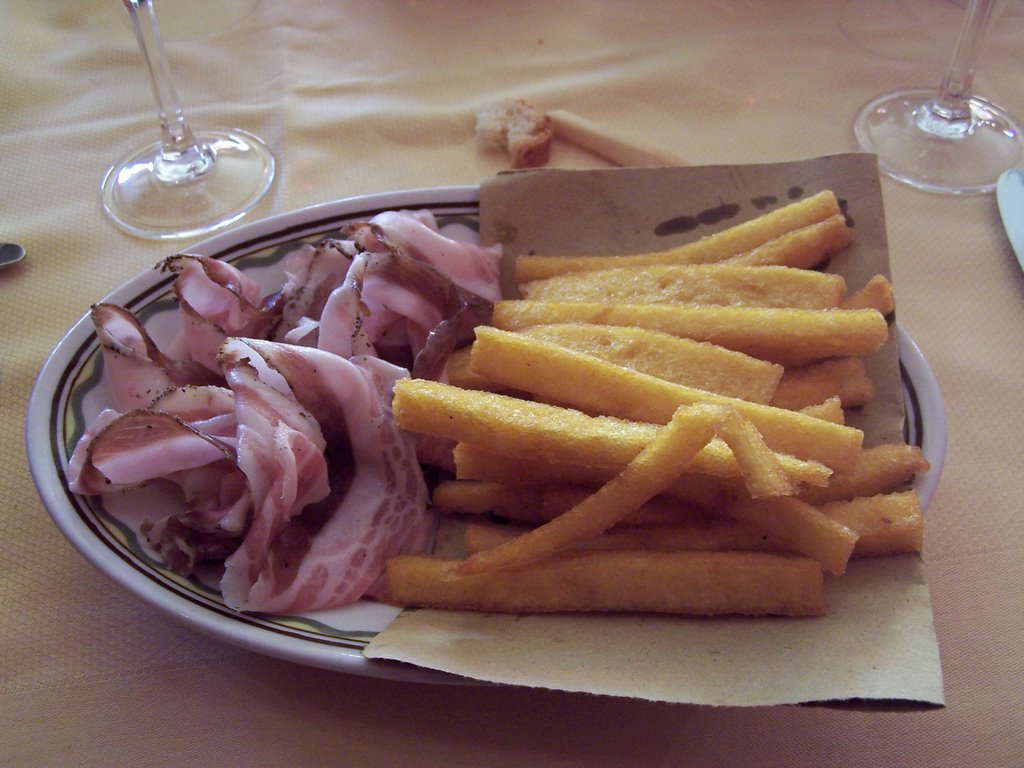 Polenta Fries @ La Zambra / Image courtesy of divinacucina.com
Italians have the best truck stops. La Zambra is where we go on the back road between Certaldo and Poggibonsi. It has everything. Stand at the counter for an espresso, beer or fruit juice. They open for breakfast at 7am, which includes pastries and savories. They make the bread for all their sandwiches. On the right-hand side of the counter is a room to sit, no service charge. At lunch time there is a special menu and display case for a fast lunch. If you have more time and are hungrier hit the back room on the left of the entrance for a truly great restaurant. Italians love the inexpensive menu fisso, when out to lunch daily and on a budget, it is always the best deal. But do look at their menu. I love the polenta fries with the local specialty sliced Lardo. Their Fritto Misto is really delicious consisting of chicken, rabbit, zucchini, eggplant and artichokes, if in season.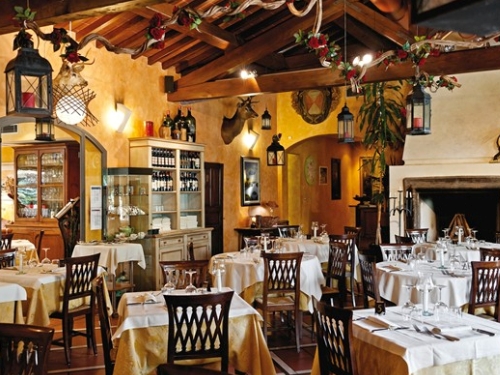 Peposa alla Fornacina @ II Battibecco / Image courtesy of ilbattibecco.it
Hidden off a side road in the woods outside of Impruntea, Il Battibecco is a flamboyant and fun place to dine. The owners had Osteria Numero I in Florence for years and moved out to the countryside. The menu is as eccentric as the owners and the decor. I am addicted to the "Piatti di Buon Ricordo" plates in Italy. Selected restaurants join; each picks a dish that best represents the area. When you dine there and eat that dish, you are given a hand-painted plate when you leave as a "Good Memory". Impruneta is famous for their kilns for the traditional Terra Cotta, Clay tiles. Peposa is a beef stew with lots of pepper, cooked slowly in clay pots and was served to the workers. Also look for their Duck all'Arancia ravioli; it was their signature dish for years. In season, get the porcini mushrooms.
More on the featured eats
Meet the author