6 Essential Tortas in Mexico City
The torta, Mexico's ubiquitous sandwich, is the quintessential fusion dish – it is fast food, with European roots. The world may think of the taco as the country's No. 1 street food, but it's the torta, especially within the confines of the bustling cities of Mexico City, Puebla, Monterrey and Guadalajara, that has captured the hearts, souls and taste buds of millions.
David Lida, author of First Stop in the New World, a portrait of Mexico City's dark side, explains "if a torta isn't precisely a work of art, it is by all means a handicraft. To call it Mexico's answer to the sandwich is misleading; all those layers of refried beans, tomatoes, chilies, onions and avocado, in addition to the meat and the cheese, render a sandwich without meaning, irrelevant."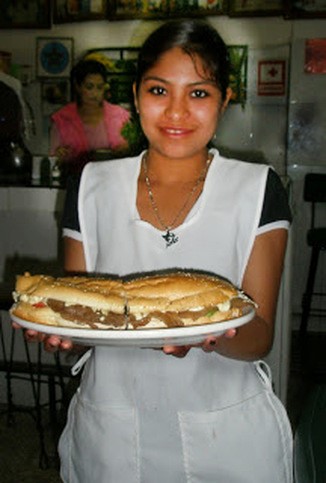 Mexico's torta fuses Mexican cuisine with the country's European roots. / Nicholas Gilman
According to one most likely apocryphal legend, the torta was invented at the turn of the 20th century by one Sr. Armando, an Italian immigrant in Mexico City, as his riff on the Italian panino. He adapted this already co-opted French treat to available ingredients, and to locals' penchant for avocado and chile.
His family restaurant still exists, although their tortas have become insipid – perhaps Don Armando took the recipes to the grave. But now a solid torta can be found at myriad street stalls and small restaurants throughout the city and beyond. They vary from cheap, factory made, junk-filled belly busters to sublimely artisanal chef-concocted gourmet creations. They are a staple of urban Mexican life and have been since the dawn of the modern era.

Tortas are served on a soft roll known as a bolillo. / Courtesy of Food.com
Tortas are prepared by a specialist called a tortero. Starting with a soft roll known as a bolillo (or in Puebla, where, arguably, the torta had its origins, a telera), a wide range of ingredients are used as fillings. Popular choices are Milanesa (pounded and fried beef or chicken), pierna (oven roasted pork leg), choriqueso (cheese and sausage), and roasted turkey. The ever-popular torta Cubana is filled with just about everything. The variety is endless.
The construction of a torta is where the artistry comes in. An unctuous dab of refried beans is used in lieu of butter or mayonnaise to grease the works, the star ingredient is then applied, and the all-important garnishes are piled on. These can include tomato, onion, avocado, lettuce and jalapeño or smoky chile chipotle en adobo. The whole shebang is then placed on a hot grill, pressed slightly with a spatula to meld the flavors a bit, then flipped over to lightly toast the other side of the bread, adding a slight crunch to the outside.
Variations Abound

Pambazos are stuffed with chorizo and potatoes. / Courtesy of sbs.com
Pambazos, found in the capital and surrounding areas, are filled with chorizo and potato, or shredded chicken, then dunked in salsa and fried -- they're often a bit on the heavy side. Even weightier are tortas made of tamales, known as guajalotas, a specialty of Mexico City, or DF (Distrito Federal), as well -- a gilded lily if ever there was one. While most typically defeño (i.e. of the capital city), poblano (from Puebla), or tapatio (from Jalisco where Guadalajara is located), tortas are found all over the country, and regional variations abound.
The Slow Food/local/artisanal movement has not overlooked this beloved culinary phenomenon. Star chef establishments have begun offering 21st-century versions of traditional tortas, with fancy ingredients and higher prices. But however you slice it, the torta remains one of the most popular and comforting of Mexican foods. The following tortas are the essentials.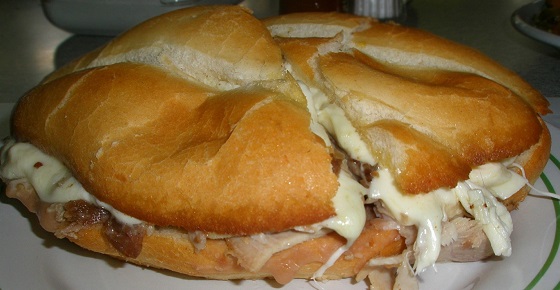 For turkey or pork fillings, head to Tortas Don Polo. / Courtesy of Nicholas Gilman
A beloved institution in Colonia Del Valle, south of the center, this huge venue offers great tortas de pavo or pierna (turkey or pork) accompanied by licuados, Mexico's version of milk shakes, made with fresh tropical fruits. There is counter as well as table and take-out service.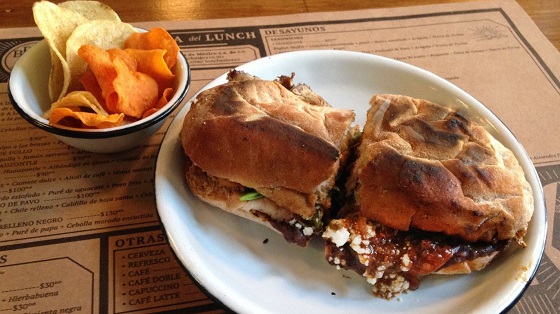 At Bravo Loncheria, tortas are served on house-made bolillos. / Courtesy of Nicholas Gilman
This Mexi-luncheonette, though clad in 21st century hipster chic, is really an update of the classic all-but-vanished urban tortería of the mid-20th century. A changing menu offers artisanal yet traditional tortas, served on house-made bolillos. They are just about the best in the city.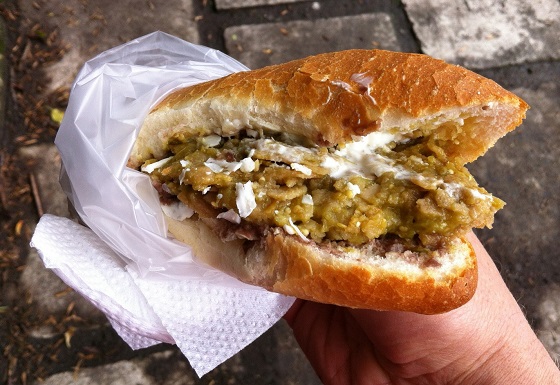 Tortas de chilaquiles showcase tortillas refried in green sauce and drizzled with sour cream. / Courtesy of Nicholas Gilman
Unheard of anywhere but in Mexico City whose resident "chilangos" are ever creative, gastronomy-wise, are tortas de chilaquiles. These delicious carb-bombs are made up of yesterday's tortillas refried in spiky green sauce, stuffed in a bolillo and, as if that weren't enough, drizzled with sour cream. The locally famous makeshift stand at the corner of Alfonso Reyes and Tamaulipas in the Condesa runs out by 11 a.m.



The torta ahogada is filled with pork and served on a tomato sauce. / Courtesy of Nicholas Gilman
In the Guadalajara area, the star of the show is the exquisite torta ahogada (drowned sandwich). It sounds simple: a crusty roll, here called a birote, is filled with succulent carnitas (pork cooked in its own fat), then bathed in a rich, piquant sauce of tomato and chile de arbol. First timers look quizzically at the floating sandwich, wondering whether to eat it with a fork and knife, spoon, or their hands. Then the waiter offers a plastic glove, answering the question. Those who choose to be polite and eat with a fork and knife will miss out on the essential tactile experience of chomping down on the dripping mess, juices happily blending into a fragrant meaty pleasure that beats the best American burger. In Guadalajara, they can be found at myriad stalls of the huge Mercado San Juan de Dios, in the historic center, Avenida Javier Mina and Calzada Independencia.

For a cemita with chicken bathed in mole verde sauce, head to Semitas "Beto" / Courtesy of Nicholas Gilman
In the city and state of Puebla, southeast of Mexico City, tortas are called cemitas. The roll is larger, a bit spongy and lightly sweet. At Mexico City's best poblano venue, Angelopolitano, cemitas are served on their eponymous and very fresh buns, dotted with sesame seeds. The version with mole verde is the best I have sampled anywhere. Chicken bathed in this nut and green chili based sauce is blanketed with shredded Oaxaca cheese and avocado. A hint of the perfumed cilantro-like herb pápalo can be detected.
In Puebla, Semitas Beto serves the best, period. Its Milanese -- pork tenderloin cutlets -- are pounded thin, breaded with the crumbs scooped out of the sesame seed roll the sandwich is served on, and quickly fried in oil. The meat is topped with onion and avocado slices, stringy quesillo cheese, house-made chipotle sauce and pápalo.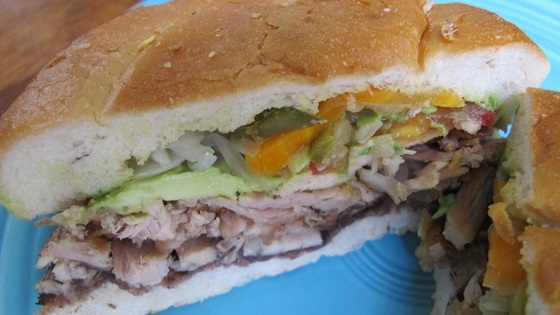 At Tortitlán, roast pork and grilled Oaxaca cheese is dotted with pickled jalapeños. / Courtesy of Nicholas Gilman
Amongst the best tortas in all of Mexico, and well deserving of a Chowzter prize, are the tortas of pierna con queso exclusive to Tortitlán, in San Miguel de Allende, Guanajuato. These bulging masses of goodness are stuffed with warm roast pork leg and grilled Oaxaca cheese, then spiked with pickled jalapeños. The fresh rolls are lightly crunchy and but retain their springiness. No amount of hyperbole can describe how good these caloric bombs are.

Fans know to arrive early for the tortas of lechón at Tortas El Correo. / Courtesy of Nicholas Gilman
Legendary on the island of Isla Mujeres, a short 20 minutes from mainland Cancun by ferry, is this pushcart, which offers sumptuous tortas of lechón, roast suckling pig. Parked in front of the post office, food is usually gone by 10:30 a.m., so be there early.
Recommended features by ExtremeFoodies
Meet the author