Vietnamese Specialties in Orange County's 'Little Saigon'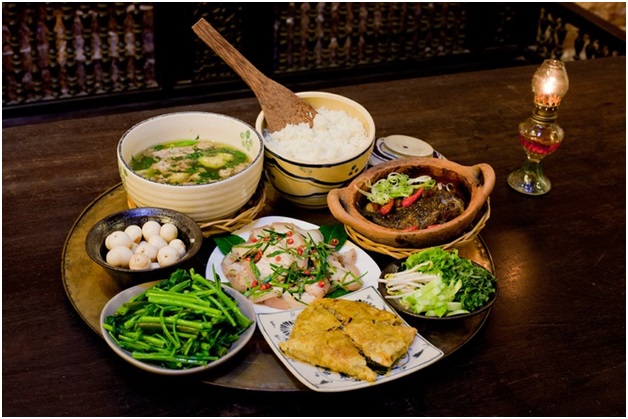 Courtesy of Pinterest.com
Orange County, California, saw a large number of Vietnamese refugees settling in the area in the 1970s. Now officially known as Little Saigon, Westminster (as well as neighboring Garden Grove and Santa Ana) is unofficially known as the capital of overseas Vietnamese. As a result, you'll find a cornucopia of restaurants offering possibly the biggest array of regional Vietnamese cuisine outside of the Southeast Asian country. There are three distinct areas of Vietnamese cuisine: North, Central and South. Each region has its own standouts. The food of Vietnam is varied and diverse, but if you're unfamiliar with it, it can be daunting and overwhelming. Here is a basic guide to eating Vietnamese food and where to find the best examples in Orange County.
North Vietnamese cuisine reflects the country's cooler climate and typical dishes are devoid of herbs and spices. Black pepper is used instead of chilies. The food from this region is subtle, featuring light and balanced flavors resulting from the combination of various ingredients in creating a dish.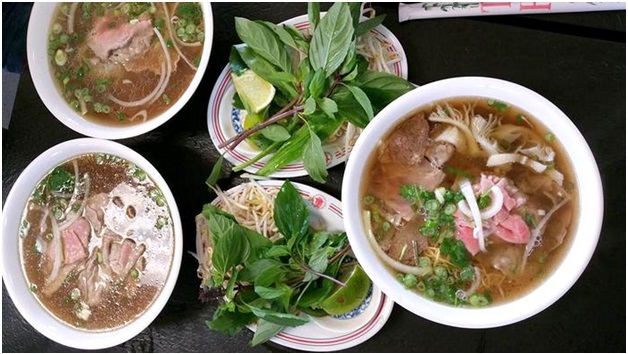 Pho is Vietnam's most famous dish. / Courtesy of madhungrywoman.com
Phó is possibly the most famous Vietnamese dish outside of Vietnam. A popular street food, these noodles are served with a piping hot broth with fresh herbs on the side. Bowls include either beef or chicken and vary in sweetness, depending on whether it is from Hanoi or Saigon. Here in Lil Saigon, you can enjoy a bowl for breakfast, lunch or dinner for as little as $6 a bowl.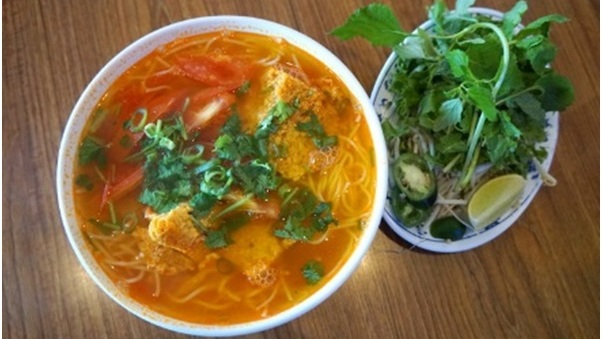 Bún riêu features a tomato broth base. / Courtesy of madhungrywoman.com
Bún riêu is another soup noodle served with tomato broth and topped with crab or shrimp paste. There is a reddish hue to the broth from the roe, annatto seeds and tomato and is served with fried tofu, congealed pig's blood, water spinach stems, shredded banana blossoms, bean sprouts and a variety of herbs.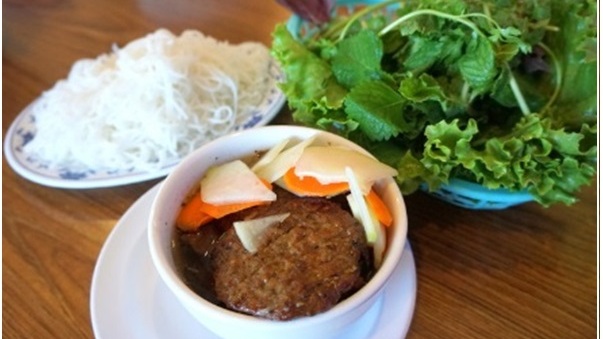 Bun cha features grilled pork and noodles. / Courtesy of madhungrywoman.com
Bún chả, a popular northern Vietnamese dish of grilled pork and noodles, is thought to have originated in Hanoi, Vietnam. Bún chả is served with grilled fatty pork over a plate of white rice noodles (bún) and herbs with a side dish of dipping sauce.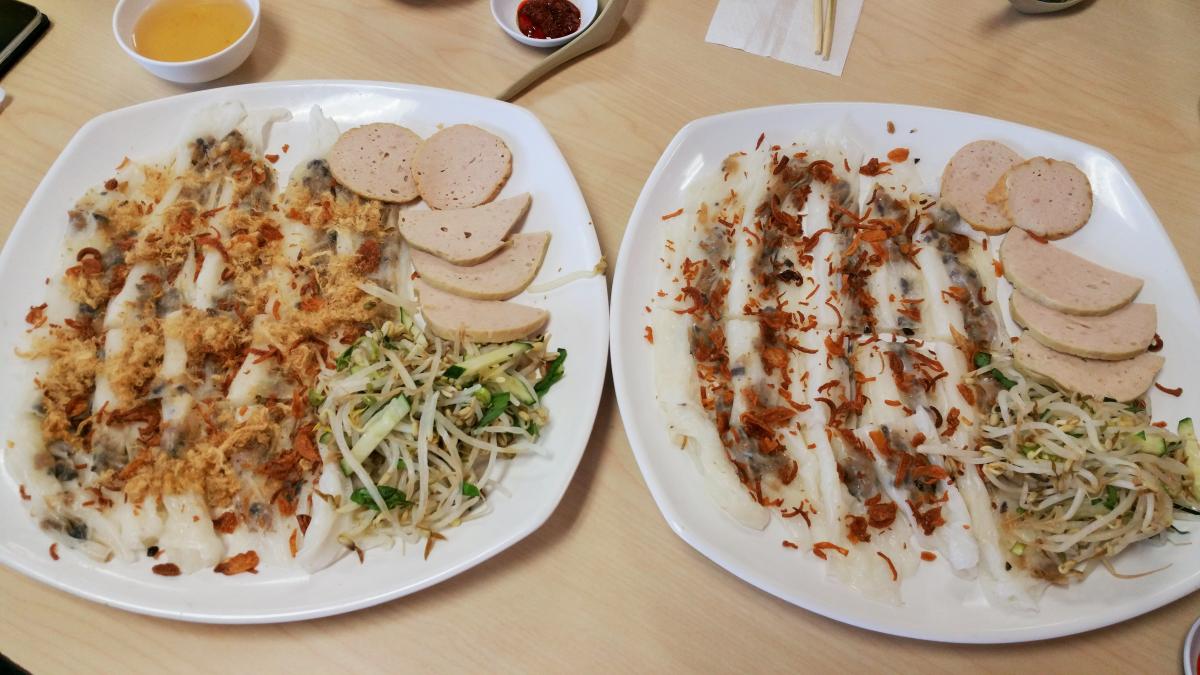 Banh cuốn is typically served for breakfast in Vietnam. / Courtesy of madhungrywoman.com
Bánh cuốn is a breakfast item in Vietnam made from an extremely thin and delicate sheet of steamed fermented rice batter. It is filled with a mixture of seasoned ground pork, minced wood ear mushrooms and minced shallots. Sides for this dish usually consist of chả lụa (Vietnamese pork sausage), sliced cucumber and bean sprouts, with the dipping sauce called nước chấm.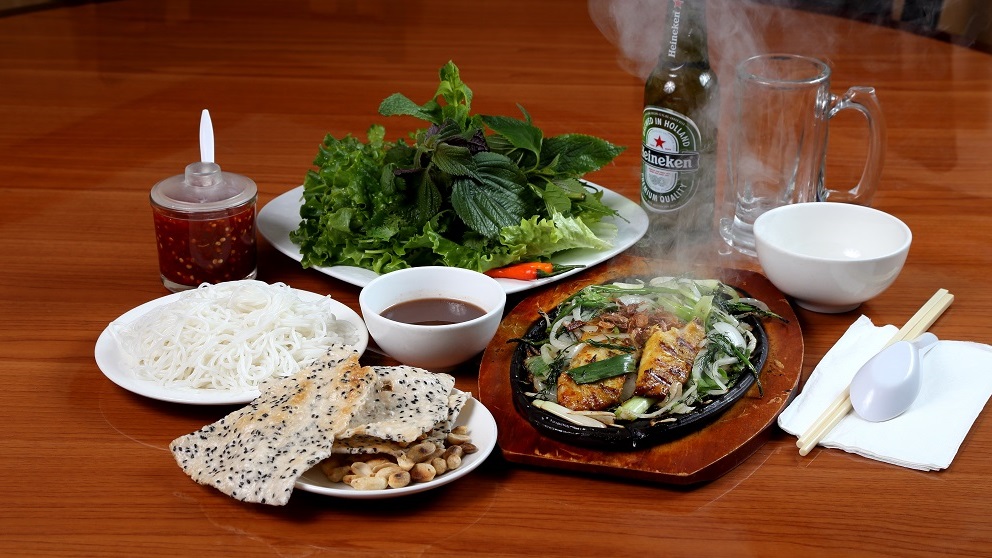 Cha Ca Thang Long is a popular fish dish. / Courtesy of Vien Dong Restaurant
Chả Cá Thăng Long is a popular dish of fish marinated in turmeric, then grilled and served on a sizzling platter on a bed of onions and topped with fresh dill. It is aromatic and wonderfully pungent in flavor when you eat it with Mắm Nêm, a heavily fermented anchovy-based dipping sauce. The sauce may have an acquired taste, but even without this important component to the dish, it is still absolutely robust in flavor.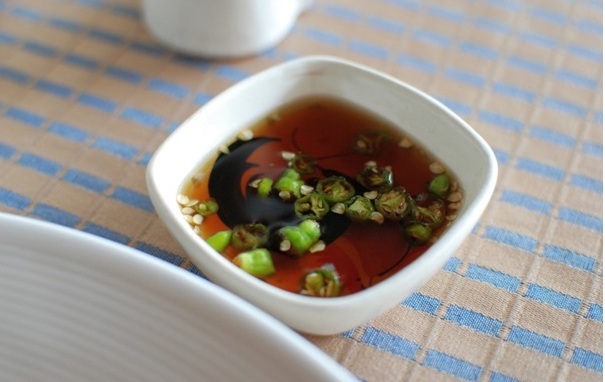 Chiles and fish sauce are more frequently used in Central Vietnamese cuisine. / Courtesy of en.wikipedia.org
Central Vietnamese cuisine is bolder and more complex when compared to that of the North. There is more spice with less Chinese influence than that of its northern counterparts. French flavors and styles of cuisine is more prevalent the farther south you go. Chiles and fish sauce are more frequently used and food is characterized by its hot and spicy flavors.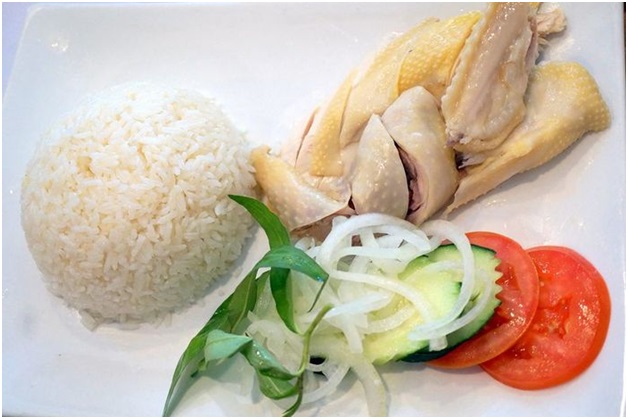 Cơm gà Hải Nam. / Courtesy of madhungrywoman.com
Cơm gà Hải Nam is Hainan-style chicken rice offering poached chicken and a fragrantly delicious rice cooked with chicken stock and chicken fat. The glistening rice is savory and makes for a wonderful accompaniment to the tender chicken. Condiments include a ginger scallion sauce, a chile sauce and often a sweet soy sauce.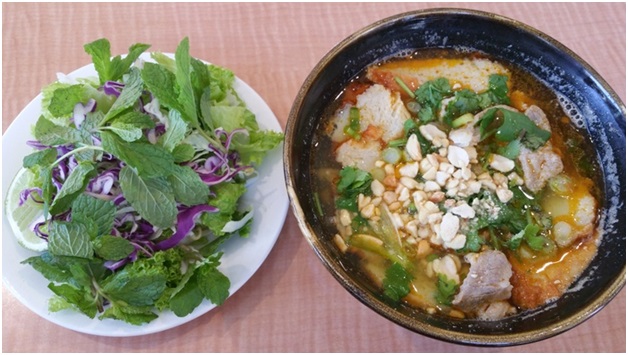 Mì Quảng. / Courtesy of madhungrywoman.com
Mì Quảng consists of yellow noodles tinted with turmeric. The bowl will include shrimp, pork, chicken, or even fish and beef. How good a bowl depends on the broth seasoned with fish sauce, black pepper, shallot and garlic. Condiments include hard-boiled egg, crushed peanuts, chả (Vietnamese steamed pork sausage), chile pepper or chile sauce, fresh vegetables such as rau húng lủi (water mint), basil, Ipomoea aquatica, Vietnamese coriander, sliced bắp chuối bào (banana blossoms) and lettuce. Bánh tráng me (toasted sesame crackers) accompany. What sets this dish apart is the peanuts and sesame crackers.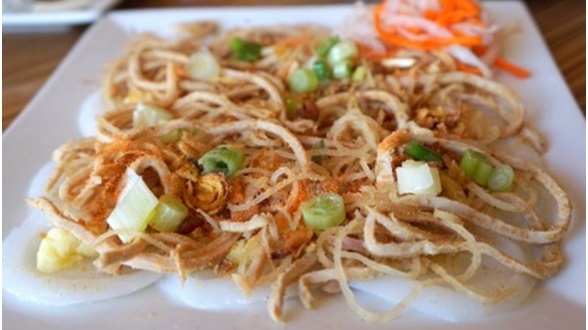 Bánh bèo. / Courtesy of madhungrywoman.com
Bánh bèo is the many types of small steamed rice cakes in Vietnamese cuisine. It is white and topped with savory ingredients such as dried or fresh shrimp, scallions, mung bean paste, crispy fried shallots, fish sauce, rice vinegar and oil. It is a typical Huế dish, from the ancient royal capital in the center of Vietnam.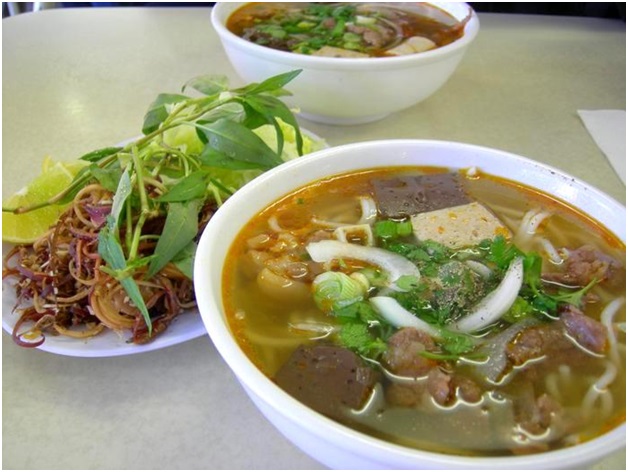 Bún bò Huế. / Courtesy of madhungrywoman.com
Bún bò Huế is a noodle dish utilizing a round, wheat noodle as its base. The broth is rich and ingredients include thinly sliced beef shank, chunks of oxtail and pig's knuckles. It can also include cubes of congealed pig blood, which most restaurants will omit if you ask. This bowl of noodles is served with fresh cilantro, scallions, raw onion slices, shredded banana blossoms, red cabbage, mint, basil, perilla and a bunch of Vietnamese herbs such as rau răm (Vietnamese coriander) and ngò gai (sawtooth herb). Bean sprouts are sometimes offered as well.
In the Southern part of Vietnam, where the warm weather and fertile soil is ideal for agriculture, you'll find an abundance of food dotted with garlic and fresh herbs. Food tends to be sweeter and you'll find coconut milk added to dishes. Some dishes popular in Saigon: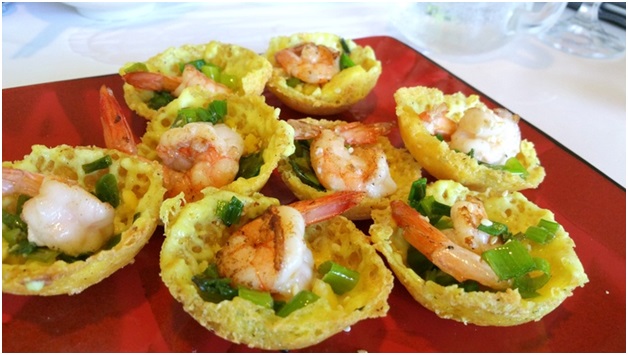 Bánh khọt. / Courtesy of madhungrywoman.com
Bánh khọt are savory coconut pancake cups, which are crispy on the outside and soft on the inside. They are topped with dried shrimp and fried scallions and offered with an array of fresh herbs, such as mint and perilla. Nước chấm dipping sauce is provided.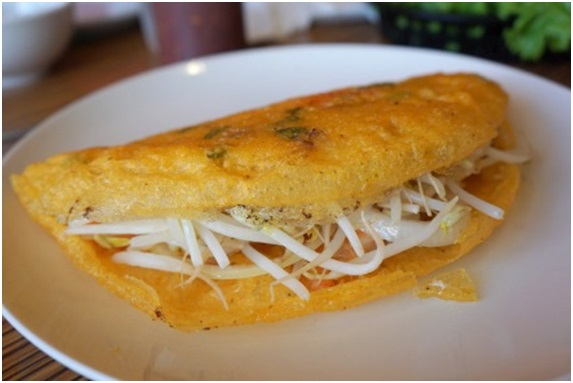 Bánh Xèo. / Courtesy of madhungrywoman.com
Bánh Xèo is a savory pancake made of rice flour, water and turmeric powder, stuffed with chunks of fatty pork, shrimp, diced green onion and bean sprouts. Like the majority of Vietnamese food, a plate of fresh herbs arrive for you to accompany the dish with. Mustard leaf, lettuce leaves, mint leaves, basil, among other herbs, are meant to be used as a wrapper for the Bánh Xèo. The ubiquitous nước chấm dipping sauce is once again used as a condiment.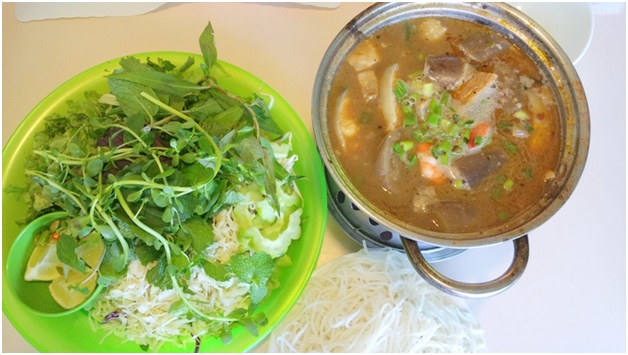 Lẩu Mắm. / Courtesy of madhungrywoman.com
Lẩu Mắm is a traditional southern Vietnamese hotpot using fermented fish as the basis for the broth. It is pungent and swimming with catfish, dried shrimp, pork, shrimp and eggplant. A plate of vegetables, such as lettuce, bean sprouts, cabbage, bitter melon, and a variety of fresh herbs like mint, rau răm (Vietnamese coriander) and perilla are provided for you to add to your bowl. It is a perfect winter dish to be shared by everyone at the table.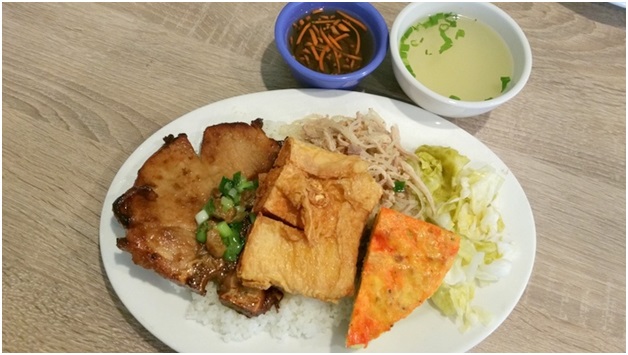 Cơm tấm / Courtesy of madhungrywoman.com
Cơm tấm, or broken rice, is a dish made from rice fragments, hence its name "broken rice." Tấm refers to the broken rice grains, while cơm refers to cooked rice. It is a dish served predominantly in southern Vietnam in the city of Saigon. Toppings usually includes grilled pork, bì (thinly shredded pork mixed with cooked and thinly shredded pork skin). The rice and meat are served with various greens and pickled vegetables, along with a shrimp paste cake wrapped in dried soy bean sheets, chả trứng egg meatloaf dotted with minced pork and glass noodles. Restaurants will generally serve this popular combination rice plate with a small bowl of nước chấm, as well as broth (canh).
Meet the author