The World's Best Steak Restaurant
By ExtremeFoodies on May 11th, 2015
For meat-lovers, there is nothing that makes the mouth water quite as much as a juicy slab of steak. The care and effort put into sourcing and preparing meat by 2015's restaurant nominations for ExtremeFoodies's global award is insane. These spots really are serving grills that are a cut above the rest. There can be only one winner, though...
Chef Otsuka selects the best Wagyu beef from the market everyday depending on which of the 1/2 dozen top breeds are showing best on the day. The beef is then both dry aged for 30 days and then wet aged for 30 days before being grilled in a custom built kiln at over 1000 degrees using Kinshu binchotan wood from rare Japanese oaks. The steak is salted, peppered and served medium rare presented whole and then cut into two pieces for each person.
We can't forget the fantastic array of steakhouses that were unlucky to miss out on an award this year. Here they are in all their glory.
Photo: peterluger.com
Peter Luger's has become an icon for steakhouses, not only across America, but across the world. Although it opened in 1887, the meat mecca became what it is today under the watchful eyes of the Forman family, who bought the establishment in 1950. The only steakhouse in New York City awarded a Michelin star, Luger's has championed its reputation as the best for decades. From the cattle to the cooking, Luger's process is conceived to provide a magnificent steak – the house specialty porterhouse. After the finest USDA meat is selected, it is dry-aged in house under ideal conditions, seasoned only with salt, broiled and served cut in squares on top of clarified butter. Uncomplicated cooking and serving the best quality beef prepared effectively has spawned a legion of imitators. But there is only one unchallenged original – Peter Luger's.
Photo: Don Julio
Great family owned steak house in Palermo (owner 3rd generation in the meat industry - butchers, cattle ranchers and now restaurant owner), all the meat (and products) locally sourced and handpicked for quality, and come from smaller family farms. Cooked traditional Argentine way with "carbón". Order the "Bife Ancho" medium rare (jugoso), which is an excellent example of the long tradition of great prime rib Argentine beef.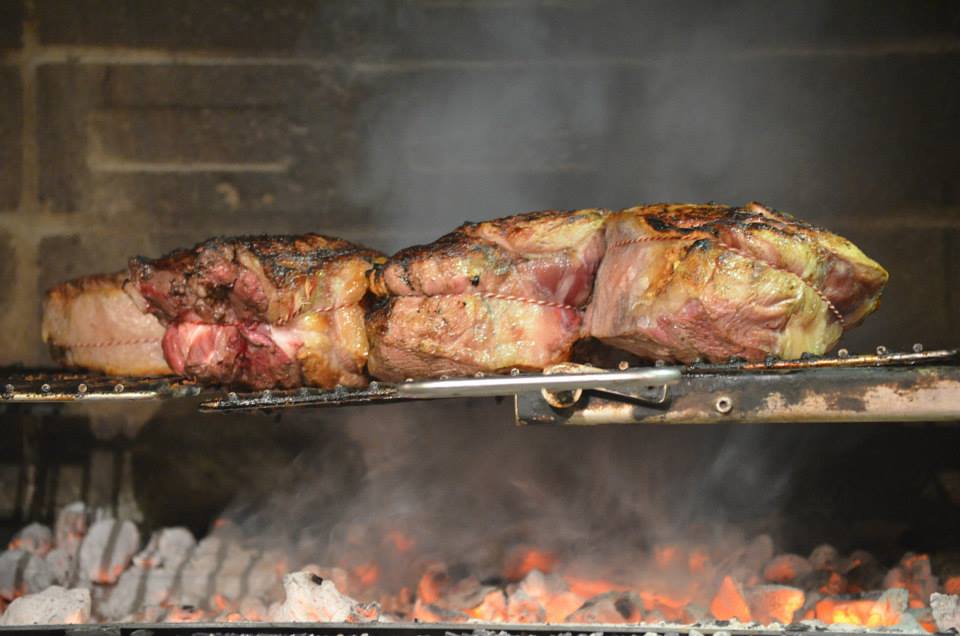 Photo: Officina Della Bistecca
The most famous butcher in Italy (Dario) has opened what might be called a "steak hall" above his shop. This raucous experience is an unforgettable feast on the order of King Henry the 8th starting with steak tartare before carving through multiple cuts of beef on the way to gorging on the historic Bisteca a La Fiorentina. The beef is imported from Catalunya Spain as there are not enough high quality cows to supply the beef onslaught that occurs here monthly. A lucky few will get to try the local all white Chianina cows that come available once a month. The cooking techniques over open coals with Argentinian style grills put this at the pinnacle of global steak.
Photo: osso.pe
What began as a back room table with a grill for friends, has quickly become one of the most sought after meat eating experiences in the world. Here, chef and butcher Renzo Garibaldi serves all meat tasting menus that experiment with aged cuts that approach 300 days, as well as cooking in ash, cooking directly over flames, and a beef tartar that you eat with your hands.
Photo: LA MAISON DE L'AUBRAC
This classic Parisian steakhouse specializes in beef from beautiful, doe-like Aubrac cow from Aveyron. The meat from Christian Valette's own organic breeding in Laguiole, where the cattle listen to classical music and get massaged daily, is heavily marbled and very rich. Sometimes called a beef chop, this French cut features a single rib from the center of a full rib of beef matured for up to seven weeks in a transparent dry-aging cabin inside the restaurant.
Cooked over red oak coals, this massive cut is considered by some to be the best steak on earth. Top Sirloin with classic salt, pepper and garlic rub. The classic spread with piquito beans and garlic bread will make a meal to be remembered forever.
Photo: David de Vleeschauwer
All the beef comes from mature cows raised at area dairy farms. Flavorful from longer eating and more natural marbling, the coarser, mature muscle fiber is better able to withstand extended aging. In house, beef is aged for a month in carcass before prime cuts are matured for two to four months. Water content lost during aging concentrates flavor while enzymes break down proteins into savory amino acids and fat into fatty acids. Ready to cook, rib-eye is grilled, basted with a mild garlic butter and dusted with salt before serving.
Check out the rest of the award winners here.
Recommended features by ExtremeFoodies