Extremefoodies Global Awards 2015
Firstly, let's get this out of the way... what is ExtremeFoodies?
Previously known as Chowzter, the site boasts 170-plus Food Experts who photograph, describe and share the very best eats their city has to offer. A rapidly expanding resource for hungry travellers, there are new experts joining up from destinations around the world all the time.
So while Urbanspoon, Yelp and TripAdvisor might offer contact information, images, opening hours and user reviews, there's no way of ordering the information on offer to help identify the places you have to visit while in town.
With ExtremeFoodies you get a tried and tested list of must-have dishes from a local expert. Think of it like a foodie Wikipedia.
So when planning your next trip, head to the ExtremeFoodies website and find the relevant expert. Then get their list and print it out, or download the new ExtremeFoodies app. We have been with the team for just a year but in that time have used (and loved) the picks for Bangkok, Seoul, Istanbul, London and Japan. We were/are Food Experts for Kuala Lumpur, but will shortly be taking on a new role to help expand the coverage in London.
FRIDAY
Every year ExtremeFoodies hosts the Global Food Awards with Food Experts from around the globe flying into London over the weekend to get to know each other, share culinary tips and taste some sensational dishes. Having checked into the super-cool Hoxton Hotel in Shoreditch we head down to the cocktail reception to meet and greet everyone.
For years I have been drooling over Street Feast London's Instagram feed from Australia, and it has been my number-one thing to do now that we are back in London. So perhaps it was fate that dinner was at Street Feast Dalston, where we enjoyed some of London's finest street food washed down with local craft beers. I know many cities boast a street food / food truck hangout – but trust me – there's nothing like this anywhere and is just one reason why London is second to none.
Housed in a disused building site, you can see the team has given the area a fresh can of spraypaint and knocked up a few stalls for vendors to trade from – in between the scaffolding, fairy lights are strung and for somewhere so urban it all looks pretty magical as the sun sets. I know it doesn't sound like much but you have to experience it. Arriving you find a selection of different bars all specialising in either craft beers, small-batch gin, cocktails, wine, whisky, the list could go on. Within the yard punters can then choose from a number of well-known and guest traders, with the choices including Bleecker St. Burger (more on them later), Rola Wala (an addictive naan bread bar), Slider Bar, Yum Bun (steamed gua bao) and Breddos Tacos, who return with their Taco Shack.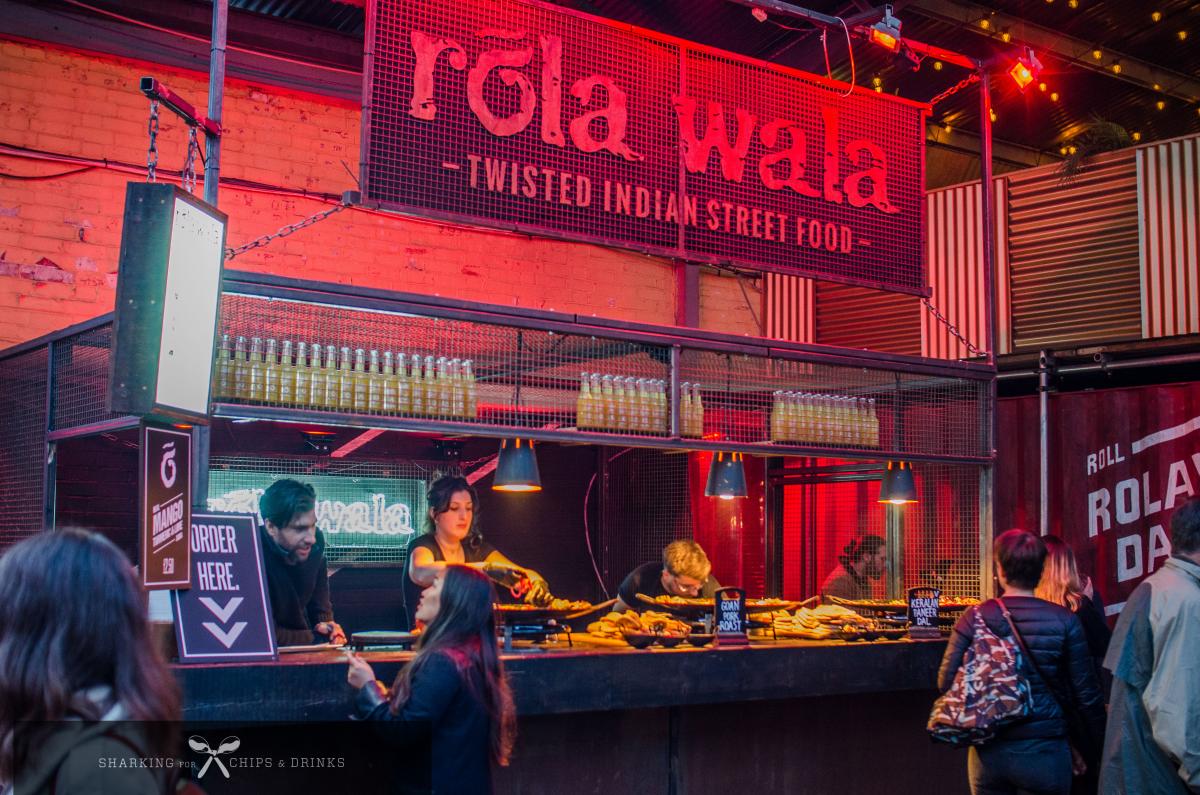 An awesome night and a quintessential London experience where people can sample up-and-coming food trends and try vendors' creations before they move to brick-and-mortar locations.
SATURDAY
This was an early start, with coffee at Shoreditch Grind on Old Street roundabout before being whisked away to try London's best fish and chips at Toff's Fish and Chips in Muswell Hill. Established in 1968 this placed an emphasis on getting the basics right, which is why it's still constantly packed out today. With 12 varieties of fish on the menu (which travel from Grimsby docks in the north of England to hungry punters' plates in less than two days), delicious hand-cut chips and homemade tartare sauce, the wood paneled dining room is the kind of place to bed down for an afternoon of deep-fried fishy feasting and we think it was very well-deserving of the title of best fish and chips.
Continuing on our merry way we headed to try London's best laksa at Singapore Garden. A classic Peranakan dish (a cuisine based on a combination of Chinese and Malay cooking techniques and ingredients) this was always going to be a difficult one for us coming from Kuala Lumpur, where we were blown away by different stalls' versions of the spicy noodle soup. The broth had great heat and depth of flavour, the succulent prawns and fluffy tofu added good textural interest, but was it the best? Personally, we would have preferred a thicker broth with a bit more coconut milk but then that's just down to personal preference.
After a roundtable with ExtremeFoodies founder Jeffrey Merrihue where we discussed exciting plans for the future of the site – watch this space – we also got to have a glimpse inside Andina – a Peruvian restaurant founded by Martin Morales that has been on our list for a while.
We barely had time to set foot in our hotel room before heading to the champagne (or should I say Spanish sparkling wine) reception at Quality Chop House in Clerkenwell. I have previously visited and left telling everyone that it was the quintessential London restaurant that everyone needs to experience. I was doing the same throughout the pre-dinner drinks and canapes, which took place next-door at the on-site butcher.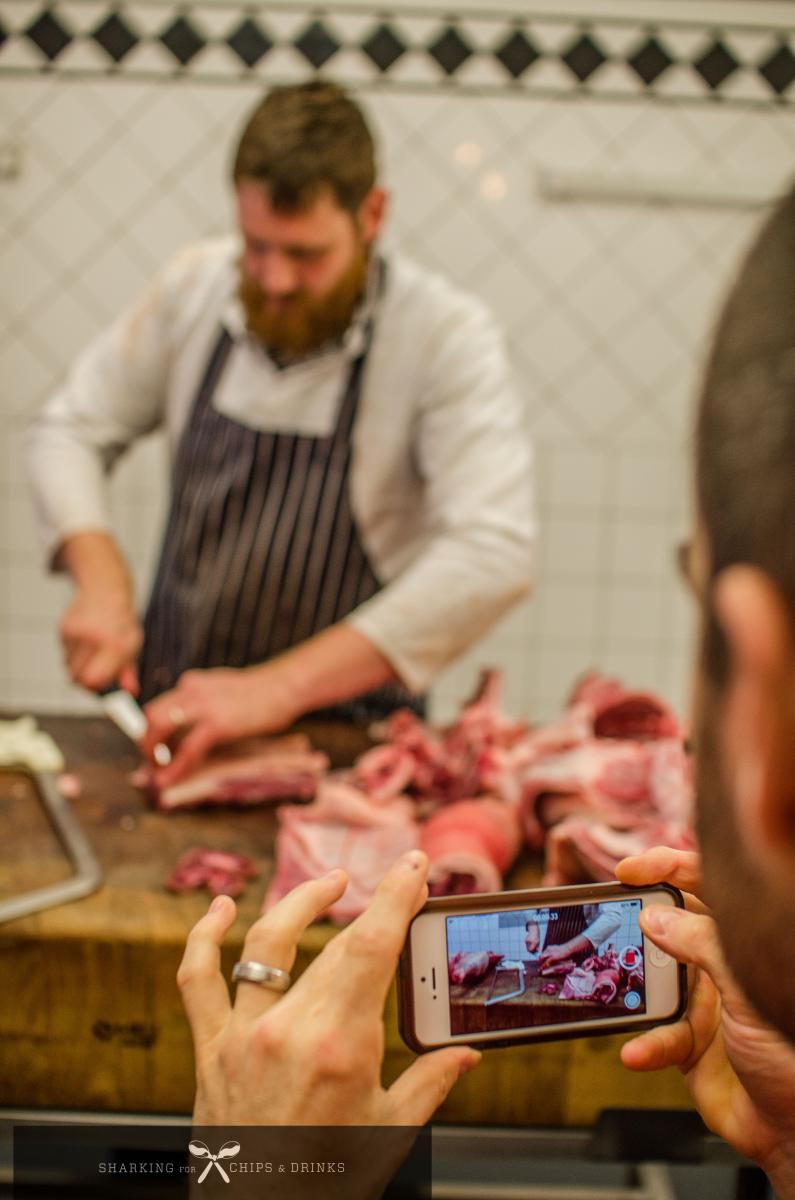 While we drank Vatua! Extra Brut NV Colet (gewurztraminer 10%, muscat 45% and parellada 45% – despite the grapes in this blend it is not too fragrant, just delicately exotic) we were able to watch one of the butchers break down a whole lamb. The man was a magician. It was difficult to concentrate at times though, with the truffled potato croquettes and aged beef tartare canapés doing the rounds.
Having been seated in one of the cosy booth-style tables in the atmospheric dining room, we found the evening's menu had been especially designed by head chef Sean Searly:
Quality Chop House pastrami and pickles.
Wild mushrooms, chicken liver and foie gras parfait with summer truffle (down photo).
Longhorn mince, dripping toast and watercress.
Rolled saddle of Blackface lamb, peas and bacon, confit potatoes (stunning) and charred baby gem.
A selection of huge Neal's Yard cheeses with fig and walnut chutney and oatcakes.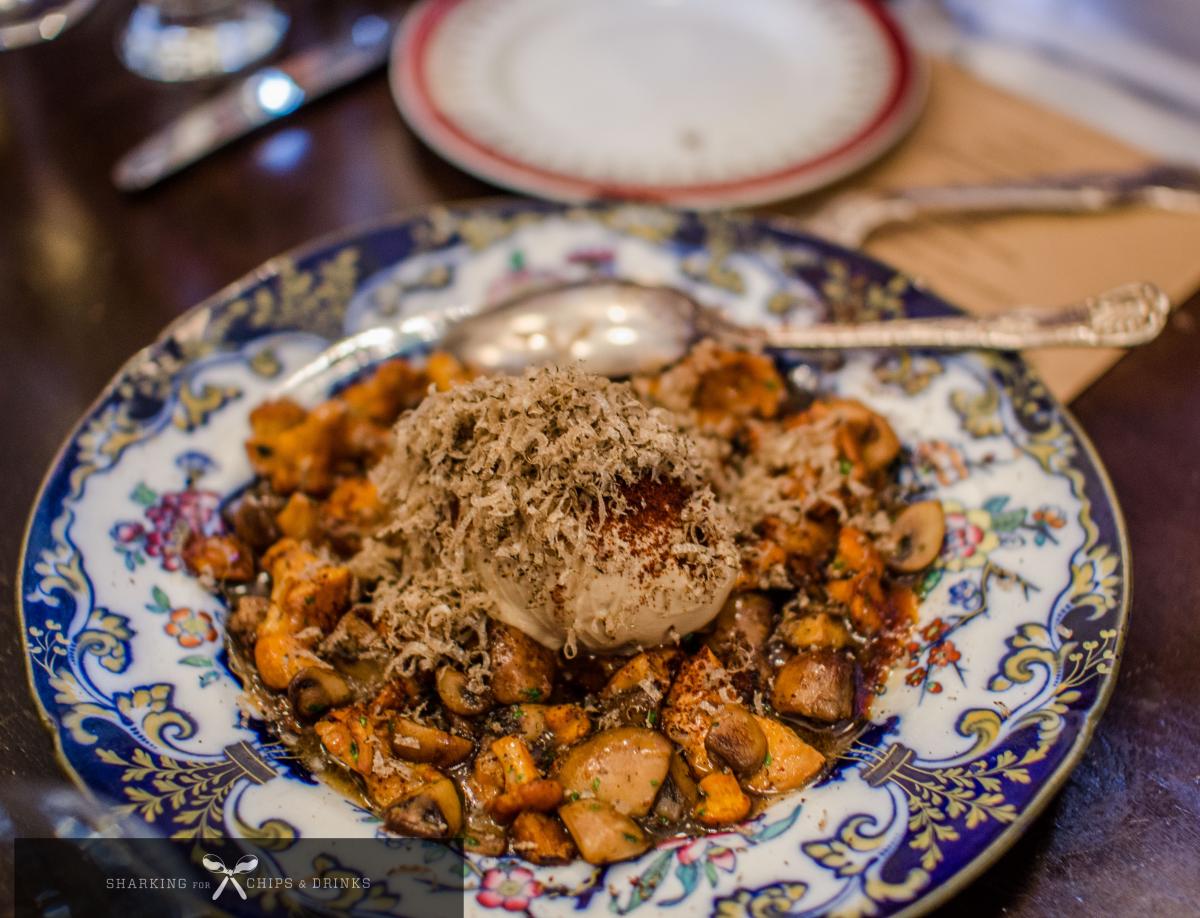 Every single dish was out of this world with the mushroom and foie gras being my hands-down dish of the weekend and possibly 2015 so far. We just love how this place serves big, bold, earthy flavours without ever tipping into being too rich.
SUNDAY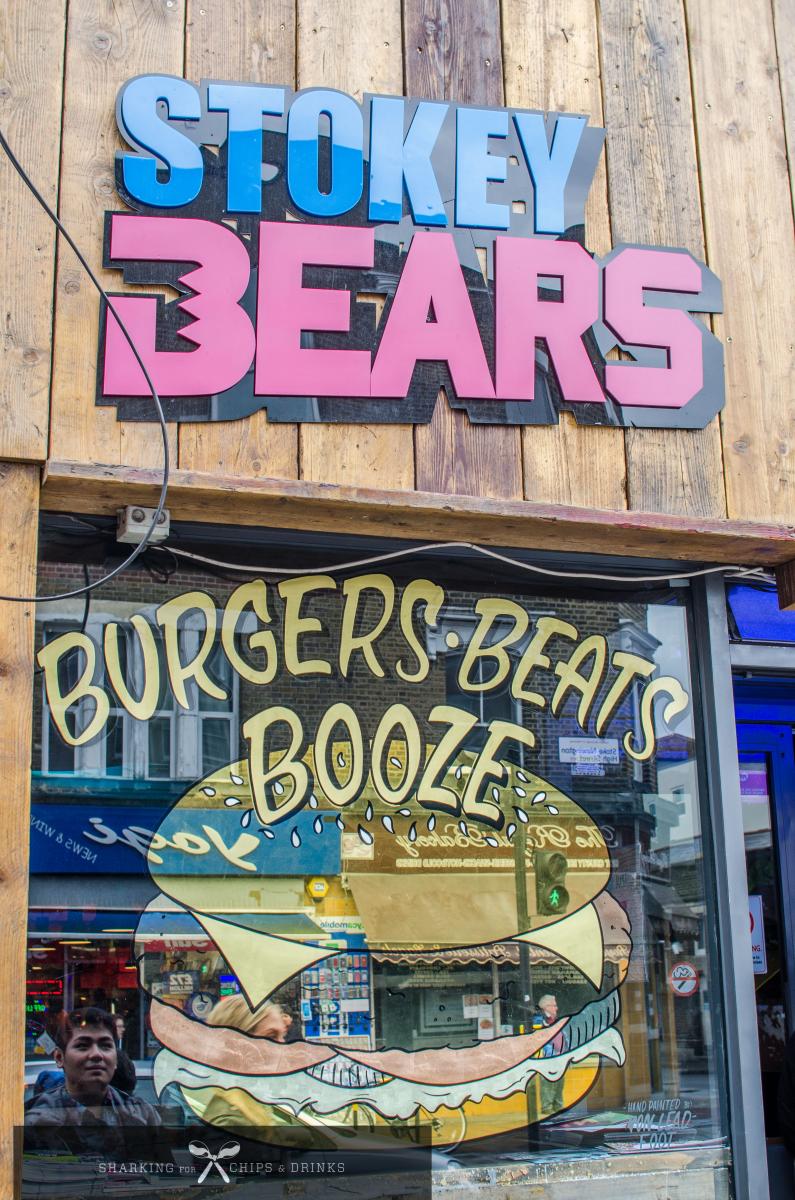 To kick the hangovers, today was all about the London Burger Crawl and first up was newcomer Stokey Bears in Stoke Newington – a dark disco meets micro-brewery meets greasy burger bar. These guys crowd-sourced £36,000 on Kickstarter thanks to fans of their pop-ups, and they have now opened in partnership with Bear Hug Brewing Company.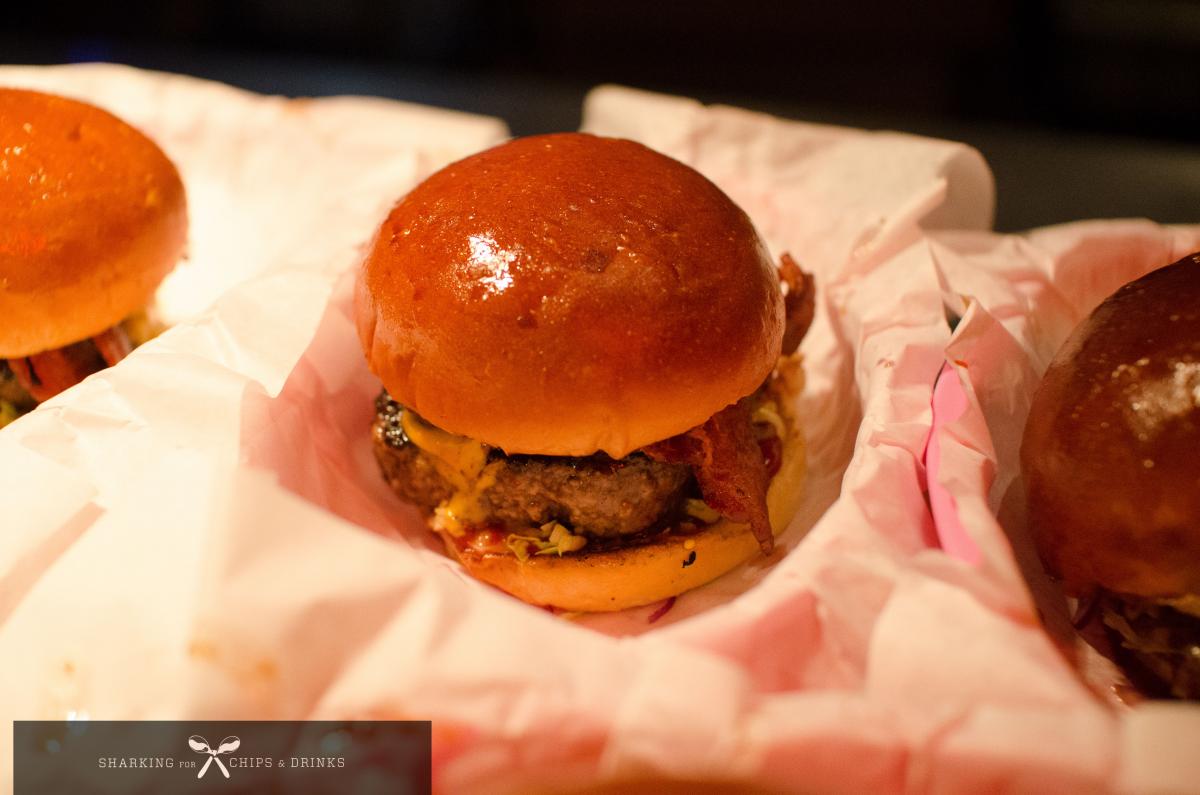 The guys behind Stokey Bears certainly brought their A-game this morning, along with lashings of their famous bacon jam. We got to try three burgers – Burger Bear (a classic cheeseburger), Grizzly Bear (cheeseburger topped with double oak-smoked bacon and bacon jam) and Angry Bear (a cheeseburger topped with spicy relish and The Rib Man's Holy F*&k Hot Sauce). For me the glazed buns elevated these to something really special.
I ordered their hot wings knowing many people claim they are the best in London. And yes, they were the bomb. I much preferred them to the wings at Patty & Bun (Winger Winger Chicken Dinner – smoked confit wings with BBQ sauce and spring onions) as I find them too soft and would rather struggle to get the meat off the bones than have it slide away.
But it wasn't about wings today, and on we pressed to Patty & Bun in Liverpool Street to try their Ari Gold cheeseburger – a tender beef patty, cheese, crispy lettuce, tomato, pickled onions, Ketchup, P&B's smokey mayo and a melt-in-your mouth brioche bun.
Next, Honest Burgers. I really enjoyed this one as I felt the burger patty had the right mouthfeel and was seasoned to perfection. Our table ended up just picking up the patty to eat it by itself as it was just that good.
Our final stop was to try the Bleecker Black from Bleecker St. Burger. The black refers not to the juicy aged beef patties, cooked south of medium rare, but to the dried blood in the Clonakilty beef black pudding. It has become one of the most iconic burgers currently being served London and I thought they would put up a good fight for the Global Awards later in the night.
Before retiring after a non-stop foodie marathon we paid a visit to Nuno Mendes' new restaurant in Spitalfields – Taberna Do Mercado. He is an amazing man and I might now have moved my secret man-crush from Russell Norman over to Nuno.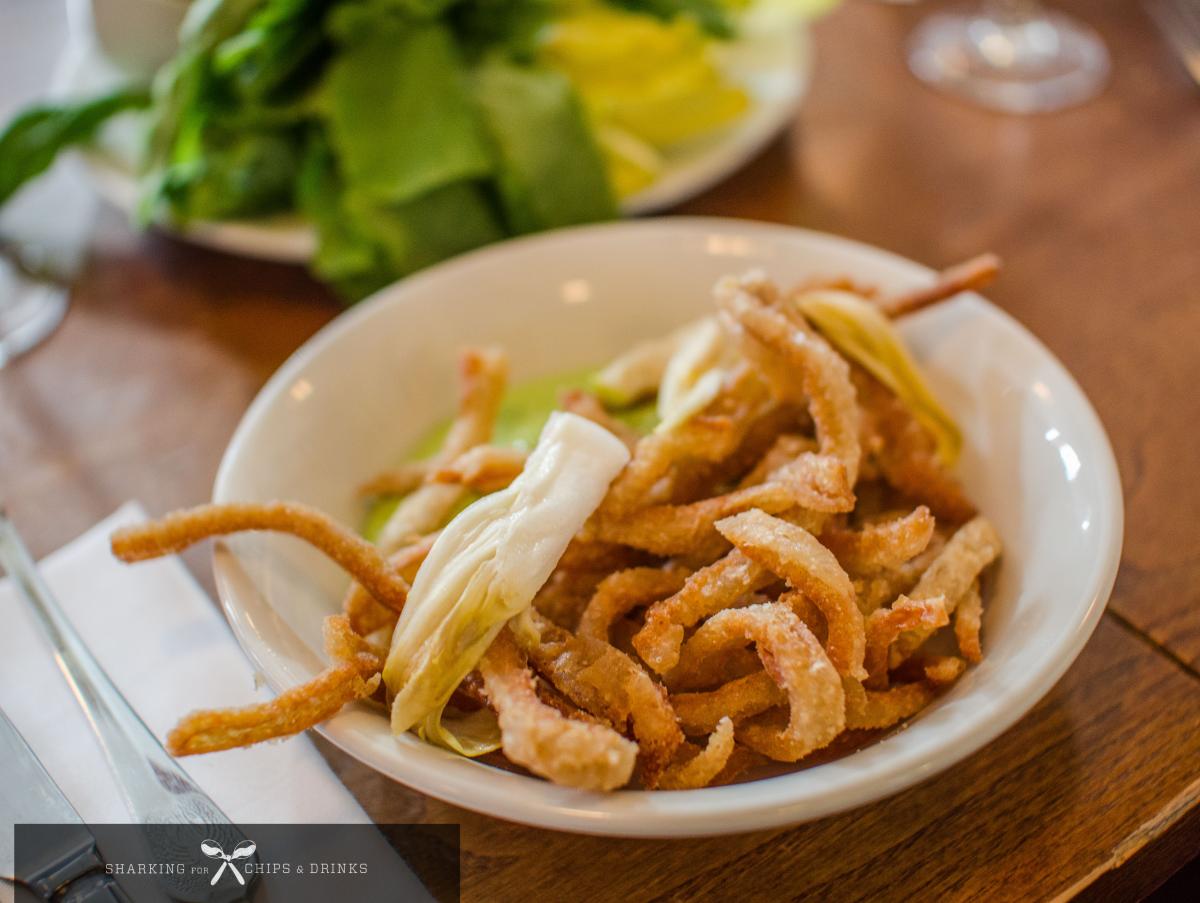 The main event was always going to be special. ExtremeFoodies had booked out the world-famous St. John Bread and Wine restaurant in Spitalfields to announce the world's tastiest feasts across their 13 categories. I was a little star-struck to be able to shake the hand of king of nose-to-tail eating Fergus Henderson and have a chinwag with him before proceedings started.
Ox heart, dandelion and pickled walnuts
Roast bone marrow, parsley and shallots (not for the faint-hearted – simply entice the gelatinous centre of the bone out with a lobster pick and spread it on toast)
Purple sprouting broccoli, duck egg and anchovy
Whole roast suckling pigs, expertly carved in front of us
Baked white fish, roast fennel and aioli
Eccles cake and Lancashire cheese (a supremely English offering)
Gingerloaf and butterscotch sauce.
Throughout the ceremony awards were presented by some of London's most respected chefs. My wife and co-blogger Helen and I were lucky enough to take out the award for our nomination of Kuala Lumpur's Sek Yuen as Best Chinese Restaurant in the World. We are so glad that this regularly overlooked authentic Cantonese restaurant serving duck, duck and more duck scooped the prize! Let's just say celebrations ran on into the early hours.
Click here for the full list of winners.
MONDAY
To finish an amazing few days of food, what better place to bring the international crowd for a goodbye breakfast than Hawksmoor?
One of London's most celebrated steak restaurants, Hawksmoor's five London locations are seriously stylish. Chanelling a kind of classic New York dining room and bar aesthetic they manage to be spacious and intimate all at the same time.
The shared breakfast for two includes: smoked bacon chop, short-rib bubble and squeak, meaty grilled bone marrow, fried eggs, juicy sausages made with pork, beef and mutton, savoury black pudding, grilled mushrooms, roasted tomatoes, trotter baked beans, unlimited toast and the house's trademark gravy. No wonder it's been nominated the best breakfast in the world!
I decided on a breakfast cocktail – an Anti-Fogmatic – to accompany my meat feast. The marmalade cocktail was made with gin, campari, lemon juice, orange bitters and English marmalade. Throughout the morning everyone at the table was asking if this was a typical meal people in the UK ate regularly, and we answered in the affirmative. This is a staple within Britain's culinary heritage (although you wouldn't get such generous portions or anywhere near the outstanding quality in a local café).
We are so lucky to play a part in such a great website and have the opportunity to meet a huge number of people from all over the world – we are now planning our travels around their cities. Hats off to the biggest weekend of food and drink I have ever had in my entire life (we were basically eating or being ferried between meals from Friday to Monday). I look forward to seeing you all in Mexico for the South America Awards in September!
More on featured restaurants
Recommended features by ExtremeFoodies
Meet the author