Mumbai's Tastiest Vegetarian Dishes
By ExtremeFoodies on May 21st, 2015
If you're a vegetarian, or you're interested in just giving the old digestive system a break for a day or two, it is a good idea to pick up a few vegetarian recipe ideas and inspirations.
Only a few cities respect the vegetable dish more than the vibrant and colourful Mumbai. This video serves as a friendly guide to any spirited soul who is lucky enough to walk Mumbai's streets and feels a pang of hunger for some delicious and spicy vegetarian meals. Read about the dishes in detail below, and click on the titles or images to find out more.
It would be an excellent idea to stop for some misal pav next time you are in the Maharashtra capital. Misal is a spicy curry that is commonly made with the moth/mung bean sprouts, a bean that is especially resilient when grown in the harsh Indian heat. Combined in spicy gravy with potatoes, it is topped with farsan or sev, a crunchy chickpea based Indian snack. Served with freshly chopped red onion and lime, the dish is only complete when coupled with sweet and soft pav, the colloquial term for bread in Mumbai. Drop into Mumbai's Aaswad restaurant for its best variation.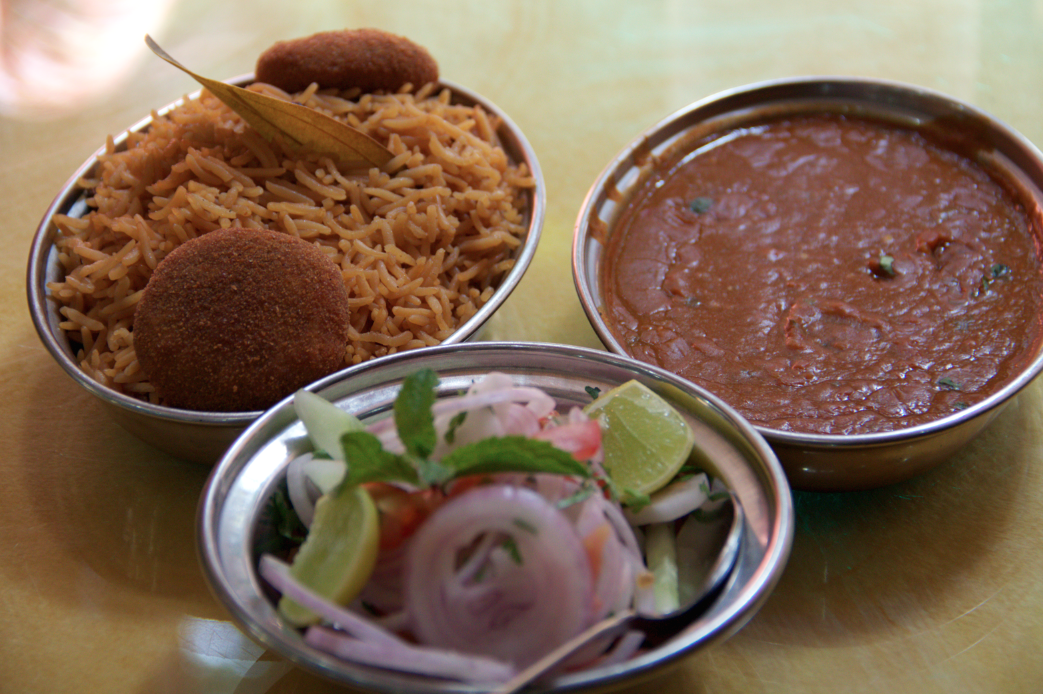 With misal as your delicious appetiser why not get to know more about the Parsi culture by sampling some of their delicious eats. The Parsi people are descendants of a branch of Persians living in India who have utilised strong spices in their curry recipes. Dhansak is the name of their curry that is often made with goat or chicken, but a thick-gravy vegetable dhansak is just as popular. A dhansak curry is reliant on the dhansak masala that is common in northern India, and when combined with root vegetables and lentils, the thick curry can be served on a bed of wild rice or brown rice as a hearty tummy filler. Jimmy Boy restaurant in south Mumbai serves the real deal vegetable dhansak, so make sure you pop in for a taste bud tickle.
One of the world's first ancient civilizations was that of the Indus Valley and since then the Rajasthan region in India has been home to many wandering and conquering cultures. From amongst the multitude of differing traditions the kadhi recipe has remained a regional favourite. The thick kadhi gravy has offered the humble Rajasthani a simple relief from the pounding and relentless Indian heat. A kadhi base consists of chickpea flour for consistency and an Indian yoghurt or curd for taste. Flavoured with a compilation of spices the khadi is usually served with khichdi. Khichdi is a staple in many parts of India where rice and lentils are mixed to various consistencies of either a dry bed for gravy or stodgy porridge. The Soam restaurant in Chowpatty, Mumbai serve theirs with a crispy popadum on the side.
Subscribe to the ExtremeFoodies YouTube for more delicious videos, and keep up with ExtremeFoodies across social media:
Facebook
Twitter
Instagram
Google+