5 Essential Sri Lankan Curries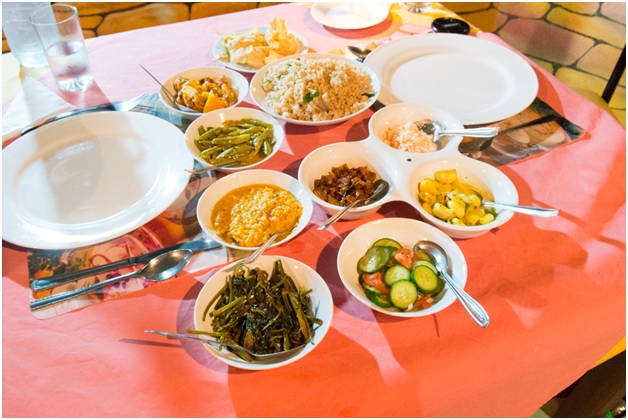 Rice and curry is Sri Lanka's most common meal. / Courtesy of Naomi Tomky

To paraphrase Daniel Webster: Sri Lanka is a small island, and yet, there are those who love it. After a few weeks spent tasting every kind of spicy curry and coconut condiment the island has to offer, trying more new-to-me vegetables than I can count on my sun-burnt toes, and unraveling string hoppers with delight, I count myself among those people who love Sri Lanka — and its most common meal, rice and curry.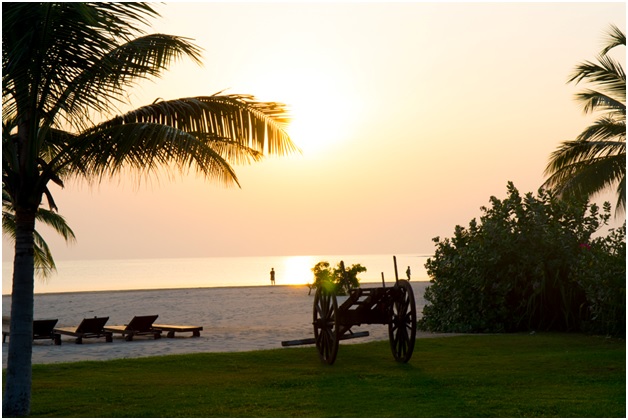 Traders sailing the Indian Ocean introduced new flavors to this island country. / Courtesy of Naomi Tomky

Hanging off the tip of India like a coconut off a palm tree, Sri Lanka shares many foods with its larger neighbor. But Indian food it is not; Sri Lankan food brings together the history of the island, a valuable location for traders sailing through the Indian Ocean. Ingredients native to the island form the base of most meals: rice, coconut and fish. But strong Portuguese, Dutch, Arabian and British influences -- brought by traders, missionaries and colonizers -- are found in nearly every meal in the form of spicy New-World peppers, European cooking techniques (roasting or frying) or Middle Eastern spices.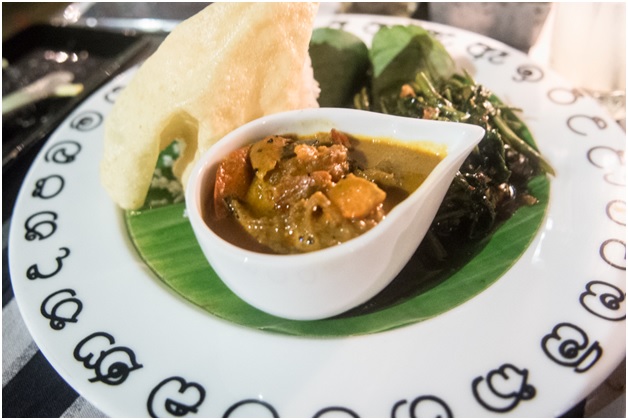 Shrimp curry at the Gallery Café in Colombo. / Courtesy of Naomi Tomky
Let's just get this out of the way: it is very, very hot in Sri Lanka. What else is very hot? The food, almost all of which is spiced ferociously. Sri Lankan-style curries are simple — a chunk or two of protein afloat in a sea of pepper-laced broth—and much thinner than what you'll see at most Indian restaurants. Chicken, fish, beef, shrimp and crab curries are common anchors of a meal. Traditional versions with native black peppercorn are less common than they were before the European introduction of the red pepper. Find an excellent version of shrimp curry (shown here) at the Gallery Café at Paradise Road in Colombo.

Rice helps tame the heat found in most Sri Lankan foods. / Naomi Tomky
To tame the heat of curry, the centerpiece of every meal is a starch, usually rice. In fact, "rice and curry" is almost synonymous with food in Sri Lanka, referring not only to the two dishes named, but the assortment of side dishes, vegetables and condiments served with it. Sri Lanka grows more than a dozen varieties of rice, and most cooks have at least that many ways to serve it with curry—from plain to soaked in coconut milk and cut into diamonds (called kiribath). Almost anywhere will have a good rice and curry, but one of the best is at Rawana Holiday Resort in Ella. Just let them know by mid-afternoon that you'd like to come for dinner. You don't need to stay there.

String hoppers are vermicelli-like rice noodles. / Courtesy of Naomi Tomky
String hoppers are another common Sri Lankan starch—not rice, but made from rice. Thin vermicelli-like rice noodles are formed into thin, round pancakes, and stacked. Like the rice, these are used to pick up surrounding curry and side dishes. A thin coconut milk curry broth usually accompanies string hoppers for dipping, in addition to the usual sides. It was a breakfast hit from the Wimala Hotel (hotel means restaurant in Sri Lanka) in Ella.

Coconut sambal is a fresh relish of coconut, red peppers, lime juice, fish and more. / Courtesy of Naomi Tomky
The "usual sides" served with nearly every meal include dahl curry (red lentils), coconut sambal and onion sambal. Sambals are fresh, raw relishes, the coconut one prepared with varying levels of red pepper (the finished dish is sometimes snow white and sometimes fire-engine red with spice), lime juice, shallots and Maldive fish (a dried fish common in Sri Lankan cuisine). The onion sambal is flavored with chopped shallots, peppers and lime juice. The fancy creation shown here comes from the incredible Ministry of Crab in Colombo's posh Dutch Hospital.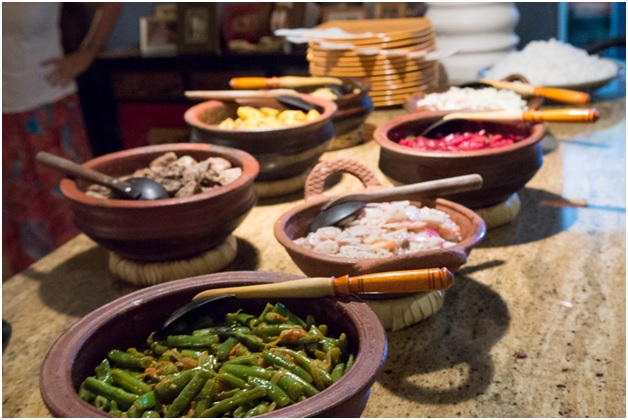 Available side dishes depend on what's in season and the chef's whim. / Courtesy of Naomi Tomky
The rest of the sides change from time to time depending on the season, the eatery's location on the island, type of curry being served or whim of the chef. Beets, jackfruit or murunga (sometimes called drumstick in English) are commonly seen in curries, while okra, potatoes or eggplant might show up "deviled"—with onions and peppers. Leafy greens are likely to be in a mallum, shredded and mixed with coconut. Most meals are also accompanied by a few small pappadums—think fried lentil chips. Mercy at Victoria Guest House does endless wonders with a variety of vegetables, many plucked earlier that day from her garden. Just call ahead to let her know you'd like to come.

A rice and curry dinner is a true culinary adventure. / Courtesy of Naomi Tomky
Sri Lanka is a small island, for sure, but the meals are big—a starch or two, a few sambals, a couple of vegetable curries, the main protein and a pappadam, and you're looking at seven dishes for a simple meal. Sitting down to the impressive array of rice and curry bowls is something of a choose-your-own adventure—without a wrong path to go down. The starch serves to ferry the spicy curries and refreshing condiments from bowl to mouth. But how they're mixed on the plate or in the hand is up to the diner—and every bite is just a little different from the last.
More on the delicious curries
Meet the author