World's Finest Chocolate
The world's finest chocolate is made from Criollo beans grown in Chuao. / kitchenbelleicious.com
Venezuela: The land of cocoa
Chuao, in the Aragua state of Venezuela, is home to the most famous cacao producers in the world. To reach the remote location on the northern coastal range of Venezuela, visitors must walk for several hours from Puerto Colombia through the magnificent wildlife of the Henri Pittier National Park, or sail on a small boat through rough and strong waves.
To reach Chuao, visitors must walk through rain forest or boat to the remote coastal community. / Maria Luisa Rios
At the end of that journey is a village of roughly 2,000 inhabitants where, for the past 400 years, everything grown in 140 hectares is a high quality cacao bean.
This bean, called Criollo, is sought after by expert chocolatiers around the world for its soft, sweet and complex seeds.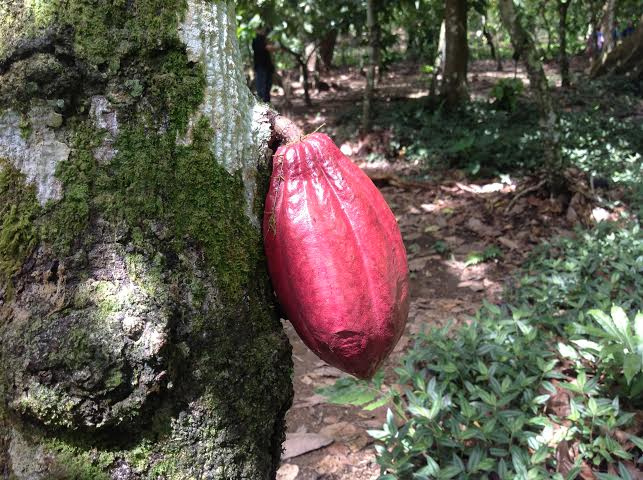 The raw cocoa beans grown in Chuao are used to make the world's finest chocolate. / Courtesy of Maria Luisa Rios
Experts attribute the quality of Chuao's cacao to the fertile soil in the humid equatorial microclimate irrigated by rivers and surrounded by mountains and sea.
From the plantations, the beans are taken to Casa Grande, where they are fermented in wooden tanks covered with banana leaves for about a week.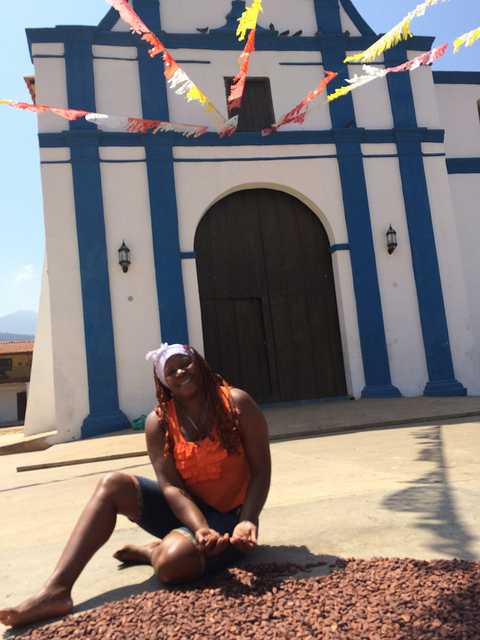 Cacao beans are spread in the sun to dry. / Maria Luisa Rios
After fermentation, the cacao beans are spread in the sun to dry. The drying patio in Chuao has three textures: rustic, where the beans spend a day to remove the remaining mucilage; semi-rustic, where it spends eight to 15 days; and smooth, where it spends its final day of drying. Several times each day, the beans are moved side to side. And in the afternoons, they are moved indoors to a wooden floor to prevent them from absorbing moisture from the concrete floor.
From there, the beans go into a grain sorting machine, brought from Paris in 1810, that is still in use today.
"We say we have the best cacao in the world. Producers in other regions do not devote as many hours to work and love of cacao," says Isora Chavez, president of the Rural Enterprise Chuao consisting of 100 producers.
Fine-grained and aromatic, the production of Criollo cacao from Chuao in 2014 was only 20 tons. Because of the high price it garners on the international market, the entire harvest is exported to members of the bean-to-bar movement in America and Europe. Venezuelans have little chance to enjoy chocolates made with cacao from Chuao.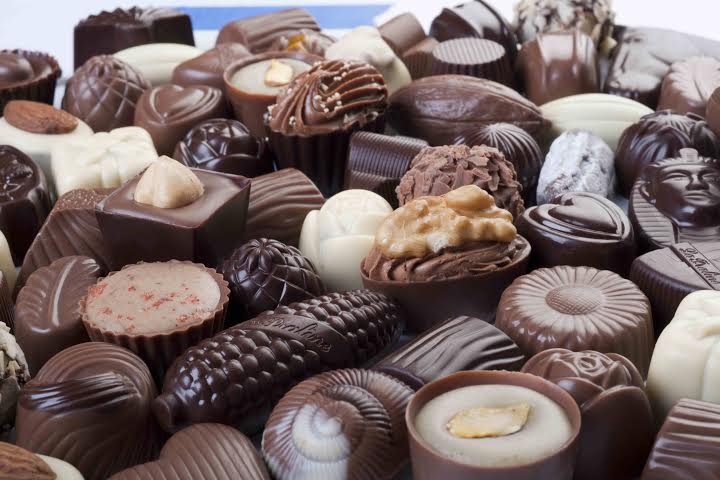 More than 28 varieties of Criollo cacao are grown in Venezuela, which finds its way into the world's best chocolates. / La Praline
Fortunately, other regions in Venezuela, such as Rio Caribe, Canoabo, Ocumare, Sur del Lago, Macuare and more also produce high quality cacao. According to leading experts, more than 28 varieties of Criollo cacao -- characterized by such unique tastes as honey, coffee, flower, fruits and nuts -- have been discovered and registered in Venezuela.
After fermentation and drying, the beans are roasted to obtain the cacao liquor, develop complex flavors and eliminate acidic compounds. The process of making chocolate includes cracking and winnowing to separate the cacao nibs from the worthless shells, refining with extensive grinding, conching (or kneading) the cacao liquor and tempering. Sometimes it is mixed, depending on the artisan, with sugar, milk, cocoa butter and vanilla before conching.
Chocolate can be white, brown, and iridescent or black, and its color often has nothing to do with the amount of cacao used. Fine chocolate makes a "clack" when it breaks and melts between the fingers because of body temperature. As such, it should be stored in dark environments with low humidity and temperatures between 19 to 25 degrees Celsius.
Experts say the best way to truly enjoy fine chocolates is to leave it in your mouth for a while and savor its flavors thoroughly.
Read on to discover where to enjoy some of the best chocolate Venezuela has to offer.
Chuao 70 % is accented with fruit. / Cacao de Origen
Cacao de Origen is a unique place. A friendly store showcasing chocolates of various craftsmen, you can enjoy a good cup of hot chocolate and sign up for organized lectures and tastings. On the mezzanine is the bean-to-bar, limited-edition fine chocolates made with cocoa beans from regions around the country.
Consider buying the Chuao 70% chocolate bar, at left. Handmade with cacao from the 2013 San Benito Harvest of the Empresa Campesina de Chuao, it has a delicate cacao taste accented with juicy cherry, lemon and orange. Melt it on your tongue and enjoy the explosion of flavors and delicious aftertaste. It is one of the few chocolates made with cacao from Chuao available in Venezuela.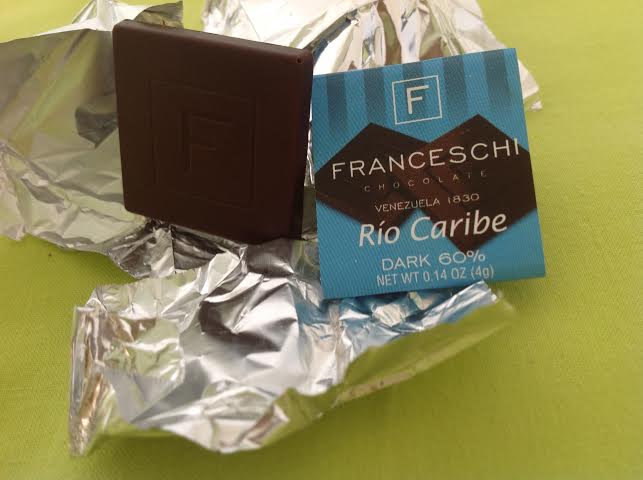 Franceschi grinds beans from its own property to create Río Caribe 60 %. / Courtesy of lapralinechocolatier.com
Members of the Franceschi family are passionate advocates of the art in making dark chocolate from Origin. They are artisans of fine and superfine chocolates, which are made with carefully selected Venezuelan ancestral cocoa beans of Criollo and Trinitario Origin from their property in Golfo de Paria.
Consider a chocolate bar made by Franceschi Chocolate.
Río Caribe 60% is a thin chocolate made with fine Trinitario cacao. With intense aromas, its flavors are predominantly earthy, spices and wood, reminiscent of the large cocoa region surrounded by the Caribbean Sea. This bar won Gold and Silver awards at the International Chocolate Awards 2014.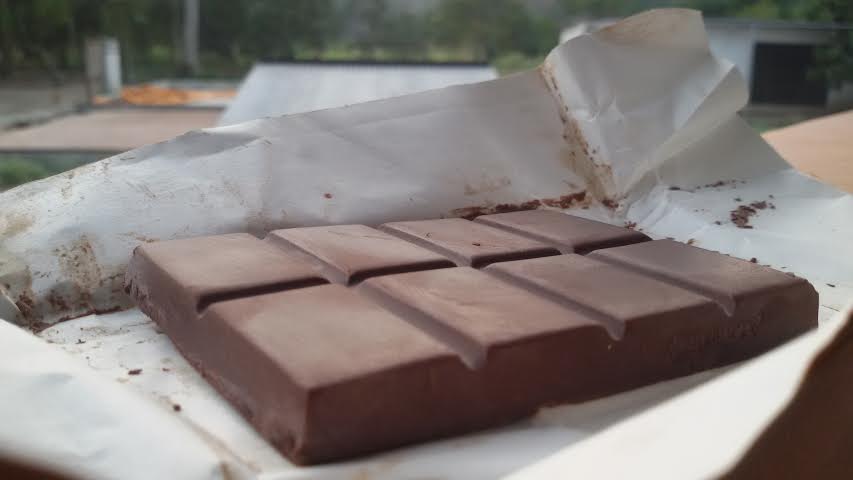 Valle Canoabo 70 % has a fruity taste with hints of nuts and sugar cane. / Courtesy of Canoabo
At Hacienda San Cayetano, you can sign up for weekend tours of the area's cocoa plantations and learn how the beans are processed to achieve quality chocolate. They make two types of chocolate bars: Valle Canoabo 60% and Valle Canoabo 70%. The thick chocolate has a fruity taste with hints of nuts and sugar cane. The valley is full of trees that provide shade to the cacao: bucare, samanes and mijaos. The flavors draw from fruit trees such as oranges, tangerines and bananas.
The milk chocolate Tonka bonbon is infused with ganche and honey. / La Praline
Visiting La Praline is an adventure wrapped in delicious cacao aromas while trying to decide which bonbons to eat. Master Chocolatier Bryan Van Den Broeke uses a special formula from Chocolates El Rey to make his unique mousses, pralines and ganache. It's not easy to choose from more than 100 beautiful dark chocolate, milk chocolate, white chocolate, decorative bonbons and truffles.
The Tonka bonbon made with milk chocolate is a real gem. Break it with your teeth and you will find a delicious light touch of tonka bean infused ganache and honey from Cerro de la Sabana. It will take you to the moon. The tree of sarrapia is emblematic of Bolivar state in Venezuela and it also grows in Brazil and Guyana. The seed has a vanilla-like taste and is used to flavor certain tobaccos, perfumes, soaps, spirits and bakery products. Once you've tasted Tonka, you will ask for it every time you visit La Praline.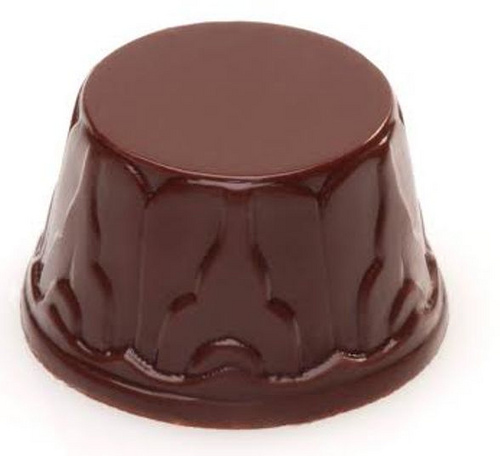 Romero Salé is filled with rosemary and fleur de sale ganache covered in bittersweet chocolate. / Courtesy of Arcay Chocolates
Anabella Arcay is an artisan known for her beautiful, award-winning chocolates. She handles special orders and assembles decorated tables for family celebrations and corporate events. She also sells to the public from her at-home boutique in the Prados del Este residential area of Caracas.
The Romero Salé, coated in bitter chocolate and filled with rosemary leaves and fleur de sal ganache, takes you to a new world of sensations. This bonbon won bronze medals in the Grand Final of the International Chocolate Awards 2014 and bronze in the 2014 International Chocolate Awards Americas.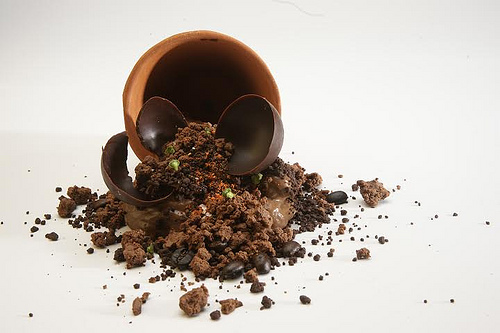 The sumptuous Tierra de Cacao at Alto is filled with myriad textures of chocolates. / Courtesy of Alto Restaurant
They say Alto Restaurant's chef took huge smiles and applause at the Slow Food Cooks Alliance meeting three years ago in Tuscany. At the gala, Carlos García presented his iconic Tierra de Cacao dessert, made with several varieties of cocoa. It has been on Alto's menu ever since.
Be prepared to receive a ceramic pot filled with scrumptious textures of chocolates: solid, liquid, crunchy, soft and creamy. Alto Restaurant has been listed among Latin America's 50 Best Restaurants since its first edition in 2013.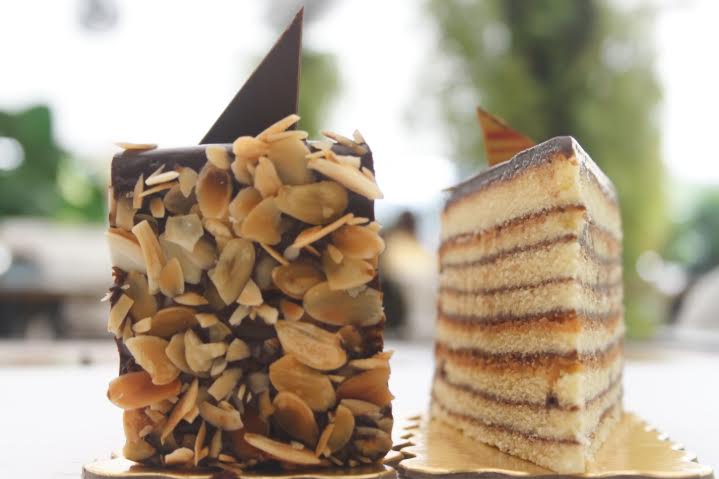 Marquesa de Chocolate alternates dark chocolate and sponge cake, covered in toasted almond flakes. / Courtesy of St. Honoré
The uber famous St. Honoré bakery is no longer in the bustling neighbourhood of Los Palos Grandes. But the traditional and emblematic Marquesa de Chocolate remains at their new premise in La Alameda. It's a trending place to see and be seen, with two nice areas to sit and enjoy delicious dishes. Try the cozy terrace filled with green plants and light decor.
The Marquesa de Chocolate has eight thin layers of dark smooth chocolate interspersed with sponge cake and surrounded with crunchy, toasted almond flakes. You will want to eat more and more of this heavenly dessert.
More about them
Recommended features by ExtremeFoodies
Meet the author