The 18 Best Food Trucks in Los Angeles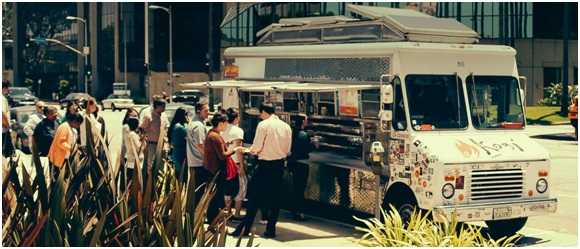 Los Angeles has a popular street food scene. / Courtesy of Kogi BBQ
Food trucks in the City of Angels, from A to Z
Food trucks have been around L.A. for decades, but it's only been since late 2008 that they jumped from cult classics to mainstream consciousness. Kogi BBQ and Chef Roy Choi, who built an empire from a sticker-tagged taco truck, played a big part of that switch. Now you'll find old-school Mexican vendors sharing coveted curbs with fusion taco chefs, market-driven mavens and talented dessert peddlers.
Take a close look at L.A.'s best food trucks, listed in alphabetical order.

Sweet corn tamale cone at Border Grill Truck. / Courtesy of Joshua Lurie
Chefs Mary Sue Milliken and Susan Feniger have been making a joint impact on the L.A. dining scene for more than three decades. Yes, it's still worth visiting their Santa Monica and downtown Border Grills, but sometimes their fast mobile version is more convenient. Border Grill is ostensibly a Mexican concept, though the duo draws on pan-Latin influences that are evident on the truck. Executive chef Michelle Lainez delivers tacos loaded with carnitas, Cubano chicken and crispy beer-battered fish with avocado crema and aji amarillo aioli. Cones are unique to the truck, filled with combos like sweet corn tamale with crema and salsa fresca; Baja ceviche with shrimp, sustainable fish, tomato and jalapeno aioli; and banana cream pie with dulce de leche for dessert.

CVT Soft Serve claims Bill Murray among its celebrity fans. / Courtesy of Joshua Lurie
Chocolate, vanilla or twist? That's the pressing question at this vintage tan and brown truck from Joe Nicchi and wife Tyler that wanders L.A. boulevards and Hollywood backlots, where CVT has cultivated a following with celebrities. Yes, that's Bill Murray on CVT's Instagram feed. Creamy soft serve comes in a cup or cake cone with toppings like rainbow sprinkles, chocolate sprinkles or sprinkled sea salt.

El Mar Azul's tostadas are brimming with the freshest seafood. / Courtesy of Joshua Lurie
Mexico City native Felipe Cejudo and wife Rosie first parked their sea blue truck next to Sycamore Grove Park in 1994. Since then, they've specialized in high-value tostadas and cocteles in Highland Park. Tostadas are remarkable, with fried corn discs hosting creamy slaw, relish, avocado and "secrets." Choose from shrimp, abalone, octopus, imitation crab or all of the above. Add chile sauce and a squeeze of lime, and you're good to go. They also have cocktails in Styrofoam cups with avocado, diced onions, cilantro, and an ambrosia-like blend of Clamato and tomato juice. Crumble crackers or break off pieces of tostada to team with plump seafood. Shrimp is your best bet.

Caser salad sandwiches bursts with free-range chicken at Free Range LA. / Courtesy of Joshua Lurie
Which came first, the chicken or the egg? At Jesse Furman's cluckmobile, the answer is irrelevant, since you can get both products. They are, of course, free-range. His signature sandwich involves tempura-fried thigh with jalapeño slaw and honey mustard on a toasted Portuguese bun. Breakfast sandwiches on flaky house-made biscuits with eggs, local cheddar and either chicken sausage patties or applewood bacon are also stellar. Don't ignore the specials board, which has included hits like the chicken Caesar salad sandwich and grilled chicken club with bacon, buttermilk ranch, tomato and potato chips.

The Cheesy Mac showcases caramelized onions and pulled pork at The Grilled Cheese Truck. / Courtesy of The Grilled Cheese Truck
Dave Danhi, a longtime chef and culinary headhunter, launched his cheddar-orange truck in 2009. A cheesy fleet is now on the loose across Southern California and Phoenix. Danhi allows customers to keep their sandwiches "plain and simple," with a choice of cheese on French or wheat bread, but where's the fun in that? It's far better to ooze out with a French onion soup melt, complete with Parmesan crust and onion soup broth for dipping. Really, though, their sandwich de resistance is the Cheesy Mac, a buttery grilled cheese sandwich with gooey Cheddar, caramelized onions, mac and cheese and pulled pork. If you are still upright after devouring this cheesy beast, consider a dessert melt starring either S'mores or Mom's Apple Pie.

Guerrilla Tacos menu is inspired by the day's freshest market ingredients. / Courtesy of Joshua Lurie
Ultra-seasonal chef Wes Avila, an L.A. native who honed his culinary craft for such chefs as Walter Manzke and Gary Menes, executes the most ambitious menu of any L.A. food truck. He changes Guerrilla's menu daily, depending on what he finds from farmers, butchers and seafood purveyors. Avila has rotated through many instant classics, including de-boned chicken wings with black-eyed peas and tomatillo chile. Travels also motivate specials, including Hawaiian-inspired ahi poke tostada with white miso and habanero. Burritos, tortas on whole-wheat croissants, and weekend waffles are also part of the rotation. Guerrilla also typically offers a seasonal agua fresca, which might combine mango and tangerine or strawberry and tamarind.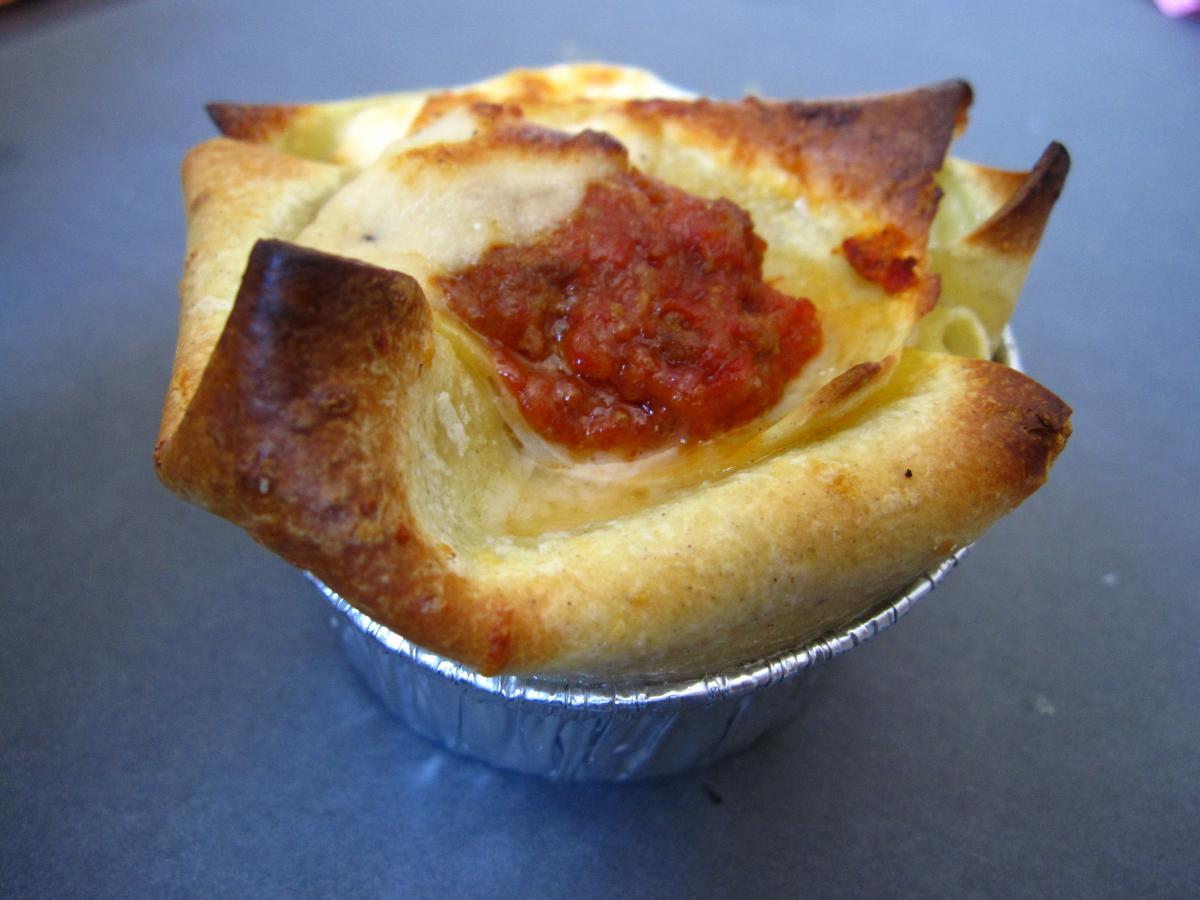 Heirloom LA Truck dishes up innovate street foods like this wild boar lasagna cup. / Courtesy of Joshua Lurie
Chef Matt Poley and Tara Maxey are partners in one of L.A.'s most in-demand food trucks. They park in front of longtime compatriots Silverlake Wine on Monday nights and sister wine shop Everson Royce on Tuesday nights. Lasagna cupcakes started Heirloom LA's forward momentum, and they're still available with such fillings as baby artichoke, wild mushroom and pumpkin with brown butter and sage. Seasonal salads, sandwiches and plates could include crispy chicken lollipops with Asian pear peanut slaw, or possibly Grana Padano crusted halibut with pomme puree and pistachio pesto. Pastry chef David Rodriguez, previously with Providence, keeps pace with photogenic desserts like lemon meringue pie.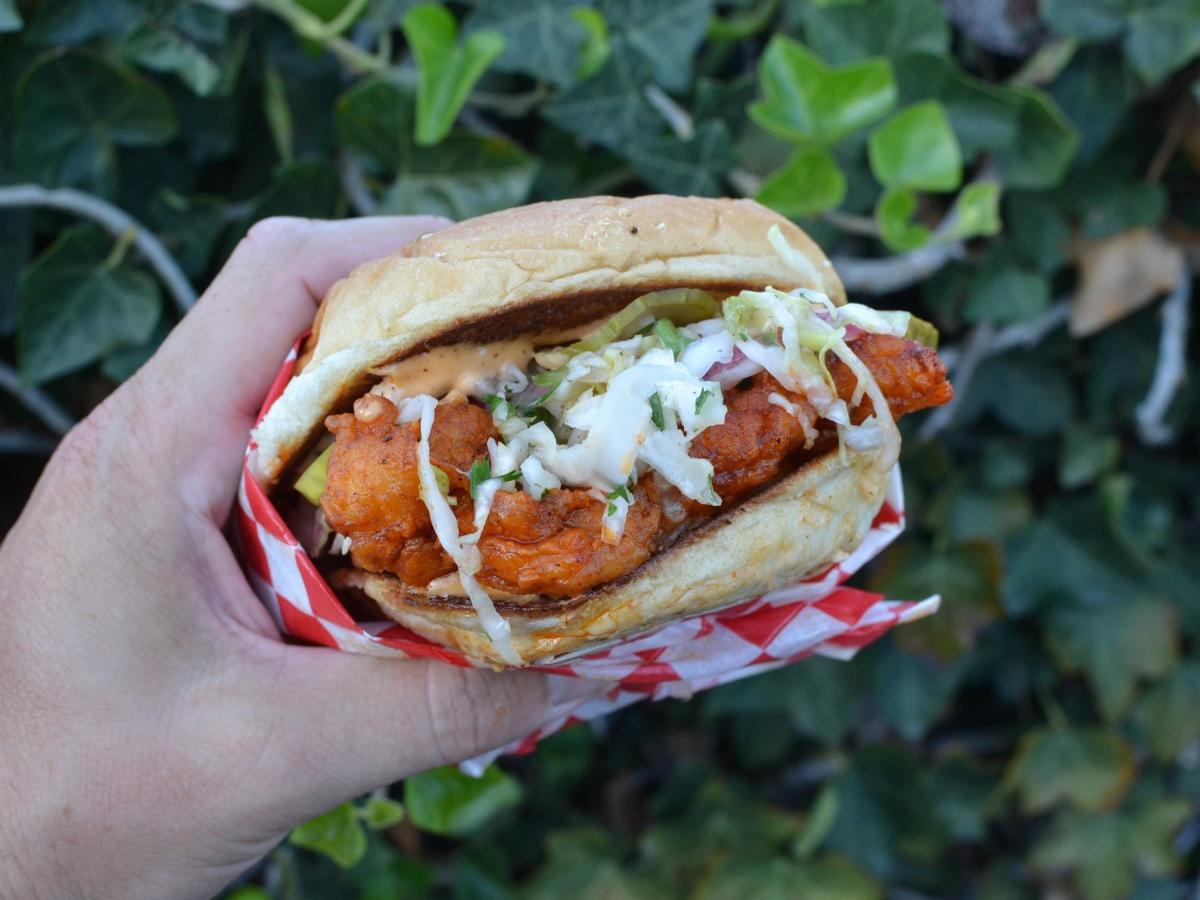 For fried chicken with Howlin' heat, fans head to Howlin' Rays food truck / Courtesy of Joshua Lurie
Johnny Zone was so inspired by the hot fried chicken he experienced in Nashville that he launched a food truck. Plates are available with bone-in chicken, which comes with white bread and pickles to counteract the heat, which ranges from Country Fried (no heat) to Howlin' Hot. The Hot Chicken Sandwich may be your best bet, featuring juicy fried chicken breast served on a buttered bun with cabbage slaw, pickles and Southern spread loaded with chile powder, paprika and more. Sides are also at Howlin' strength, none better than Pimento mac salad folded with celery, pickled ramps and aioli. They've also got crinkle-cut fries tossed with "hot shake."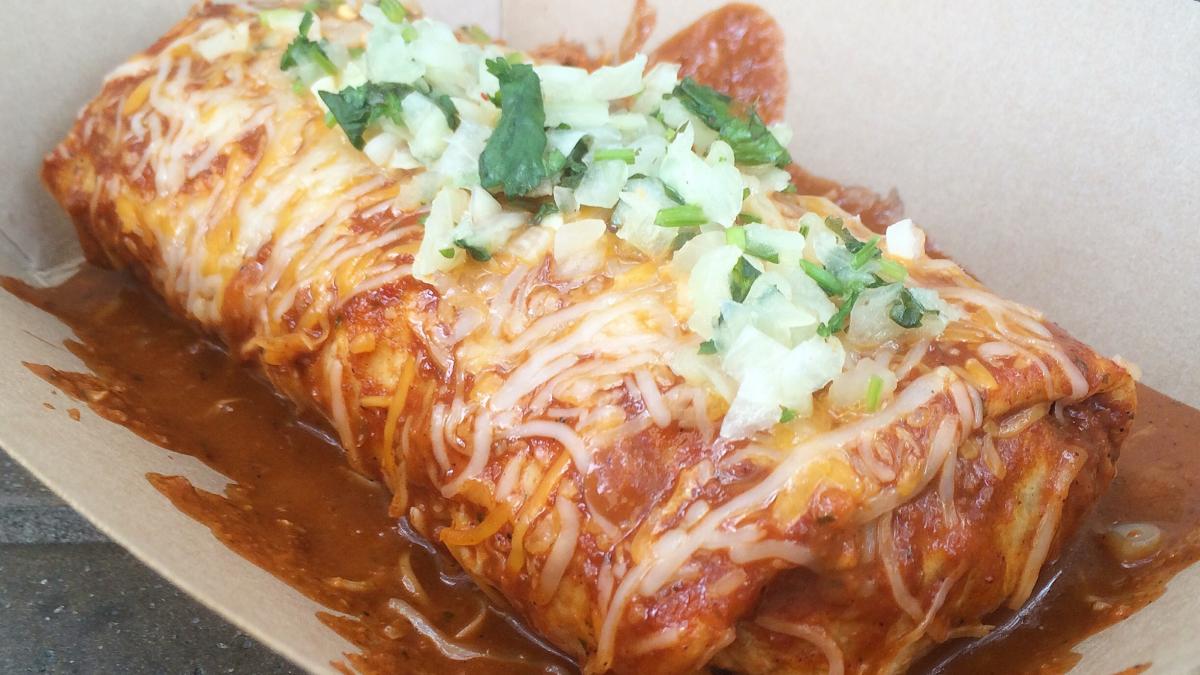 Fans look forward to Kogi's Wet burrito, a special at the famous BBQ food truck. / Courtesy of Joshua Lurie
Chef Roy Choi, Mark Manguera and Caroline Shin kicked off the nouveau food truck craze with the launch of Kogi BBQ in late 2008. Now they have a fleet of trucks – Roja, Verde and Naranja - that roam SoCal streets and make frequent appearances on the festival circuit. Kogi's signature taco pairs marinated short rib with sesame-chile salsa roja, romaine, cabbage, Korean chili-soy vinaigrette, and cilantro-green onion-lime relish. The blackjack quesadilla remains a griddled monster, with spicy pork, salsa verde, shredded Cheddar and Jack cheeses, and fresh cilantro. You should also keep a lookout for Kogi's Wet Burrito, an occasional special with spicy pork, salsa verde, scrambled egg, hash brown and lettuce, all wrapped in a flour tortilla before the burrito takes a bath in red mole, melted Jack cheese and relish.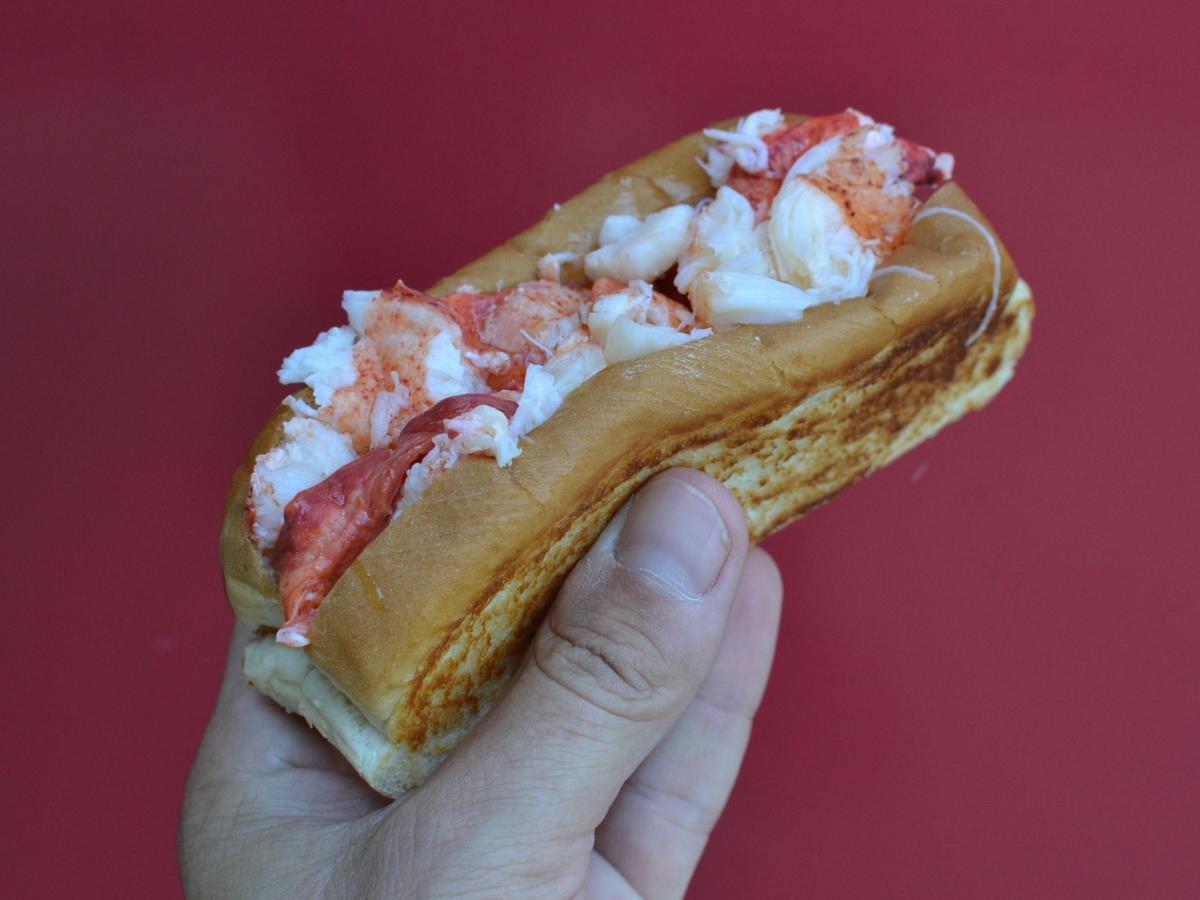 Fresh Maine lobster spills out of a toasted split-top roll at Lobsta Truck in Los Angeles. / Courtesy of Joshua Lurie
There's something to be said for simplicity. Sure, owner Justin Mi sells clam chowder and lobster bisque, but Lobsta Truck is all about the rolls. They sell Maine lobster or Dungeness crab rolls, each bursting from toasted split-top rolls and dressed with either drawn butter or seasoned mayo. The truck stays true to Lobsta's New England motherland by serving Cape Cod potato chips, whoopee pies and Maine Root soda.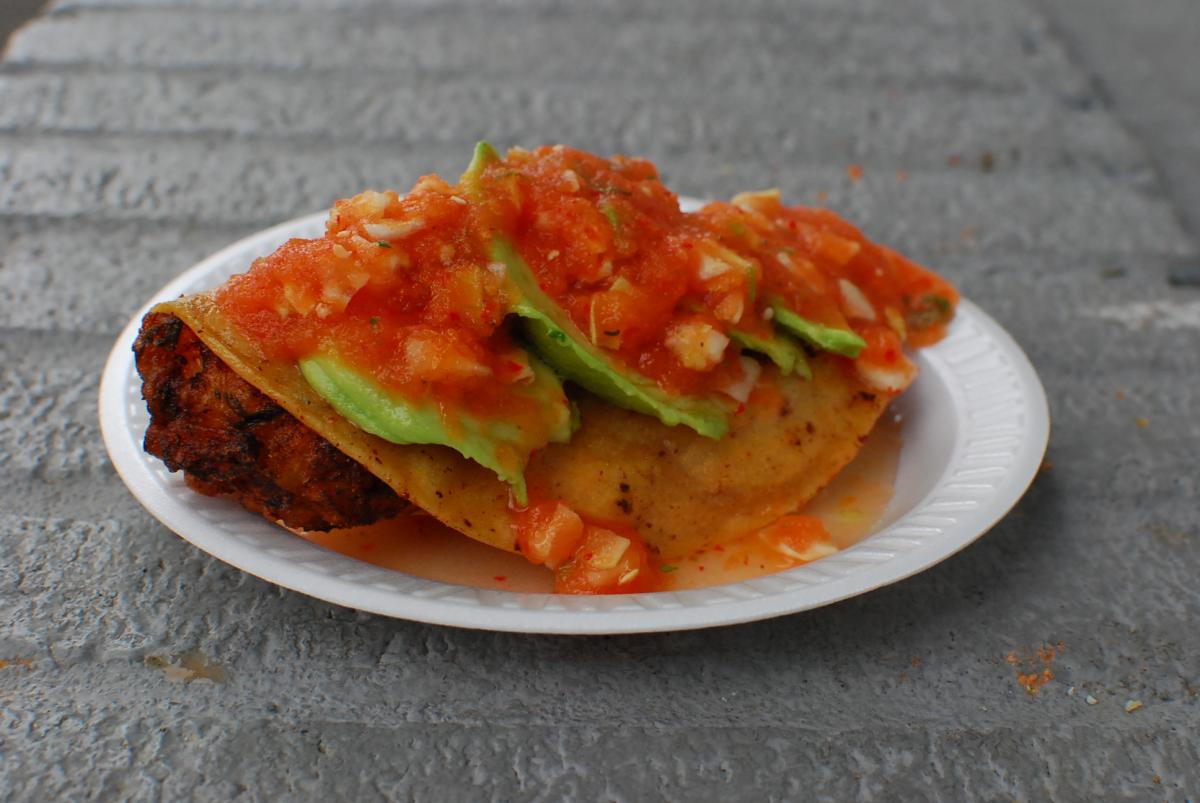 Mariscos Jalisco's taco Dorado features a deep-fried shrimp taco slathered with salsa. / Courtesy of Joshua Lurie
Raul Ortega, who hails from San Juan de los Lagos, Jalisco, has become justifiably famous for his taco dorado, a deep-fried taco filled with shrimp that is slathered with salsa. Still, don't overlook the ceviche, scorching aguachile, and ThE POseidon. This substantial seafood tostada features tangy shrimp ceviche, shrimp aguachile, red onion, cucumbers and tomato-based salsa. Avocado, cooked octopus and a fiery salsa top the oceanic mountain, which pays tribute to the Greek God of the Sea and to crew member Aldo "El Tepo" Torres, who helped create this new standout item.

Peaches Smokehouse barbecues its pulled pork for 15 hours before piling it in a sandwich. / Courtesy of Joshua Lurie
This truck with a blue wrap and red racing stripe from Georgia native Chef Ryan Lamon, who also co-owns Poppy + Rose in the downtown Fashion District, is strictly Southern. Poppy + Rose houses a smoker that fuels dishes like their pulled pork sandwich, buffeting big shoulders with applewood smoke for 15 hours before chunks join tangy tomato based barbecue sauce and creamy coleslaw on a Portuguese sweet bun. They also serve chicken fried steak with peach aioli, a fried chicken sandwich with coleslaw, and a Southern patty melt with pimento cheese, grilled onions and Serrano chiles.

Pirozhki LA serves Russian hand pies from a gleaming vintage Airstream. / Courtesy of Joshua Lurie
Igor Avramenko, who comes from a war-torn region in eastern Ukraine, tows a shimmering silver Airstream trailer with his vintage yellow truck. The former nightclub operator now bakes buttery, elliptical shaped Russian pies with five different fillings. I enjoyed potato with dill and ground beef with herbs, spices and onions. Pirozhki LA also sells versions packed with spinach, chicken or cheese. The retro chic trailer just opened in early 2015, and Avramenko already is expanding to a larger production facility so he can add organic and kosher options and "take it to the next level."

Ricky's Fish Tacos dishes up delicately fried fish in a delicious batter. / Courtesy of Ricky's Fish Tacos
Ricky Piña started with a stand near Sunset Junction and has since graduated to a shimmering silver food truck, which parks in a lot near the five corners in Los Feliz. He comes by fish tacos honestly, having grown up in Ensenada, the globe's unofficial fish taco capital. No, he doesn't double-fry cazon in lard, which his hometown tradition dictates. However, Piña does make the best of what's available in L.A., frying basa in a light, delicious batter that includes salt, oregano and mustard. Cabbage, crema and mild salsa join the fish, or, if you prefer, shrimp, in griddled corn tortillas.

Say Fish Taco serves seafood and meats in a taco, burrito, quesadilla or bowl. / Courtesy of Joshua Lurie
Chef-owner Mark "Alberto" Holt hails from Sayulita, Nayarit, where he previously ran Sayulita Fish Taco. Now he runs a roving taco concept with a colorful mural wrapper and a menu that offers all seafood and meat preparations in a taco, burrito, quesadilla or bowl. His Sayulita Fish Taco features sea bass dipped in a beer-spiked garlic batter and deep-fried in canola oil. Original SFT sauce joins crisp cabbage and chipotle salsa on a thick, handmade corn tortilla. The Sautéed Shrimp Taco is a viable alternative, with sweet shrimp tossed with garlic, herbs and olive oil.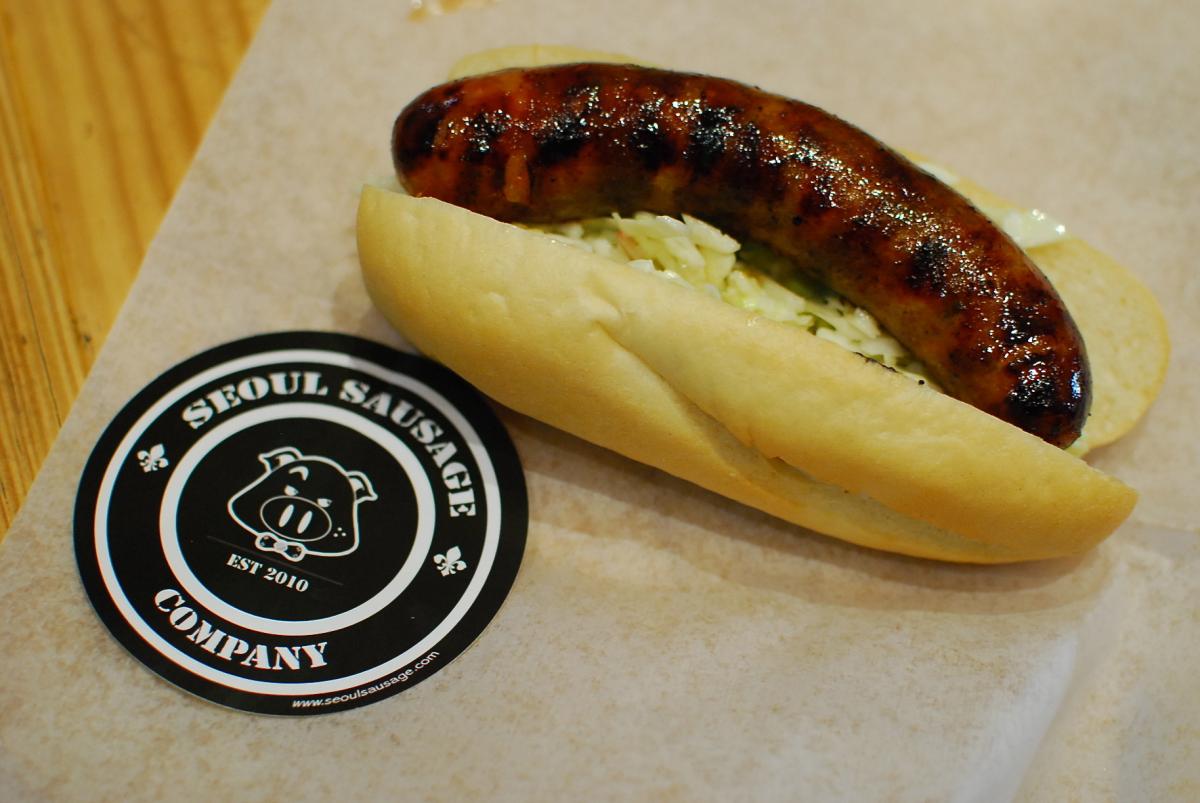 Seoul Sausage is famous for its house-made sausages. / Courtesy of Joshua Lurie
A cross-country victory on "The Great Food Truck Race" helped propel Chef Chris Oh and business partners Ted Kim and Yong Kim into the spotlight, and into business. Now they have two brick and mortar establishments, and two matte black trucks still roam the roads. House-made sausages helped launch the franchise, and they still serve Spicy Pork sausage seasoned with red chile paste, sugar and spices that complement tart apple cabbage slaw; and Kalbi sausage with kimchi relish and punchy garlic jalapeno aioli. Arancini-like "Balls" are also big, including Flaming balls with kimchi fried rice, molten cheese and spicy pork. On the truck, you might also find chicken wings or kalbi burgers.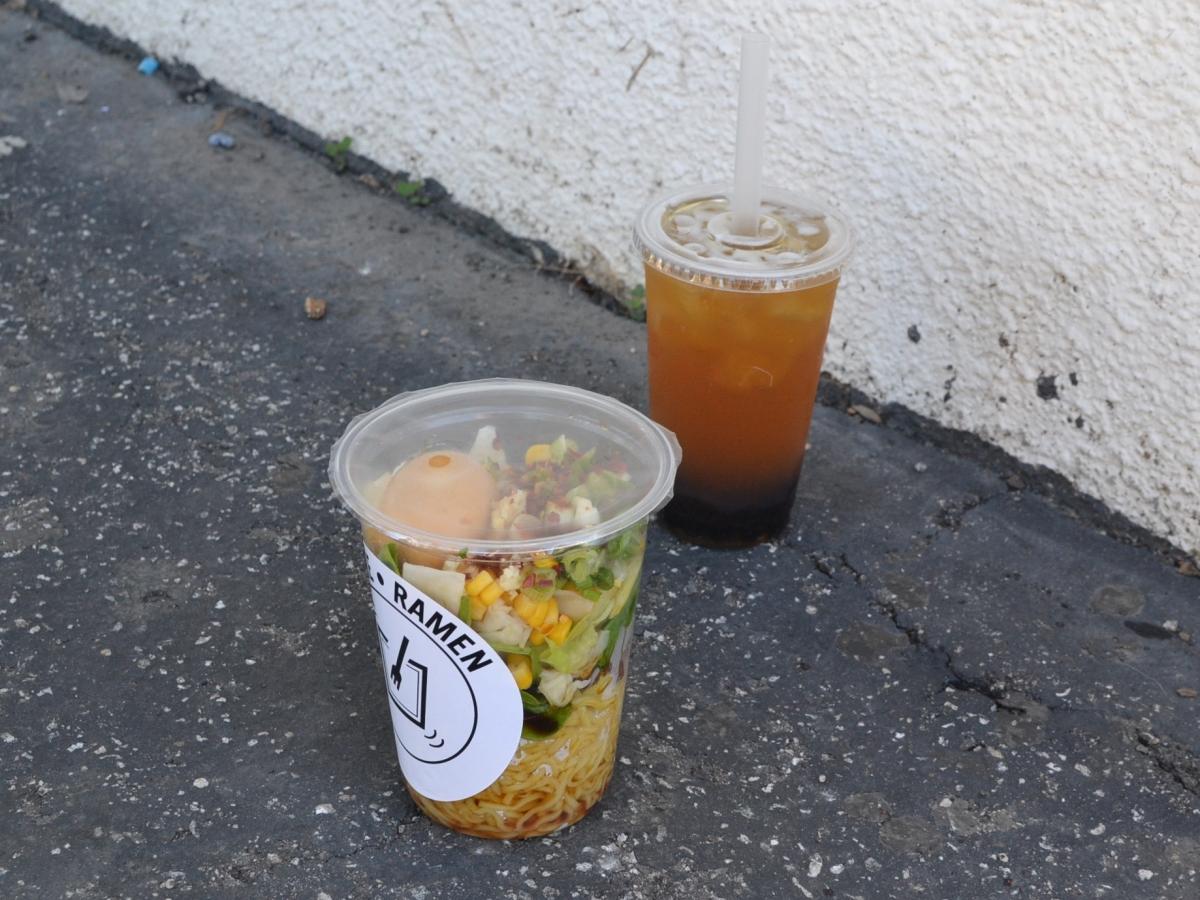 Shake Ramen allows fans to customize the popular noodle dish. / Courtesy of Joshua Lurie
This red truck painted with paper lanterns parks on Pearl Street behind Santa Monica College from Monday through Thursday. The young owners, Michelle Lam and Mari Komura, specialize in dry ramen noodles that arrive in sealed plastic containers. Start by choosing your sauce: shoyu, shio or miso. Select the spice level (1-3 chile peppers) and number of garlic cloves (also out of 3). Add a key protein: braised pork belly, ground beef or tofu. Free sides include cabbage, soft egg, raw spinach, sweet corn kernels, crunchy bean sprouts and green onion. Shake to integrate all of the ingredients. Boba drinks are also strong, including milk tea and honey green tea.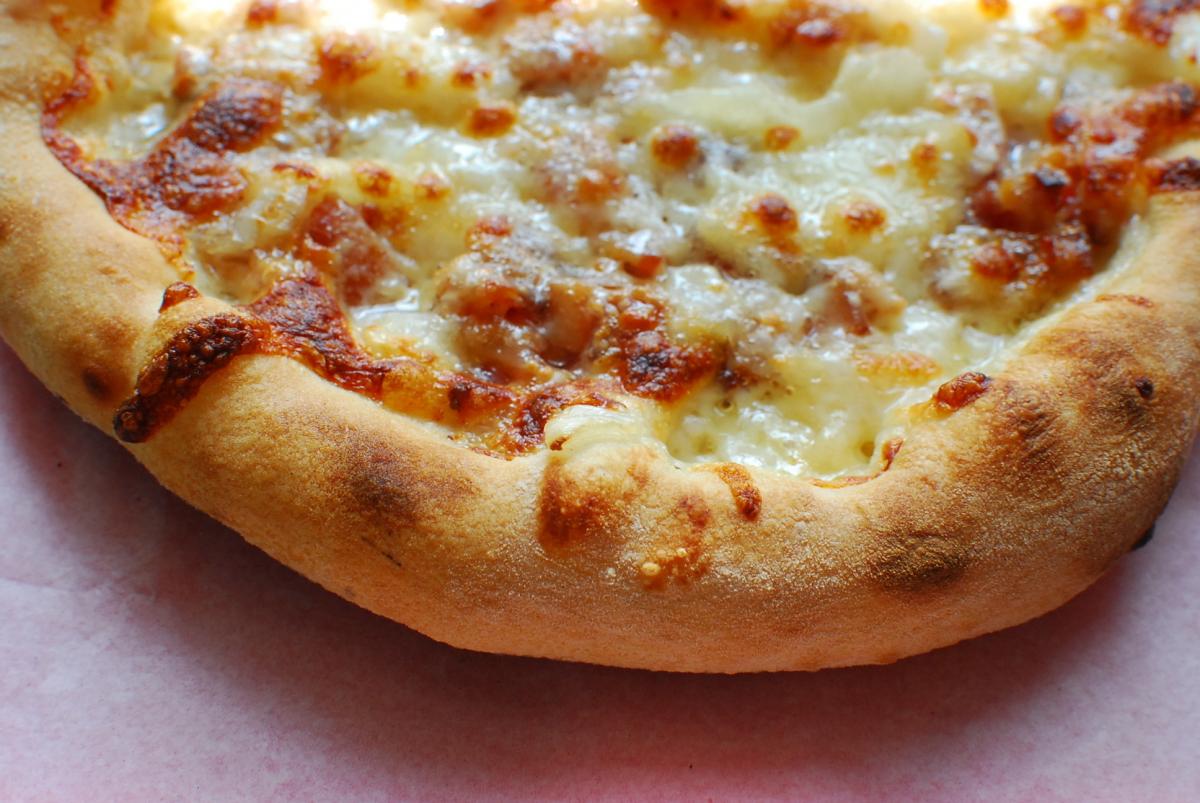 The Urban Over turns out wood-fired pizzas with gourmet ingredients. / Courtesy of Joshua Lurie
Scott Tremonti previously lived in Phoenix, where he found inspiration in famed pizzaiolo Chris Bianco. He and his wife, both from Southern California, saw the need for more wood-fired pizza and returned home to launch The Urban Oven in 2012. Tremonti crafts dough with kosher salt, yeast and water that luxuriates in an oven that burns almond wood, yielding a crust that is a bit crispier than traditional Neapolitan pizza. The menu rotates frequently, but should include classic Margherita with buffalo mozzarella, or possibly Prosciutto Leek with olive oil, Fontana and thyme.
Meet the author