Philadelphia's 'Cheesesteak Corner' Rivalry
By ExtremeFoodies on September 18th, 2015

The intersection of 9th Street and Passyunk Avenue is known as "Cheesesteak Corner" in Philadelphia. / Courtesy of moon.com
Sizzling rib-eye steak. Oozing cheese. Frying onions. The yeasty waft of freshly baked rolls. In Philadelphia, the cheesesteak reigns supreme. And no place represents this obsession better than at the corner of 9th Street and Passyunk Avenue in South Philly. Known as "Cheesesteak Corner," it's where Pat's King of Steaks and Geno's Steaks face off 24 hours a day.
The triangular intersection is constantly abuzz with double-parked cars, idling airport shuttles and stretch limousines discharging hungry pilgrims in pursuit of the world's best Philly cheesesteak. The art of cheesesteak preparation lies in the balance of flavors, textures and the "drip" factor: the amount of grease that sets an average cheesesteak apart from a superb one. Both places offer nearly identical sandwiches made with frizzled rib-eye steak, melted cheese and grilled onions on a long, crusty Italian roll – served fast with Philly swag and attitude. The differences are in how each restaurant serves its meat. Geno's is known for slicing its beef, while Pat's chops it up. Geno's recommends provolone. Pat's prefers Cheez Whiz.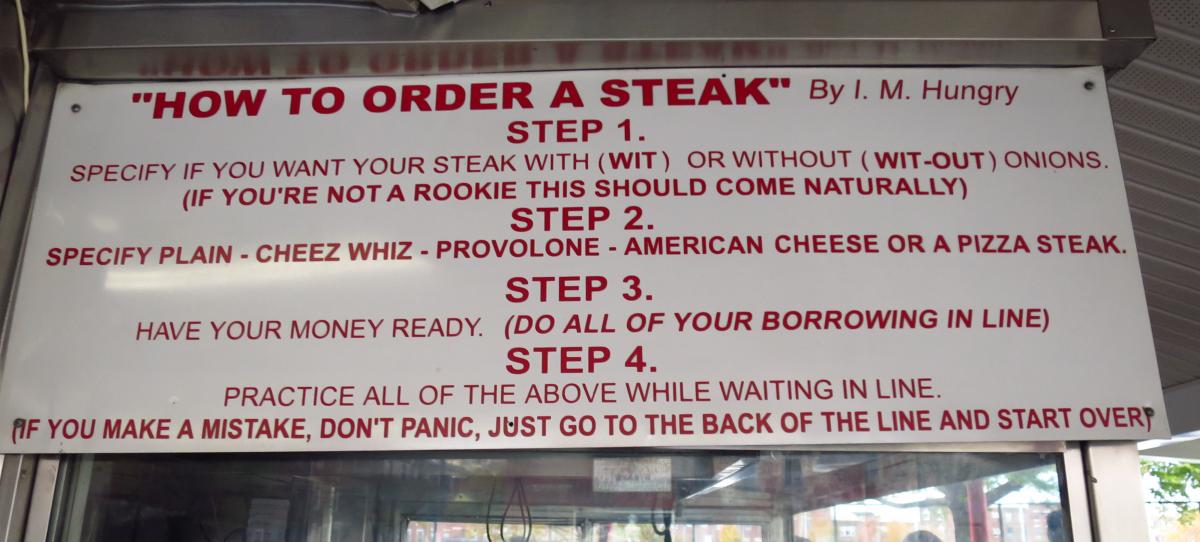 Image of 'how-to order' at Pat's / courtesy of mapquest.com
Ordering correctly involves adopting Philly "speak." A cheesesteak with Cheez Whiz and onions becomes "Whiz wit" (as opposed to "wit-out" onions). Newbies, tourists and customers risk ridicule if they ignore the "how to order" instructions posted at the cash-only Pat's: "If you make a mistake, don't panic, just go to the back of the line and start over." Geno's website offers its own warning: "Be prepared and know how to order, because the service is fast and the line keeps moving". During the 2004 presidential campaign, George Bush ordered his cheese steak "Whiz wit," while John Kerry asked for his with Swiss cheese. Oops.

Image courtesy of eatvolution.files.wordpress.com/Geno's Steaks
While cheesesteak aficionados debate the differences between the two stands by discussing cheese consistency, roll chewiness and meat tenderness, one constant remains. Rib-eye is quickly browned with a flat spatula on a lightly oiled griddle over medium temperature. Slices of cheese are then placed over the meat, letting it melt, and the roll is placed on top of the cheese. The mixture is then scooped up with a spatula and pressed into the roll, which is then cut in half.
To help cut through the glare of Pat's and Geno's giant dueling neon signs, here are a few more of the differences between the two late-night cheesesteak rivals.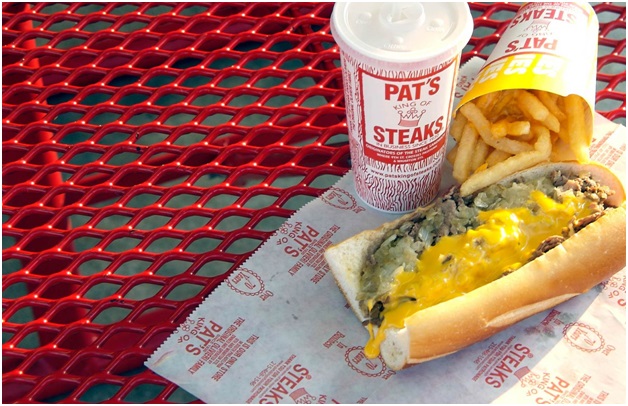 Cheesesteak @ Pat's King of Steaks / Image courtesy of patskingofsteaks.com
The Italian-American restaurateur Pat Olivieri is the self-proclaimed "inventor of cheesesteak." Co-founded in 1930 with his brother, Harry Olivieri, their historic eatery began as a simple hot dog stand. One night, the brothers decided to keep working and, tired of hot dogs, cooked a steak while they waited for more customers. A nearby cabby asked if he could have one of the steak sandwiches they were grilling, and the cheesesteak was born. Today, inside their sedate brick eatery with fluorescent lights, the standard order is simply a "Whiz Wit," a cheesesteak with Cheez Whiz and grilled onions. Customers are told to be prepared and know how to order. For example, on a cheesesteak with onions, customers should specify which kind of cheese they'd like (Provolone, American or Cheese Whiz). At the next window, diners can pick up soda, fries and coffee. Cooks slide the piping hot sliced meat sandwich, wide open and unwrapped, across the counter to customers waiting outside, where they can add ketchup, mustard, relish and Joe's hot sauce.

Cheesesteak @ Geno's Steaks / Image courtesy of genosteaks.com
Joey Vento opened Geno's Steaks across the street from Pat's King of Steaks in 1966 in a bid to take down the reigning cheesesteak champion. "If you want to sell cheesesteak," Vento said, "you go to where they eat cheesesteaks." It worked. Today, the walls, roof and interior of his bright orange restaurant is filled with memorabilia and hundreds of autographed and framed photos of celebrities who have eaten there. Bristling with neon lights, Geno's claims to have sold up to 4,500 sandwiches daily. The menu is similar to Pat's. The difference? The eatery recommends provolone cheese and neatly wraps its sandwiches of thinly sliced rib-eye steak. Like Pat's, Geno's is open 24 hours a day, seven days a week, so you can visit whenever you get the urge.