Curry in Birmingham's Balti Triangle

Balti curry is cooked in a steel wok to fast cook the food over a high flame with vegetable oil rather than ghee. / Courtesy of Anna M. Gibson
As the UK's second largest city and one of the most culturally diverse, it is not surprising Birmingham has a wealth of cuisines of which the Indian subcontinent element represents a sizeable proportion. Perhaps most of all, the city is famous for its Balti, heralded by many to be the most significant development in curry since the ubiquitous chicken tikka masala came out of the kitchen.
The Balti was the brainwave of a Pakistani restaurateur who owned (and still owns) a restaurant called Adil in the heart of Birmingham's famed Balti Triangle. He wanted to attract both Asian and Western customers by fusing the slow one-pot cooking on the bone, common in the mountainous areas of Pakistan, with the Western desire for food served quickly and off the bone. Out of this idea, the Balti was born.
To create this iconic Birmingham dish, a thin-pressed steel wok is used to fast cook the food over a high flame with vegetable oil rather than ghee. Fresh meat or fish, vegetables and spices are stir-fried in and served in the Balti sizzling at the table. However, Balti is just one of the culinary curry delights Birmingham has to offer. The following are restaurants that should be on any visiting curry lover's agenda.
In The Balti Triangle

Adil's is the birthplace of the Balti curry. / Courtesy of Adil Balti
Mohammed Arif, the man who started the Balti, still presides over this famous restaurant that has recently been refurbished but has kept true to its Balti roots in the kitchen. Tasty tandoori lamb chops were a precursor to a traditional but top-quality Balti chicken and paneer mopped up by an unusual, but very acceptable garlic mushroom naan. If you're feeling brave or are a member of the culinary SAS, try the green chilli bajji as a starter. Or, if you've got a big appetite, start with one of their signature keema naans.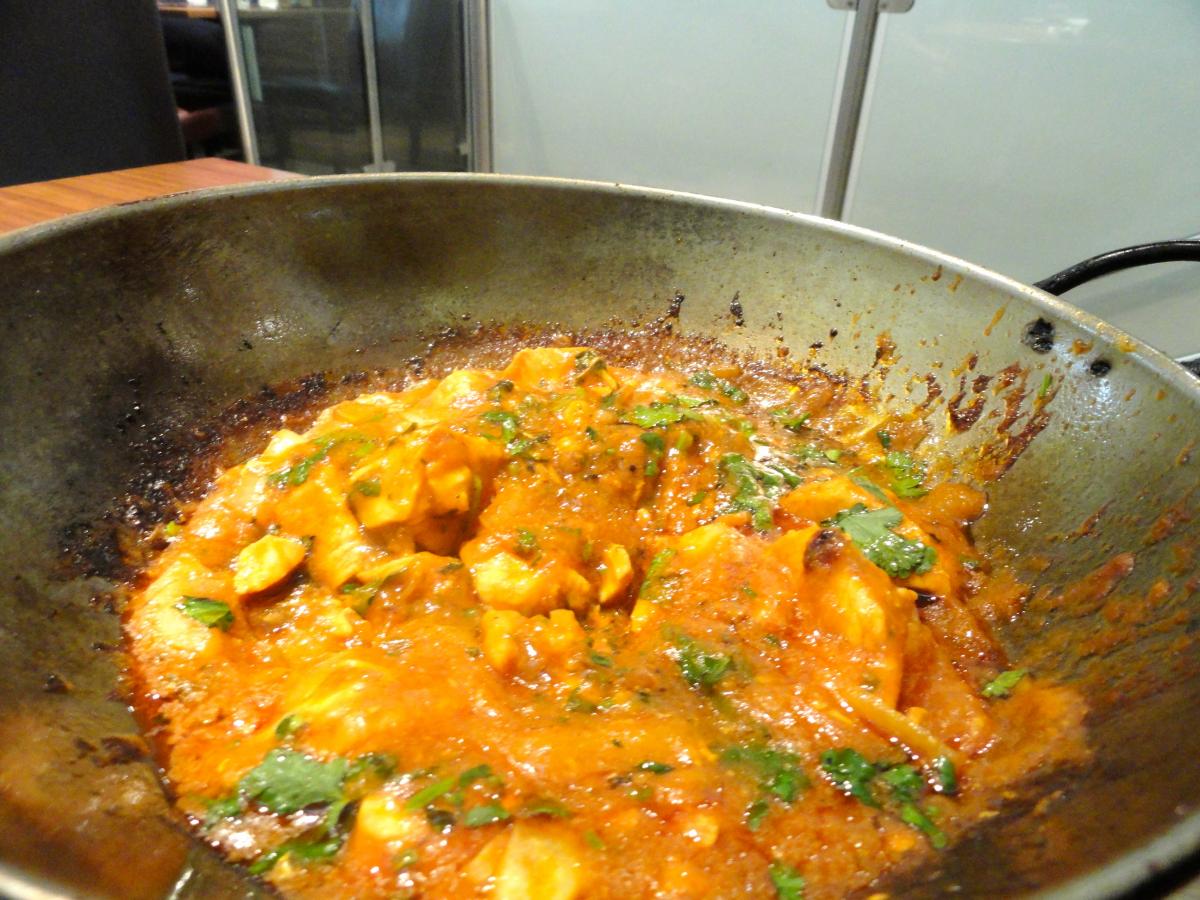 Courtesy of meatballandsaltedcod.com
Lauded by the UK's best newspapers, Al Frash means butterfly in Persian, and certainly their Balti is a thing of beauty. A subtly spiced aubergine pakora was my intro before tucking into their spicy Balti Chicken Aphrodisia, a combo of minced chicken, king prawns, ground ginger, garlic and special spices with an "aphrodisiac" sauce rumored to make the earth move for the lucky diner. For those of a milder disposition, their Balti Chicken White Rose is an unusual take on the more common korma. The use of cashew nuts instead of almonds is one of the things that sets the dish apart.

Courtesy of desperately-seeking-adventure.co.uk.
This is a long-established Balti house with traditional glass-topped tables and friendly service. It also has the benefit of long opening hours with its loyal team. The lamb seekh kebabs are Primark price but Harrods quality and are at the spicy end of the scale. Their most popular main dish is a simple chicken and spinach Balti and its superb consistency and balance of spices reflects that popularity. Mopped up by a rich and doughy honeyed Peshwari naan, there was just enough room for a wickedly sweet chocolate barfi.

Courtesy of www.wsj.com
This café is a throwback to the birth of Balti and, as you might expect from its name, is famed for its fabulous lamb seekh kebabs. They are cooked to order over a flame behind the front counter. However, the highlight was a luxurious and spicy Balti chicken jalfrezi prepared by ex-Pakistani navy chef Khurshid Ahmed, whose dishes certainly passed muster. The Balti-goers' traditional ceremony of "buffing the Balti bowl" was accomplished with the help of a garlic naan that would have easily kept Dracula at bay.
Central and Wider Birmingham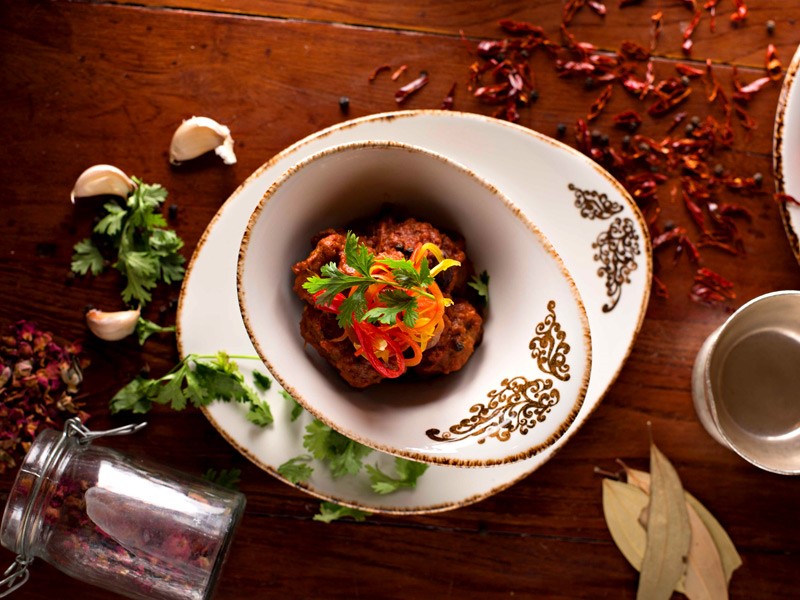 Muscat gosht features tender lamb in a savory gravy. / Courtesy of Asha's
Asha's is gaining an international reputation, evidenced by diners who have included a veritable cast list of Bollywood stars and World Championship boxer Amir Khan, among others. As you might expect, there is a wide range of traditional dishes and those with a contemporary twist. My starters were a recommended chingri chaap (king prawns coated in breadcrumbs, marinated in ginger, garlic and special spices, then cooked to perfection). Mains were a house recommendation. Muscat gosht consisted of boneless tender lamb cooked in clarified butter with whole spices in a rich onion and tomato gravy. Its decadent richness was superbly balanced by pudina paratha (a mint-flavored Indian bread made with whole wheat flour).

Courtesy of itihaas.co.uk
Featured by Michel Roux on the BBC, Itihaas has also won the Cobra Good Curry "Best British Indian Restaurant" award. They have a reasonable lunchtime special menu. But I choose a la carte, starting with their signature mixed platter - lamb and bell pepper kebabs, tandoori lamb chops, Amritsar tilapia and malai tangri kebab. Itihaas has a slightly old Colonial air décor, so it felt right to try one of their chef's specials, which would undoubtedly have gone down well with retired colonels hankering after a taste of India. My chosen dish of Army Rum Lamb Shank Masala was slow cooked with oven-roasted tomatoes and sliced onions in a gorgeously thick Indian Army Rum masala gravy. Accompanied by roti ki tokri (a selection of Indian breads), this was a robust and supremely tasty offering. If I'd have had room for dessert, I would have been tempted by an unusual apple Jalebi.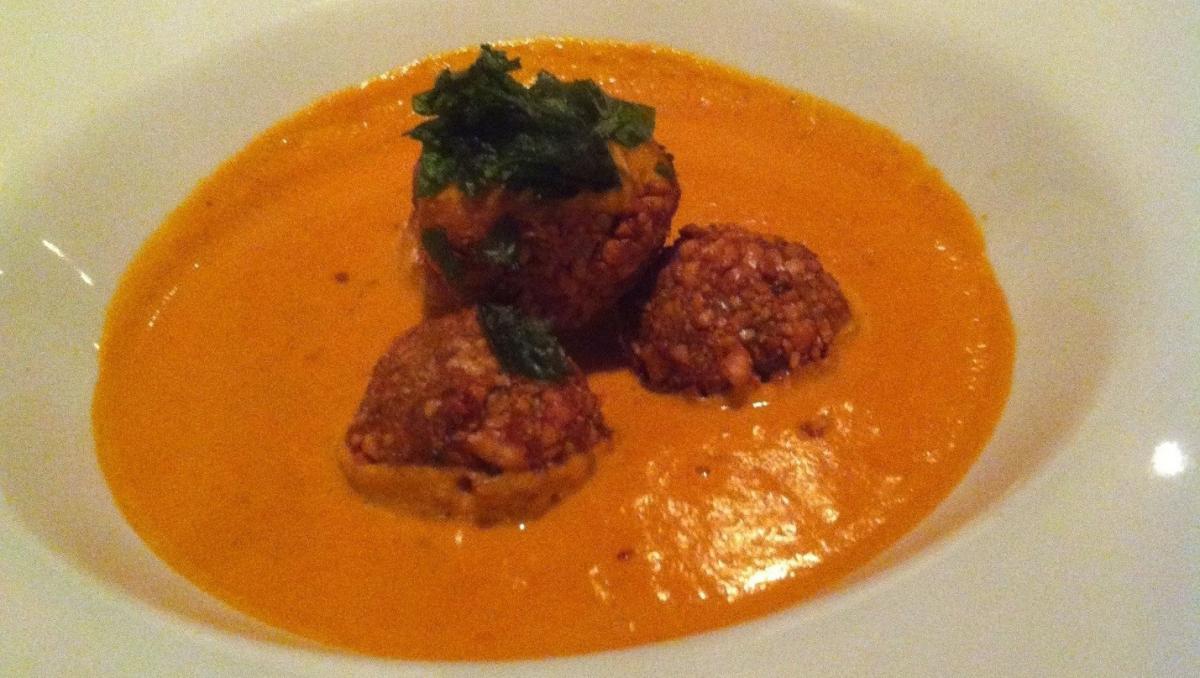 Courtesy of vegiefoodie.com
Jyoti is one of the city's most well-loved vegetarian restaurants, which apparently is a real favorite of Jamie Oliver, Brian Turner and Anthony Worrall Thompson. It is family run and this shows in their caring attitude to both customers and their tasty food. For starters, the idli sambar (rice and lentil cake served with mixed vegetable lentil sauce) is a classic. Spoilt for choice with a selection of more than 50 mains, the Chef's special malai kofta takes some beating. Balls of cheesy paneer, potatoes, cashews and chilli are served in a creamy tomato and onion sauce. If there's room for dessert, a traditional ras malai will round things off nicely.


Courtesy of Rosy_pose
Lasan has famously won the Gordon Ramsey "Best Local Restaurant Award." As a result, creative chef Aktar Islam has become somewhat of a TV celebrity. For starters, I thoroughly enjoyed the beef dish (often a rarity in an Indian or Pakistani restaurant). My burrah kebab was made with dry-aged prime Herefordshire beef. Cooked in a tandoor with cumin, nutmeg and papaya, it was as tasty as it sounds. The main event was Elaichi beef, a winning main course from the final on Gordon Ramsay's "F Word." Blade of beef, braised overnight, is served with marinated sirloin, bone marrow pakora and tandoori sweetbreads dressed with black cardamom scented cashew nut gravy. I paired this wonderfully crafted affair with an equally impressive side order of okra, simmered in a reduced cashew, coconut and yogurt gravy laced with chilli. This is, undoubtedly, South Asian cooking with the ultimate in creativity and flair.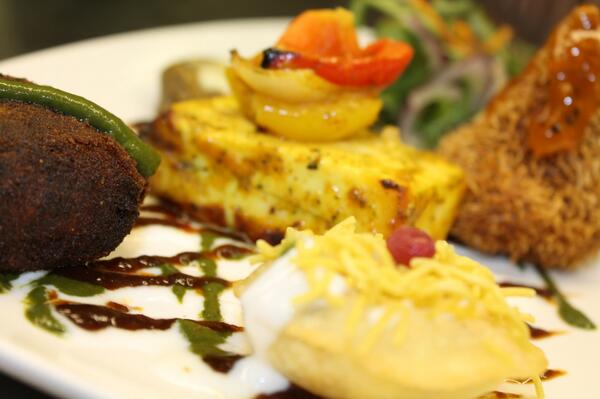 Courtesy of klear.com
Pushkar is earning a real name for itself with an award-winning chef and visitors who have included members of the superstar rock group Fleetwood Mac. For starters, I went for the Pushkar panorama. This taste of all five starters included delightful cheese-filled marinated mushrooms and excellent spinach and prune spiced cake. To follow, I opted for the Punjab Nalli Gosht, the house specialty of lamb shank cooked with special spices. Some fluffy mushroom basmati rice was the chosen accompaniment. To finish, I managed to find room for the garam masala brulee: crème brulee with whole garam masala spices and fruit compote.

Courtesy of the Vine restaurant
This is a great favorite in the Black Country just outside Birmingham. From the outside, it looks like a typical modest Black Country pub. But inside, it seems the size of the Taj Mahal. Famous for its grills, a starter of chicken tikka (or lamb) is a must. If you decide to go vegetarian, the chilli paneer absolutely destroys the "bland paneer" stereotype. For mains, try their renowned lamb methi. Tender lamb is served in a thick sauce that explodes with fenugreek flavors. Served in a crock pot, this and other dishes are on the ample side of ample.
Meet the author