10 Essential Eats in Bangkok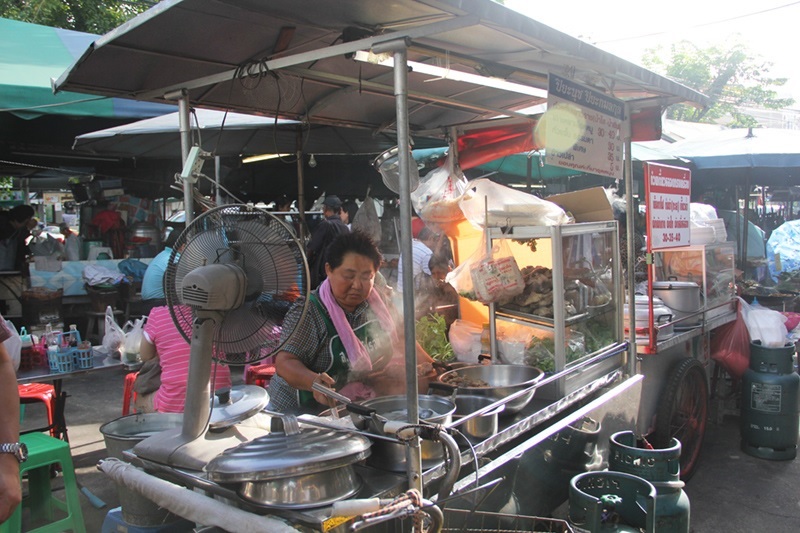 There's always something tasty to try in Bangkok. / Courtesy of Mark Wiens
Eat like a native in Thailand's capital
Walking around Bangkok, you'll be overwhelmed by the quantity and diversity of food available everywhere you look. Exploring the streets, you'll catch a whiff of pork grilling on a barbecue, get blasted by stir-frying chilies and garlic, and inhale a breath of cinnamon-infused broth from a noodle cart. One of the best things about eating in Bangkok is that you have the opportunity to discover nearly every regional variation of Thai cuisine somewhere in the city. The atmosphere and food culture in Bangkok is fascinating and delicious, and there's always something tasty to try.
But what are some of the dishes locals in Bangkok crave and eat on a daily basis? Check out this list of essential Thai dishes locals love to eat. When you come to Bangkok, don't miss eating them.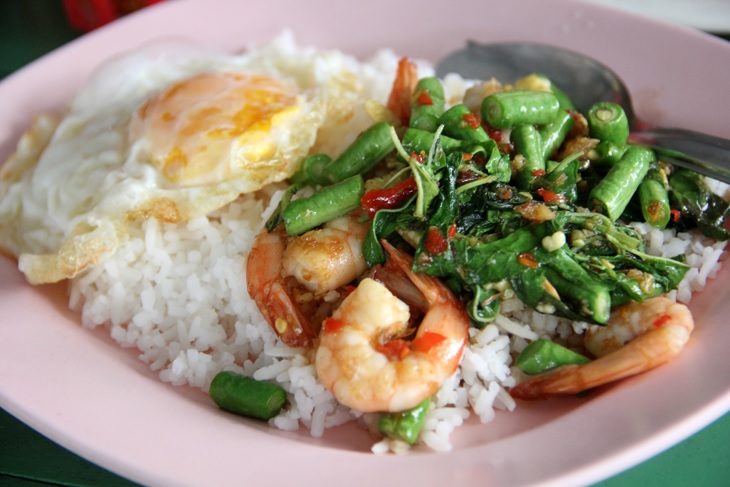 Pad kra pao blends Thai basil with your choice of stir-fried meats. / Courtesy of Mark Wiens
One of the most widely available and popular Thai dishes eaten throughout Bangkok is pad kra pao, a choice of meat stir fried with Thai holy basil. You can choose to order the dish typically with chicken or pork, and sometimes shrimp or squid. A handful of minced garlic and Thai chilies are first sautéed in a wok, then in goes your choice of meat, followed by a seasoning of dark and light soy sauce, and finally a handful of fresh holy basil.
You can either order pad kra pao over a single plate of rice (which works well if you're eating by yourself and just want one plate of food), or you can order it as a full dish (usually bigger in size), accompanied by a side plate of rice. Pad kra pao is also often eaten with a fried egg on the side, providing some extra protein, making the meal complete. What I love most about pad kra pao is the incredible peppery sweetness the holy basil provides.

Som tam is a salad made with green papaya. / Courtesy of Mark Wiens
Walk down any street in Bangkok, and you can hardly go more than a few meters without seeing a street food vendor selling a dish known as som tam, or green papaya salad. Som tam originated in Isan, the northeastern province of Thailand, and it's an everyday dish in that area of the country. Som tam is normally eaten with long-grain Thai sticky rice, and since it's a salad that has a dressing, typically bite-sized balls of sticky rice are dipped into the salad dressing before eating.
The general recipe for som tam includes shredded green papaya, slices of tomato, chilies and Chinese long beans. From there, there are a number of variations. Some salads are dressed in lime juice and normal fish sauce (som tam thai). Others are flavored with fermented fish sauce and crab (som tam boo pla ra). Som tam is an incredibly tasty, healthy and refreshing Thai salad.

Moo ping, grilled skewers of marinated pork, is a popular grab-and-go snack. / Courtesy of Mark Wiens
Meat, especially pork, is very popular to eat in Thailand. In Bangkok, you'll find countless mobile street food carts, where you'll smell the beautiful aroma of grilled meat, and have no choice but to place an order. Bangkok is a city on the go, and many people grab a snack or a meal as they rush from place to place. One of the most common snacks, or light meals, is moo ping, or grilled skewers of pork.
The pork is marinated in a mixture of soy sauce, fish sauce, sugar and garlic, then grilled over charcoal on the streets. Moo ping would not be complete without being accompanied by little baggies of sticky rice. The combination of salty grilled pork with plain sticky rice is irresistible.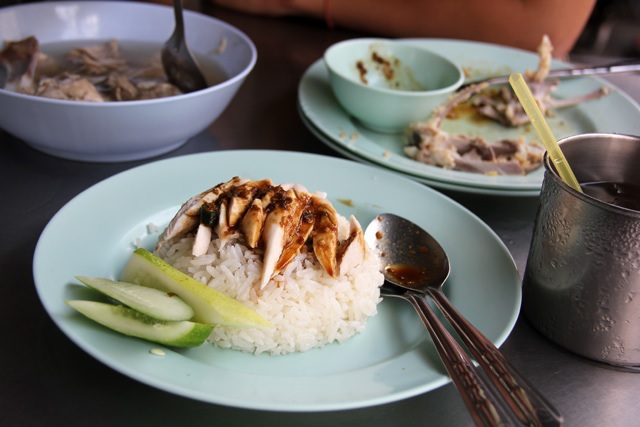 Kaiton Pratunam in Pratunam is famous for its khao man gai. / Courtesy of Mark Wiens
From neighborhood side streets to crowded marketplaces, you'll notice street food carts with a glass cabinet filled with hanging boiled chickens. It's a sure bet they serve khao man gai, Thai style chicken and rice. This dish is popular for any meal of the day, from breakfast to dinner.
The chicken is cooked plain, just boiled, and the rice is cooked with chicken broth, so it has an oily chicken fragrance to it. When you order khao man gai, rice is scooped onto your plate, followed by chopped chicken and a few slices of cucumber. Fresh ginger and chilies are always on the table for garnish, as are different sauces -- one made from dark soy sauce, and another made from fermented soybeans.

Larb is a minced meat salad dressed in fish sauce, lime juice, herbs and spices. / Courtesy of Mark Wiens
Salad doesn't always have to be vegetable dominated, and in Thailand there are many versions of meat salad. Larb is one of the most popular, a dish made with minced meat, usually pork but also other versions, dressed in fish sauce, lime juice, chilies and herbs, including mint and cilantro. Larb is a delicious meat salad that goes especially well with a full spread of Thai Isan (northeastern) dishes such as grilled chicken, green papaya salad (som tam) and sticky rice.

For the best Pad Thai in Bangkok, head to Pad Thai Thip Samai. / Courtesy of Mark Wiens
Probably the most famous Thai dish worldwide is Pad Thai, and it's the dish nearly all visitors to Thailand can't wait to try. Pad Thai is widely available throughout Bangkok, popular with tourists and locals, and served everywhere from high-end restaurants to quick street food stalls. The basic recipe features rice noodles stir fried with shrimp, egg, bean sprouts and chives, then flavored with a sauce made from palm sugar and tamarind. Pad Thai can be garnished with chili flakes and fish sauce, and some Thais even like to add extra sugar on top to sweeten it up.

Kuay teow gai is chicken noodle soup with bean sprouts, bitter melon and Thai sweet basil. / Courtesy of Mark Wiens
Though Bangkok is usually stifling hot and humid, hot soup noodles are an extremely popular meal, especially for lunch. I like to eat soup noodles occasionally for lunch too, as it's a meal that's not too filling, so it doesn't make you want to take a nap afterwards, and it tastes so good. There are many types of noodles and different styles of broth. One version you'll find all over Bangkok is kuay teow gai, or chicken noodles. Dry noodles are blanched in boiling hot water, submerged in chicken broth, and garnished with shredded chicken, bean sprouts, slices of bitter melon and Thai sweet basil. Once you order, you can add your own seasoning of chili flakes and vinegar.

Tom yum goong, Thai soup with shrimp, features the full range of Thai flavors. / Courtesy of Mark Wiens
Thai cuisine is well known for its wide range of flavors and its balance of sweet, salty, spicy and sour. When it comes to a dish that encompasses the full range of Thai flavors, tom yum goong, Thai soup with shrimp, is one of the best examples. Tom yum can be made with a variety of seafood or chicken, but it is most common with shrimp (goong). The broth of Thai tom yum soup gets its beautiful earthy fresh flavor from lemongrass, galangal and kaffir lime leaves. Other ingredients include chilies, garlic, tomatoes and a generous amount of lime juice to give it a wonderful sour tinge. Tom yum goong is a favorite local Thai dish in Bangkok.

Gaeng keow wan is a curry rich in coconut milk, chicken, eggplant and chilies. / Courtesy of Mark Wiens
When you eat at Thai rice and curry stall, you normally get a plate of rice and proceed to tell the vendor which dishes you'd like scooped on top. Among the variety of curries and Thai dishes available, one thing you'll often notice is a green colored milky curry, known in Thailand as gaeng keow wan. Green curry is usually quite mild in spice, not overly hot with chilies. The soothing dish is rich with coconut milk and packed with delicious pieces of chicken, Thai eggplant and green chilies.

Kanom jeen nam ya kati blends rice noodles with a coconut milk yellow curry. / Courtesy of Mark Wiens
Along with regular jasmine rice and Thai sticky rice, kanom jeen, or slightly fermented but fresh rice noodles, are a favorite staple in Thailand. You'll find the noodles stored in plastic baskets, often covered by banana leaves. There are a number of curries that go well with kanom jeen noodles, and one of the most popular is nam ya kati, a coconut milk based yellow curry. The coconut milk curry is often flavored with a blend of lemongrass, chilies, galangal, garlic and a touch of turmeric to give it a yellow color. The curry is scooped over a plate of kanom jeen rice noodles and garnished with fresh herbs and vegetables such as long beans, bean sprouts and basil.

Nam Prik Kapi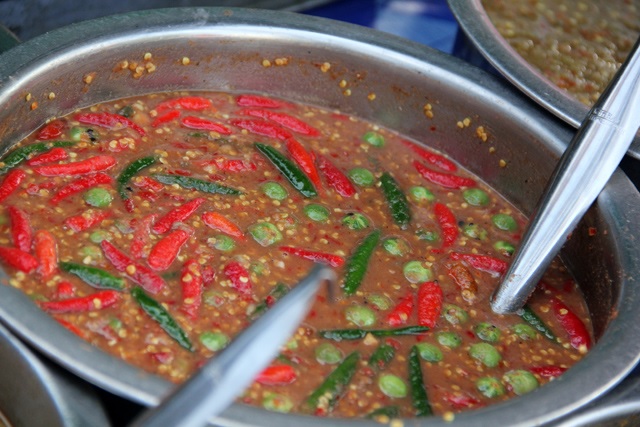 Nam prik kapi is a dip or relish made from shrimp paste, chilies and lime juice. / Courtesy of Mark Wiens
Though it's mostly a take-away food, which you'll find at every food market in Bangkok, nam prik kapi is an extremely popular thing to eat. Spicy, sour and salty, this dip or relish is made with shrimp paste, chilies and lime juice. When you buy nam prik kapi at the market, the vendor usually sells a variety of chili dips, surrounded by a cart of boiled vegetables. Grab a plate, self-serve whatever vegetables you'd like, and hand it to the vendor, who will bag your vegetables with a side of nam prik kapi.
Nam prik kapi is eaten like veggies with dip, or spooned over vegetables and rice. For more information on Thai nam prik, go to http://www.eatingthaifood.com/2012/07/thai-nam-prik-chili-sauce/
Where to find it : Nam prik is a typical takeaway dish in Bangkok, but there's one street food stall on the corner of Sukhumvit Soi 101 that opens for lunch and serves nam prik at tables on the side of the street.
More on Bangkok's Essential Eats
Meet the author