The World's Tastiest Sandwich
By ExtremeFoodies on May 11th, 2015
Imagine a world without sandwiches.

Okay, sorry, that was cruel. It doesn't bear thinking about. Fret not though, they aren't going anywhere. What's more, here are the very best between two slices of bread, as voted for by our Food Experts from around the globe. And the ExtremeFoodies Award for World's Tastiest Sandwich 2015 goes to...
Thin, fresh bread surrounds tender white or dark meat and melts in the mouth. Joseph in Beirut is packed daily with people hungry for the Shawarma, a worthy winner of ExtremeFoodies's award for World's Tastiest Sandwich 2015. Wrap up and feel the Shawarmth.
This sandwich is all the more special as it beat some terrific creations to claim the prize. Please show your appreciation for the rest of the nominations.
Macadamia crusted Mahi Mahi with a lobster crab cake on top (hash really) with creamy vinaigrette is the daddy of Hawaiian sandwiches. Chef Bryan says he never really learned to cook but this masterpiece says otherwise. The shack in the Captain Cook region looks like a bankrupt surf shop but don't be fooled.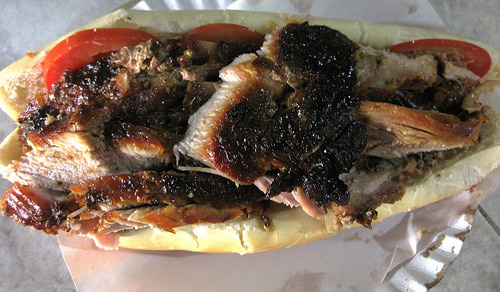 Photo: milsabores.net
Pork Leg Sandwiches are a delightful surprise at Cachapas Doña Ines, a place famous for their Cachapas and with always long lines of people waiting for a table. They marinate pork legs inside big pots during more than 24 hours and cook them for 5 or 6 hours at lighted charcoal big stone ovens. One of the many tastiest secrets in their recipe is the marjoram and citric juices. Watch the bright juicy caramel color crust while you take it to your mouth and then enjoy the crunchy or soft textures with fresh rinds of tomatoes and choose –although not necessary- different sauces served at your table.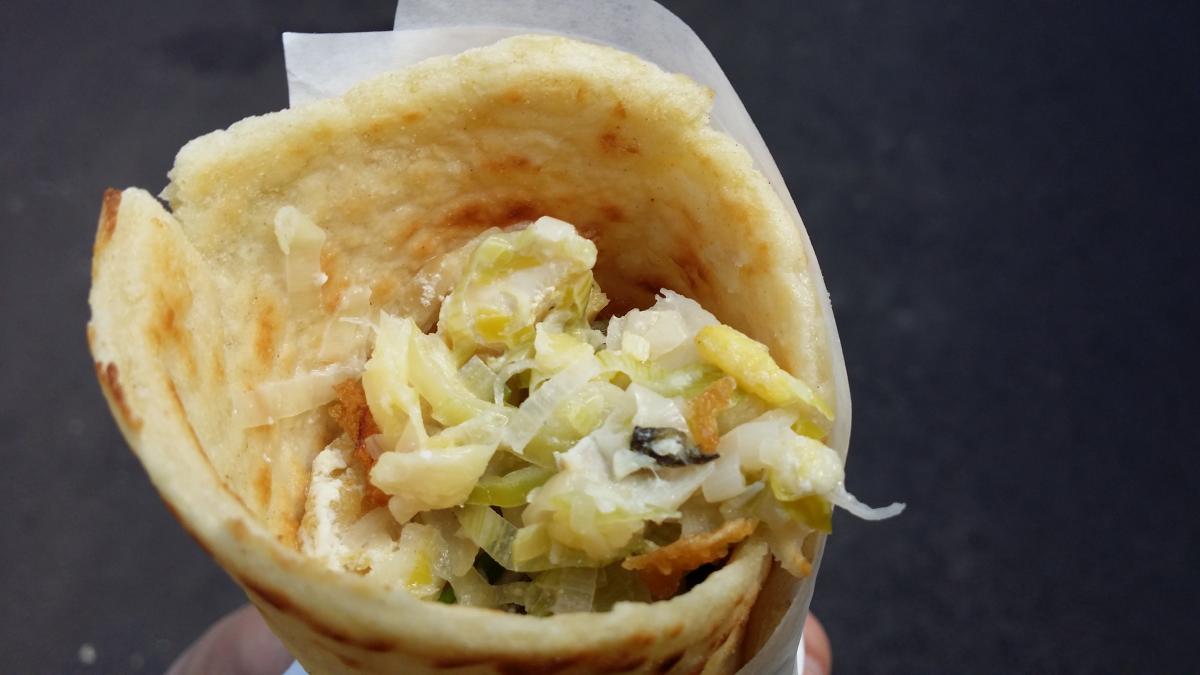 Photo: lunchquest.co.uk
Cullen skink is a traditional chunky fish soup. A "tattie" scone is a traditional Scottish delicacy rather like a thick pancake. Make the soup to stew-like consistency then wrap it in the scone and you have a truly wonderful and original dish that says "Scotland" through and through. Delicious.
Photo: elchinito.com
For more than 50 years Felix Young has been serving this succulent roasted pork sandwich from this humble corner in the center. Unlike comparable versions Young's sandwich adds Asian seasonings that give the meat an unmistakably different flavour. This may require two hands.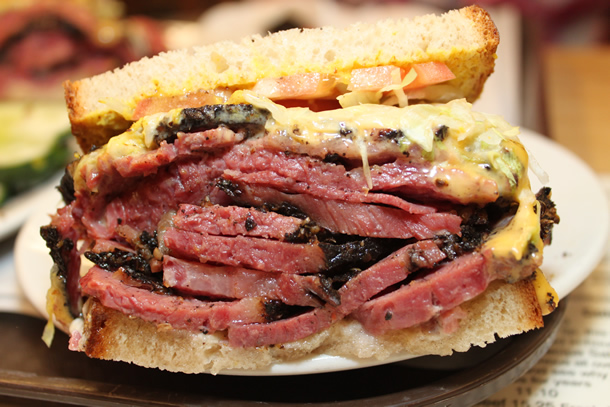 Photo: katzsdelicatessen.com
Katz's was famous before Harry met Sally because they have made the best Pastrami in the world since 1888. The journey starts with tough beef belly that gets heavily salted, cured for 2-3 weeks and then rubbed with pepper, onion, garlic and coriander. From there, it gets smoked and boiled before getting tucked into a steamer behind the counter. The cutters are expert in slicing which has a meaningful impact on the structure and texture of the finished stack. The result is pastrami that is beautifully coloured, tender and delicious like no other sliced meat on earth.
Photo: kirbiecravings.com
The Siren Sandwich consists of perfectly seasoned and sauteed garlic Mexican white shrimp, served on a buttery toasted brioche bun, topped with aioli, local greens, tomatoes, white cheddar and a fiery "necromancer sauce." Supernatural Sandwiches started as a stand at the local farmers market but graduated to a full brick & mortar earlier this year. Since then, its praises has been sung by nearly ever media outlet in San Diego. Their motto is "sea to sandwich" meaning that they use fresh and sustainable seafood from San Diego and cheeses, bread, and greens from local vendors in San Diego. Their goal is to make seafood more accessible to the public and not just something available for special occasion.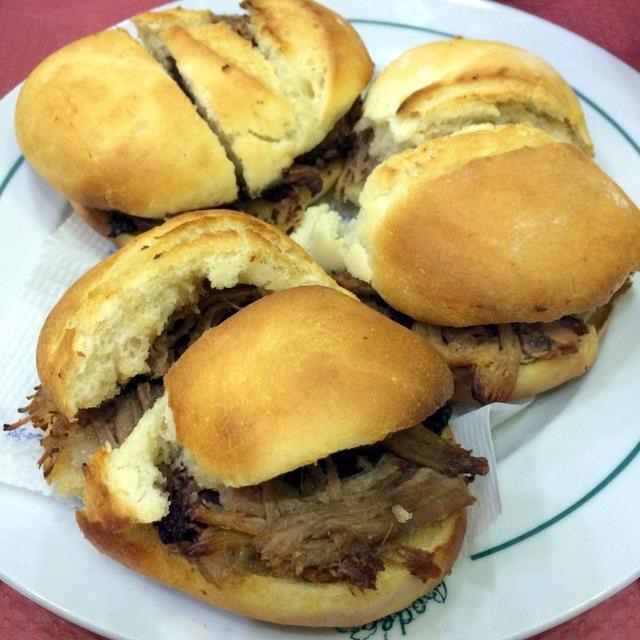 Photo: Bodeguita Romero
Homey family-run bar now into its third generation with fabulous home-cooking. You can taste the love. If you could live in a sandwich...

The sublime sandwich was one of many categories celebrated at the ExtremeFoodies Global Awards 2015. Have a look at the other feasts crowned tastiest in the world here.