6 Essential Bandeja Paisas in Bogotá
Unofficially Colombia's national dish, the bandeja paisa originated in the paisa region, which includes the mountainous Eje Cafetero, the coffee growing region of Colombia. Composed of the basic ingredients that go into any Colombian lunch, bandeja paisa is one of the dishes you'll see most often in restaurants around Bogotá.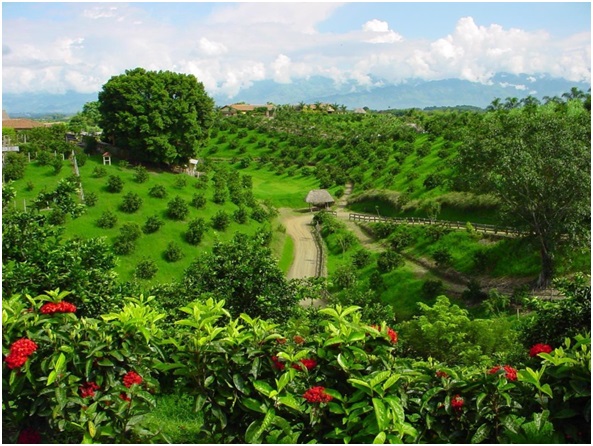 Banda paisa originated in the paisa region of Columbia. / Courtesy of Wikipedia.com

Bandeja paisa is thought to have evolved from the típico montañero, the hearty meal a typical farmer would have for lunch, with all the ingredients straight off the farm: beans, rice, ground beef, arepas made from freshly ground corn, avocados from the tree in front of the house, chicharrón from the pig, homemade sausage, and an egg from the chicken coup.

What is a bandeja paisa?
The very name bandeja paisa testifies to the fact it is served in abundant portions. Bandeja means tray, and that's how it's served – on an oval tray, because all that food couldn't fit on a normal plate.
What goes on the bandeja? Hold on tight, because it's a long list. Rice, ground beef, chorizo (sausage), frijoles (beans, usually red ones served in their gravy), chicharrón, fried egg, patacón (fried plantain), avocado and an arepa. Sometimes a tomato, onion and lettuce salad is also served, no doubt to counteract the cholesterol level.

Where to eat a good bandeja paisa in Bogotá?
Bandeja paisa can be found around the city at any corrientazo (simple dining halls with fixed menus at lunchtime) for a moderate price, ranging from US$2-$10. For a meal that perhaps might fill you for a few days, or that can be shared with a friend, it's not a bad deal.
Every restaurant and cook will add their own touch to the dish, so there are plenty of variations to taste around the city. Colombians tend to be passionate about their bandeja paisa, and will often ask visitors if they've tried it, and eagerly listen to their opinion about the national treasure.
Courtesy of Sopas De Mama Y Postres De La Abuela
This bandeja paisa gives you the full paisa story – a hearty serving of beans in their gravy, ground beef, ripe plantain, meaty chicharrón, a chunky sausage, a white corn arepa, rice, a slice of avocado and a fried egg as a garnish. If it seems like a lot of food, they also have the option of a half serving, and will even let diners go vegetarian.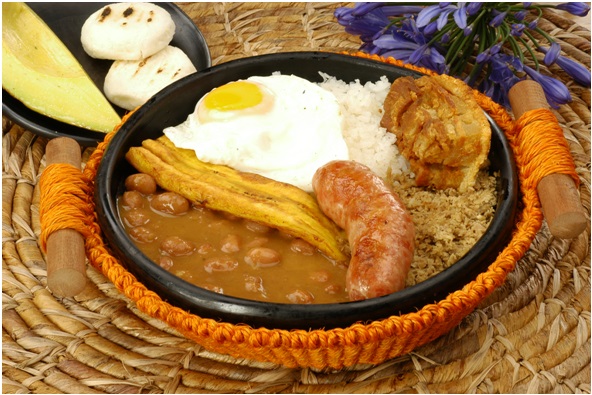 Bandeja paisa at Casa Vieja. / Courtesy of Karen Attman
Casa Vieja is a classic restaurant that dives into the rich roots of Colombian cooking. The original restaurant opened 50 years ago in La Candelaria, the historical downtown area. They later opened one in a former monastery in the nearby Centro Internacional, and another one recently opened in a red tiled roof house in Usaquén that feels, well, like a charming casa vieja (old house). Here the bandeja paisa takes on another personality, getting the original paisa name, tipico montañero, and tastes like a meal cooked right on the farm by the abuela (grandmother).
Bandeja paisa at El Envigadeño. / Courtesy of Karen Attman
This tiny place doesn't look, at first glance, like one of the best spots to get a delicious meal. Up a non-descript street in downtown Bogotá, through a small door and into a dark room, it looks more like somewhere to place a bet than to get good Colombian food.
But this is the place for a bandeja paisa just as you'll get it on the farm. Here the arepas are handmade, fat round balls of carefully grilled white corn flour. The chicharrón is in all its glory, crispy, tasty and fresh. The avocado gets mixed in with tomatoes and onion to make a refreshing salad. And sitting on top of the ground beef is a runny fried egg. Yes, it's big – but you'll want to eat every last bit, and wipe up the last of the bean gravy with some arepa.
Bandeja paisa at Plaza de Andres. / Courtesy of Karen Attman
The popular (and crowded) Andrés Carne de Res also has a faster route to getting lunch: La Plaza de Andrés, where the cafeteria-style service gets you in and out quick. The bandeja paisa here is smaller than some restaurants, which many visitors would consider a blessing. The chicharrón and the plantain are served already cut into bite-sized pieces and the avocado gets some salad dressing, perking up the flavor. The beans are served in a covered pot, and take on the characteristics of a soothing soup. And, of course, a fried egg drapes over it all.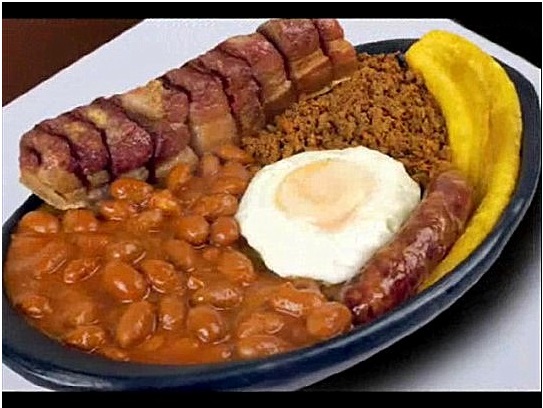 Bandeja paisa at El Consulado Paisa. / Courtesy of El Consulado Paisa
This place is near Quinta Camacho, the fastest growing restaurant area in Bogota, but that's probably just a coincidence. This simple place has little in common with the fancy gourmet restaurants cropping up all around. When you walk in, you might be surprised, and perhaps confused, by the seemingly misplaced and decidedly misspelled signs hanging from the walls, but it's typical of the paisa region. Here the chicharrón comes in one long strip, and the red beans come in their own rich gravy. It's simple, flavorful and abundant – what the bandeja paisa is all about.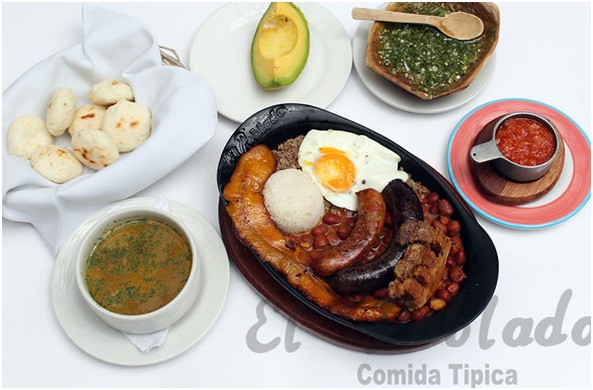 Bandeja Paisa at El Poblado. / Courtesy of El Poblado
For 40 years, this restaurant has been serving typical Antioqueño dishes from the paisa region, so they've had plenty of time to get it right. Served on a wide clay dish, the sausage goes over a bed of beans and the fried sweet plantain provides a mix of sweet and savory. Aji, a spicy sauce made with cilantro, onions and hot peppers, is served on the side, along with hogao, a tomato based savory sauce present at many Colombian meals.
Find out more
Meet the author