10 Essential Burgers in Melbourne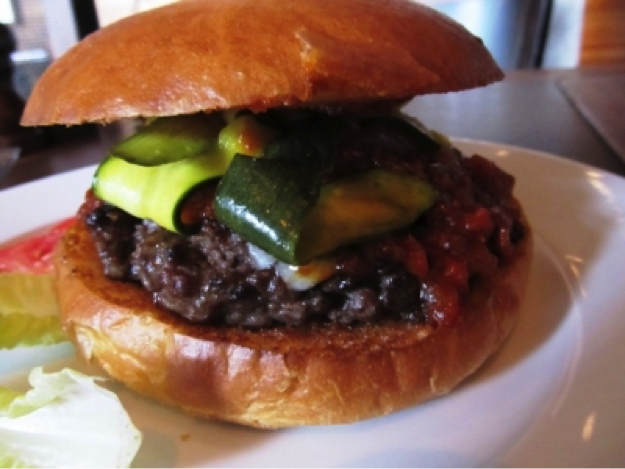 The hamburgers at Rockpool Bar & Grill are leading the pack in Melbourne, Australia. / Courtesy of theworldlovesmelbourne.com
Melbourne is a city that loves its burgers, and in recent years has seen a sharp rise in the number of burger joints around the city. Gone are the days of just a greasy burger fry up, with popular burger joints serving up nouveau burgers and healthier options such as bean patties, more exotic salad items and healthier buns. As for us, we tend to order the massive juicy burgers that you need to stand back from to fit them in your Instagram photo.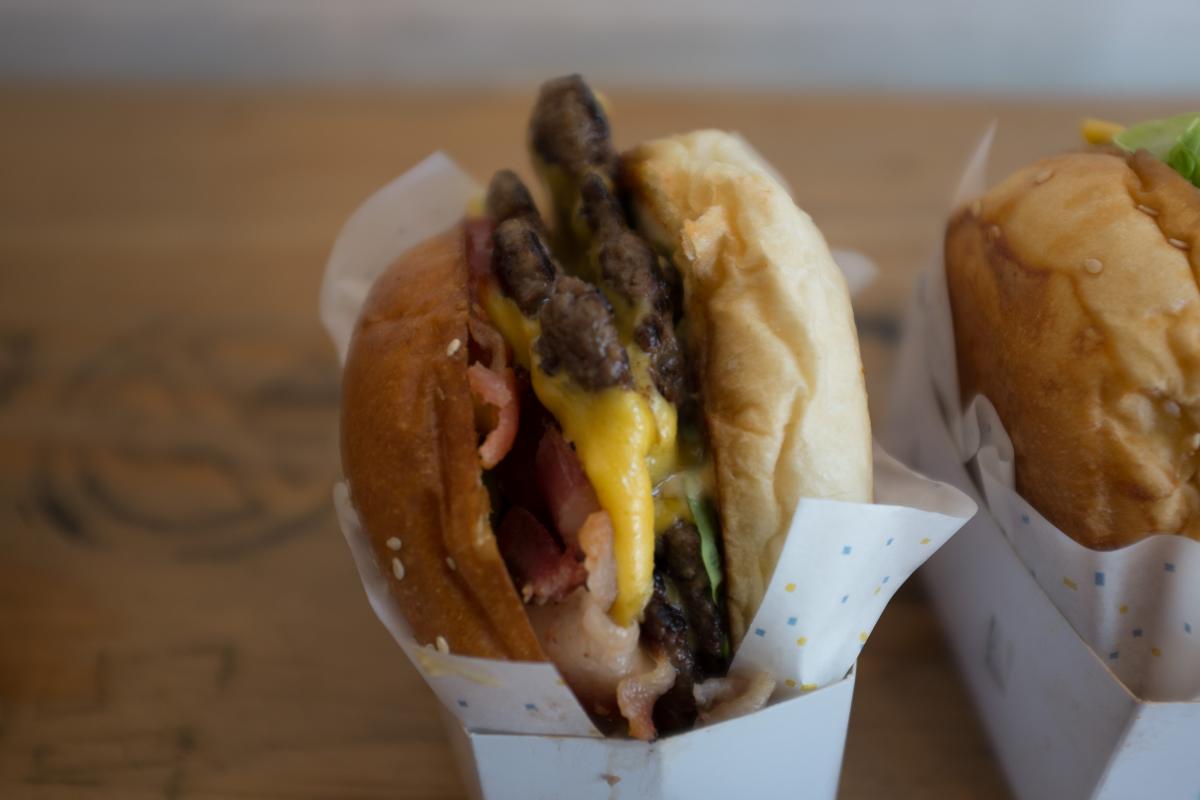 Courtesy of theworldlovesmelbourne.com
Everyone has his or her burger preference, and that's to be respected. We at The World Loves Melbourne enjoy classic, American-style burgers. A thrill has been to travel to California several times and experience the In-N-Out Burger phenomenon, where the burgers are large, juicy and high quality (no artificial processing and super freshness). 8bit reminds us so much of In-N-Out!
The Double Dragon is a juicy triumph, a burger featuring double beef, double cheese, double bacon, pickles, mustard, lettuce and 8BIT sauce, an addictive blend of creamy tangy barbecue flavors. Order the Double Dragon with a large serve of beer-battered fries with mayo. Other sides include potato gems, crispy onion rings, chili cheese fries and cheese and bacon fries. The World Loves Melbourne loves the packaging, in cardboard boxes with greaseproof paper.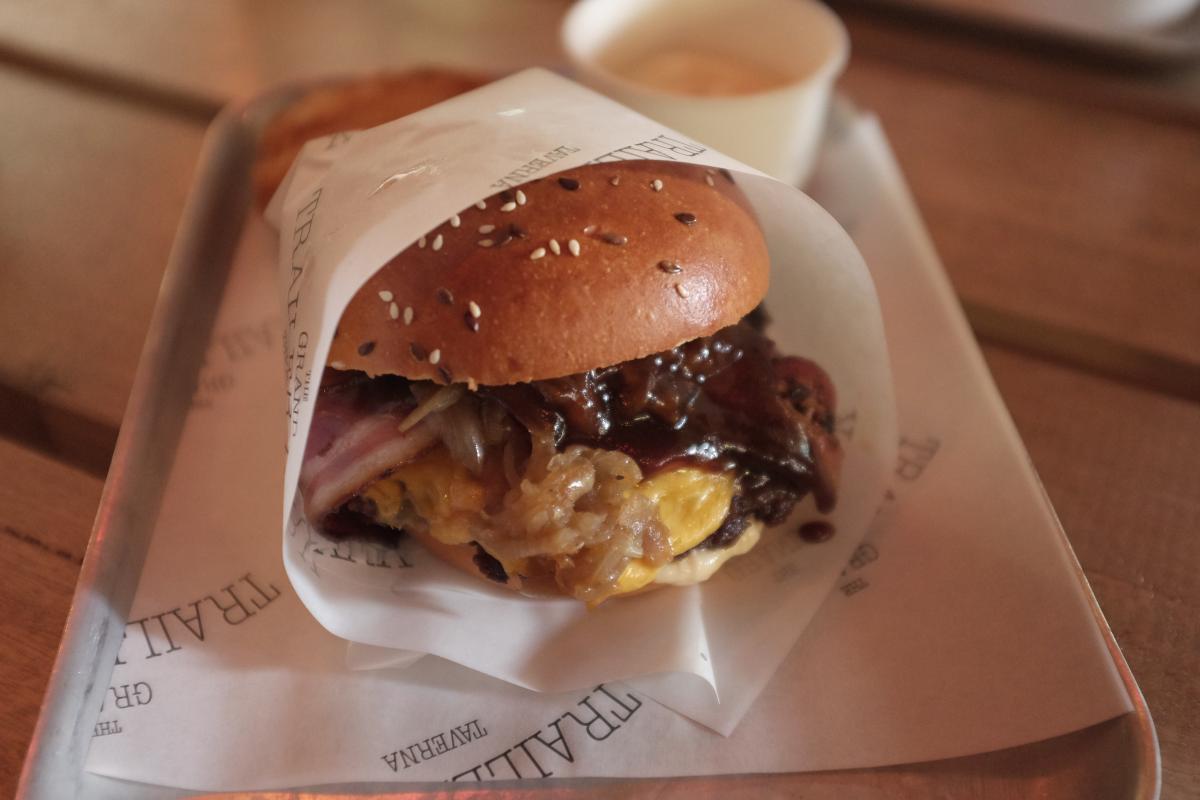 The Atomic at Grand Trailer Park. / Courtesy of theworldlovesmelbourne.com
Grand Trailer Park Taverna is a burger wonderland, cleverly taking up the American East Coast trailer park theme and turning it on its head with a killer fit out of booths and trailer structures. Surely this is taking the burger culture to its zenith and is a must-visit for burger aficionados. Simply put, this is the most creative burger joint we've seen in Melbourne. The Atomic Burger is a chart topper and definite contender for best burger in Melbourne. The Atomic has taken on legendary status in featuring a premium Aussie beef patty, American cheddar cheese, chilli cheese kransky, crispy bacon, barbecue sauce and truffle cayenne mayonnaise on a lightly toasted brioche bun.
This is juicy goodness that is so right. It's a substantial burger with lashings of caramelized onions and bacon and chilli cheese kransky. The chilli cheese kransky is like having another patty, and combines wonderfully with the beef patty. The crispy bacon is another highlight, living up to its name and in generous proportion. Grand Trailer Park makes its own sauces and they are tangy and complement perfectly. The cheese oozes over the patty while the kransky already has cheese and chilli in it. This is a burger with several talking points. So good.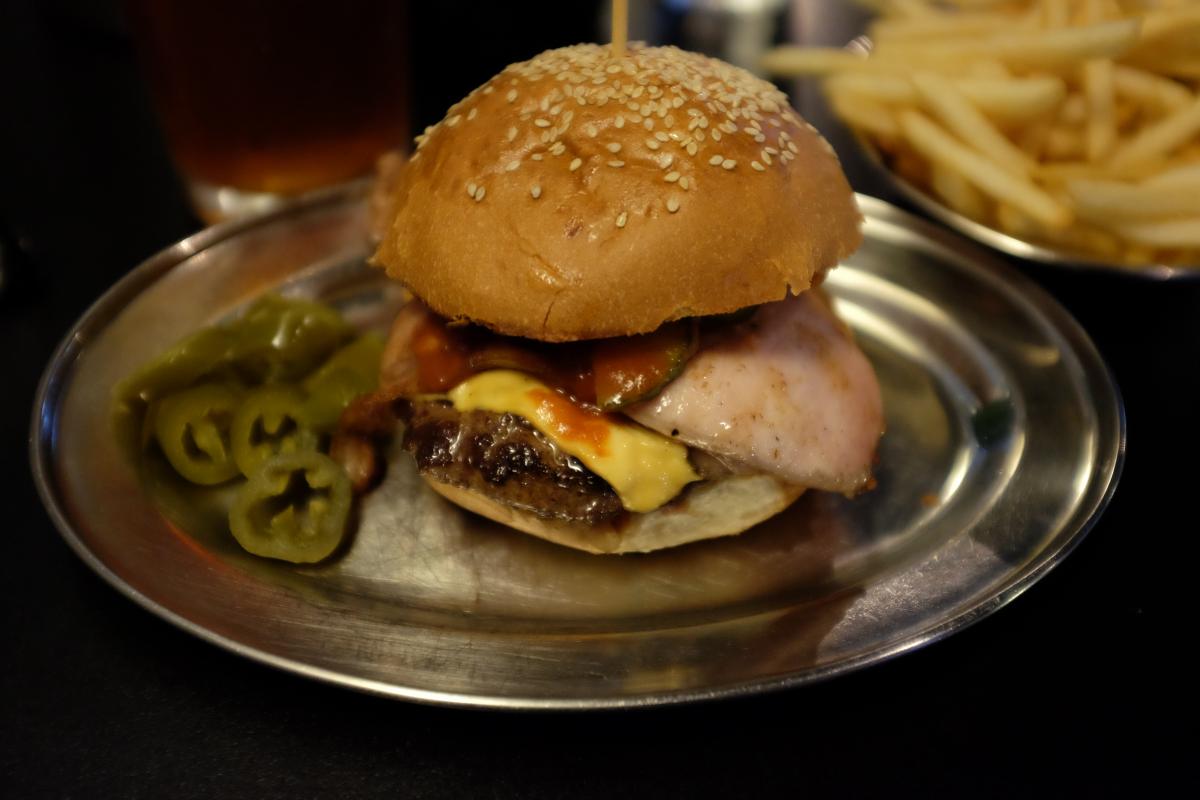 Hot Stuff at Brother Burger and the Marvellous Brew. / Courtesy of theworldlovesmelbourne.com
For the discerning burger aficionado, Brother Burger and The Marvellous Brew on Brunswick Street is one of the best burger joints in Melbourne. Come here for large rewarding juicy burgers with interesting fillings, decent fries and sides, plus enjoy the excellent marriage of burgers to quality craft beers. As for The World Loves Melbourne, we were in the mood for Hot Stuff, featuring the 100 percent Wagyu beef patty, double bacon, cheese, house-made pickles, mustard-mayo and chilli jam. With jalapenos on the side to regulate the heat, this was a complete burger with great balance. The patty remained the hero, which we celebrate, as some Melbourne burgers are too sauce-driven. Fries also hit the mark, golden and crunchy with excellent potato flavor.

Ultimate Black Pepper Beef Burger at JD's Burgers. / Courtesy of theworldlovesmelbourne.com
JD's Burgers in Kew is a delightful burger joint that offers unique Asian fusion flavors and is one of the best burger houses in Melbourne. These are juicy melt-in-your-mouth burgers with much thought (and presumably testing) put into the various burgers. Word about JD's has spread in the burger world and an invited visit by The World Loves Melbourne didn't disappoint. We couldn't get over just how many burgers are on offer here - something like 15 fusion burgers.
We fell in love with the Ultimate Black Pepper Beef Burger. This had a tang and a kick we found irresistible. This burger is unique to the Melbourne burger scene and features French brioche bun, black pepper sauce, special JD's mayo, American cheese, grilled bacon, mushrooms, caramelized onion, lettuce and tomato. The combination of flavors is brilliant. Nothing is overpowering and it all comes together superbly. Again, this is a juicy rewarding burger. Black pepper and beef are an excellent fusion combination.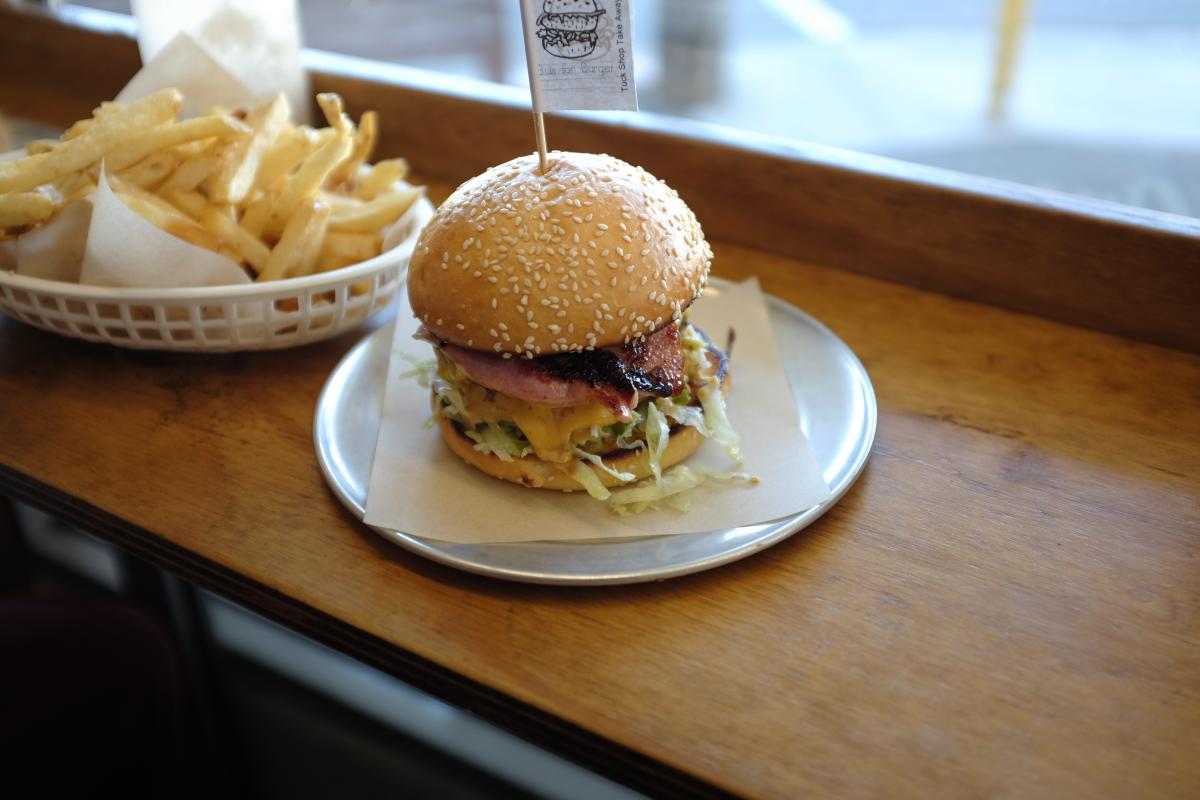 Minor Burger at Tuck Shop Takeaway. / Courtesy of theworldlovesmelbourne.com
Tuck Shop Takeaway is a killer burger joint in the burbs run by Clinton and Katrina Serex and is a contender for Melbourne's best burger. There are no frills here, only quality. Walk in to a retro world of burger charm with quirky decor and sensational burgers, with a dose of staff with character. Nostalgia, baby. Choose between a 100 percent beef burger, as we did, or the veggie option.
The beef burger also featured quality Otway free-range bacon and lettuce, onions, tomato, pickles, secret Tuck Shop Takeaway sauce and American cheese (plus you can order an egg). It is surprisingly filling due to the 100 percent beef patty and the brioche bun, not to mention the bacon and cheese oozing over the meat. When you bite into the burger you just exclaim, "Yes!" and groan.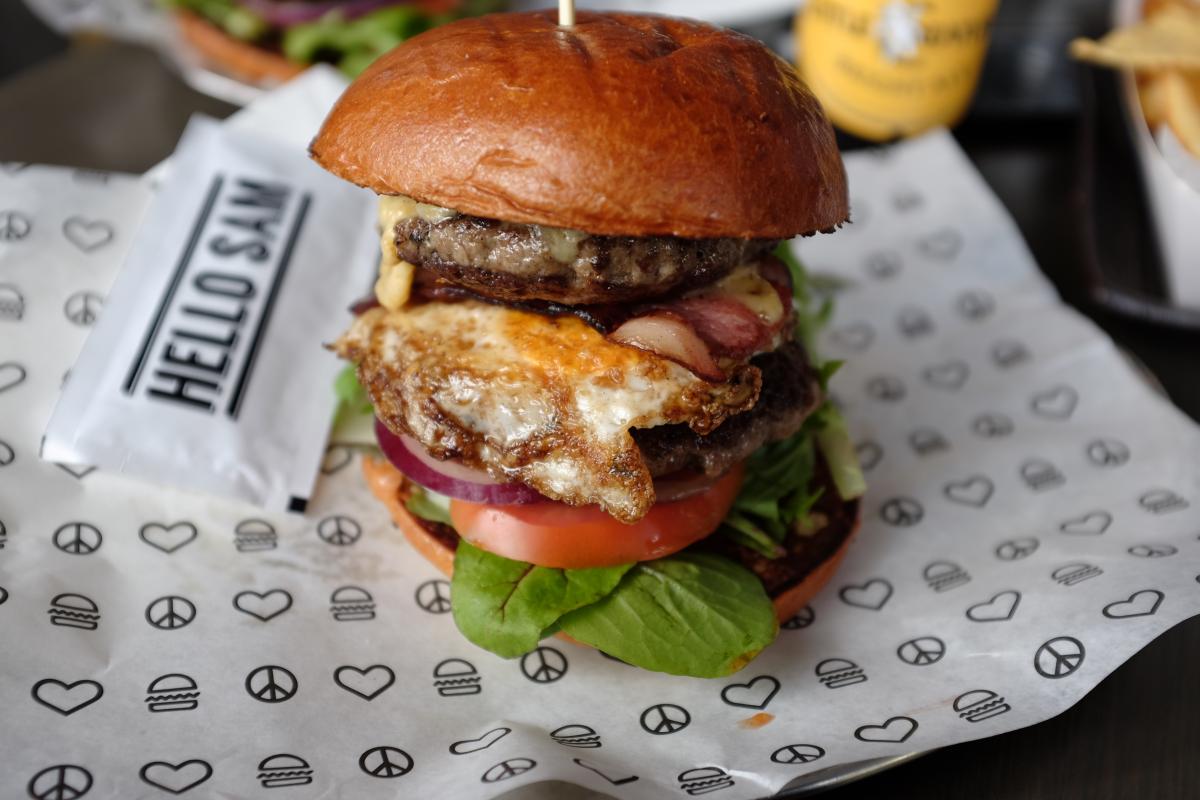 Sam the Man Double at Hello Sam. / Courtesy of theworldlovesmelbourne.com
Hello Sam has an impressive backstory, with the owner, Katherine Sampson, having risen from a small shopping center business to a savvy burger sensation in South Yarra. At the end of Chapel Street not far from Richmond, Hello Sam is a light in this foodie precinct with its massive quality burgers and attractive ambience. Burgers should speak for themselves without hype, and these burgers speak volumes.
The Sam the Man Double is a massive burger that hardly fitted into my Instagram frame, forcing me backward to capture the dimensions of the burger in my photo. Yes, the burger forced me backward! The patties are chargrilled and exude thick, meaty goodness, not overcooked but juicy. We naturally gravitate to The Big Sam's part of the menu - where you can enjoy up to three patties on your burger. Size does matter when it comes to burgers, but quality must match. Hello Sam prides itself on the finest and freshest of ingredients, including Angus beef patties.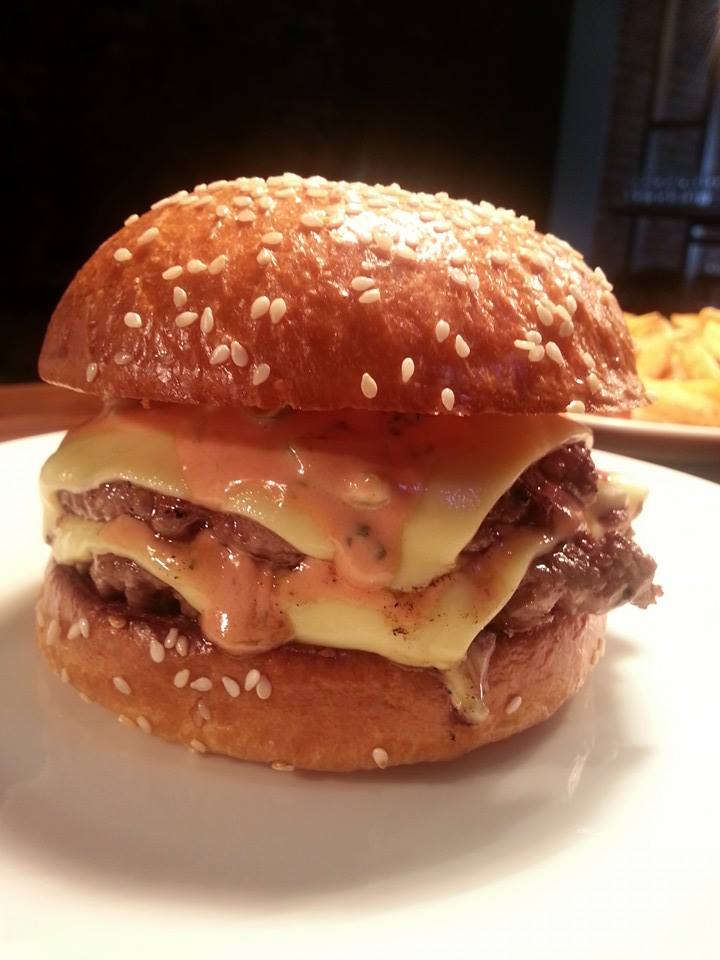 Double Patty Smash at Rockwell & Sons. / Courtesy of theworldlovesmelbourne.com
Rockwell & Sons provides American-style soul (comfort, dude) food on Smith Street and has one of the most acclaimed burgers in town with its Double Patty Smash burger. The Double Patty Smash burger consists of a sexy brioche bun from Brasserie Bread (important to have a great bun), excellent juicy patty action, cheddar cheese drooled all over the meat, crunch gherkins and a killer sauce. For mine, it's the sauce that makes it ... This sauce reputedly includes three kinds of mayo. The burger is a triumph of juicy melted and crunchy bliss! And the price point is kind to the wallet.

The Beef and Bacon at Goneburger. / Courtesy of theworldlovesmelbourne.com
Goneburger has a compelling menu, with gourmet burgers at affordable prices. We imbibed The Beef and Bacon, a simple name that belied the wonder of this burger. The Goneburger features a house-crafted beef patty for a blend of the finest chuck and the juiciest grass-fed short rib beef, with their own Goneburger sauce, lettuce, tomatoes, caramelized onions, smoky bacon, cheese and pickles on a toasted brioche bun. As they say, "simple but classic," but "even a classic is better with bacon."
Surely this is one of the best burgers in Melbourne. For a start, this is one of the few burgers where you can easily see what is in it. The top of the bun is placed at an angle so you can see all the ingredients. The brioche bun was perfect for this burger, with a soft sweet hit. The patty is the hero -- juicy as they say, with an awesome umami Japanese seasoning infusing the patty that is not overpowered by the nuanced sauce that adds delightful smoky flavors to the equation.
Many Melbourne burgers are sauce-driven, so it's the sauce that determines the flavor of the burger. Here, the balance is exceptional with the meat patty and the house-made sauce. Goneburger spent much time on perfecting their sauce, with elements of tomato, mustard and mayo.
.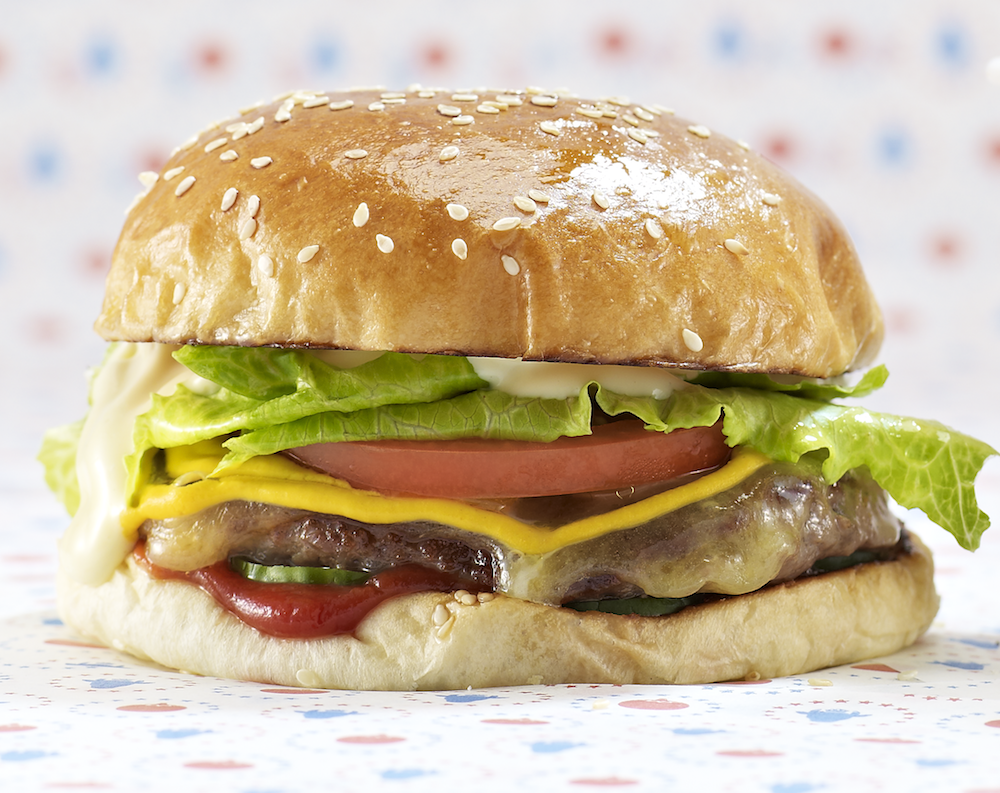 The Huxtaburger at Huxtaburger. / Courtesy of theworldlovesmelbourne.com
Huxtaburger has done its homework on what makes a great burger. They simply have great buns. Glazed brioche buns. The burger bun melts in the mouth. You don't get that heavy, starchy hit of bread, but rather the bun combines wonderfully with the rest of the burger. The strength of Huxtaburger is that they keep it quality and simple. Other burger joints add varieties of burger that just don't work. Everything at Huxtaburger works.
Our favorite is The Huxtaburger, which has those awesome buns, crunchy lettuce, quality gherkin, a sublime patty of Moondarra Wagyu beef and melted cheese, tomato, mayo and ketchup. For a little extra, you can get some great crinkle-cut chips. Like everything Daniel Wilson does, there is adventure, amazing gourmet flavors with sublime balance. There is a kick in the mayo and pickles but it doesn't dominate the quality beef. The sensation is of a delectable light and slightly sweet burger. A contender for Melbourne's best burger.

Full Blood Wagyu Burger at Rockpool Bar & Grill. / Courtesy of theworldlovesmelbourne.com
Rockpool Bar & Grill is a fine dining haven in the Crown Casino and is known for its spectacular meat dishes and the culinary genius of Neil Perry. The conversation around here is all about "dry-aged," "grass-fed," "rib-eye" and, of course, "wagyu." In fact, it's the David Blackmore Wagyu that drew us here. Could this be Melbourne's best burger?
The meat here is sourced from Australia's best producers and dry aged on the premises. Rockpool is strict about humane treatment of cattle avoiding hormones and antibiotic feed supplements. Rockpool features Blackmore's Wagyu -- some of the best wagyu in the world -- in its burger. It's the best of the best. Rockpool has smashed a home run with its David Blackmore Wagyu Burger, in terms of quality, taste and balance. Our first impression was that this is a work of art and a celebration of the hamburger. Secondly, we were amazed at how big this burger is. We were expecting a smaller burger, as is the trend. But this was actually a meal to satisfy a lunch craving, along with some hand-cut chips.
Interestingly, we were asked how we would like our wagyu patty cooked - does anywhere else in Melbourne do that? Of course, we wanted it cooked as the chef would recommend, (normally our reply) - which was medium-rare. The wagyu patty was the hero of this burger, which for us is what it's all about. Every morsel of that wagyu patty was delectable. The bun was a wonderful brioche. And the combination of flavors was genius. Smokehouse bacon and gruyere went so well with the wagyu, and the red onion and zucchini pickles were a zesty flavor hit against the meat. We consider this to be a contender for world's best burger.
Meet the author