Cachapas in Caracas: The Venezuelan Pancake Specialty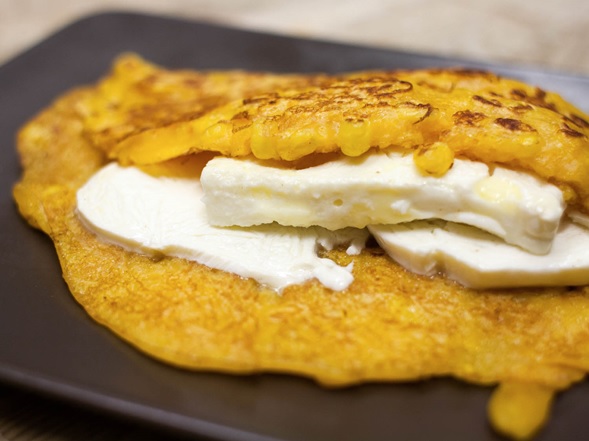 Common in Caracas, cachapas are the ultimate blend of street food and comfort food / Courtesy of Mark Rinaldi
Cachapas, the sweet corn version of a pancake, are an integral part of Venezuela's culinary history. Stuffed with a slab of white cheese, succulent roast pork or both, they are served hot off the griddle. The origin of these tasty maize pockets dates to pre-Colombian times, when the indigenous population ground corn with stone pestles and cooked it on clay budares. These flat griddle plates have been found in archaeological digs at many historic sites in Venezuela.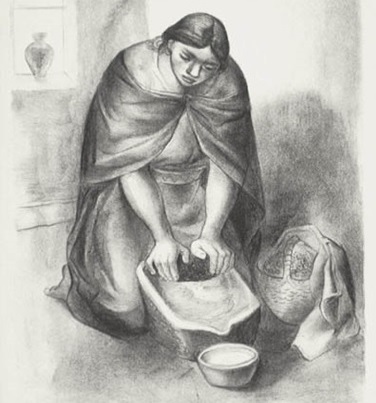 Courtesy of www.artoftheprint.com
Cachapas are made by mixing ground corn, sugar, salt and water, pouring the resulting mixture on a very hot griddle for a few minutes, then folding the flat cake around fresh artisan white cheese. Some cachapa recipes incorporate papelón, unrefined brown sugarcane. Nobody seems to know who made the first one, but it is believed corn existed in South America since the time of the Inca, Maya and Azteca civilizations and that cachapas were first made in the central region of Venezuela.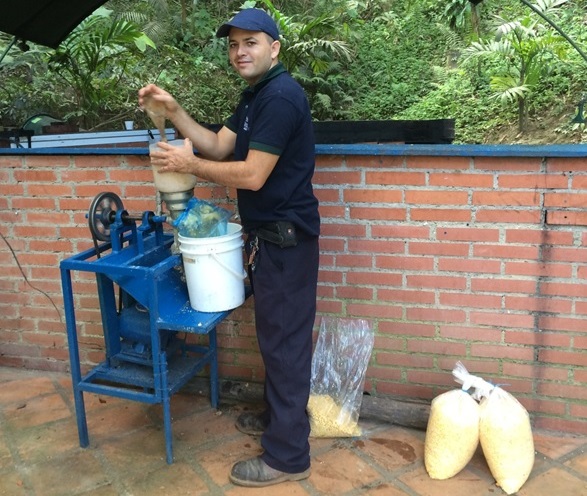 Some cachapas vendors grind corn on site / Courtesy of MilSabores.net.
Corn is a main food source in Venezuela. And cachapas – like arepas and empanadas - are one of the country's favorite dishes incorporating corn. They are typically eaten at small, weekend street markets. Some vendors prepare the mixture beforehand and cook over big grills in the market. Others grind fresh corn, prepare and cook it on site. Cachapas also are found at areperas or specialty restaurants and supermarkets. Most recently, some trendy restaurants have begun preparing cachapas.
Cachapas are traditionally eaten for breakfast and lunch with queso de mano, guayanés or telita, fresh white artisan cheeses made with raw cow's milk. Guayanés cheese is most often used for cachapas. Very soft, almost like a spread, it needs to be very fresh. Telita cheese is creamy, juicy, soft and preserved in whey.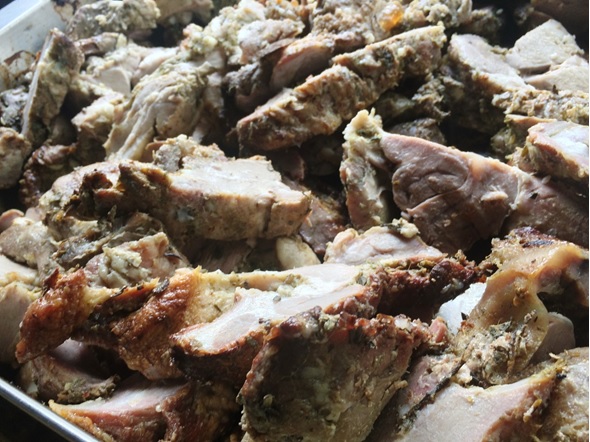 Roast pork is a common filling for cachapas / Courtesy of MilSabores.net
Pernil de cochino -- pork leg ham cooked for hours in an oven or broiled – is another popular filling. Some fans mix cheese and pernil for a succulent cachapas feast.
In southeast Caracas, La Union at El Hatillo is emblematic for its cachapas. There you can find some of the best places to eat them. In downtown Caracas, a stand is open on Saturday and Sunday at Puente Guanabano on Baralt Avenue and another stand is open Monday to Friday at Plaza La Candelaria. On Saturday morning, look for stands at La Urbina and Los Palos Grandes markets.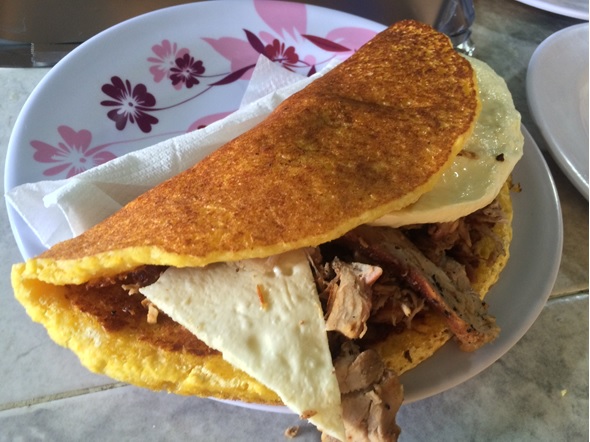 Cachapas at Cachapas Doña Inés are packed with succulent roast pork. / Courtesy of MilSabores.net.
If you don't mind waiting an hour or two on a Saturday or Sunday morning to get a seat, Cachapas Doña Inés is the most famous place in Caracas for well-made cachapas. Inés told us they're constantly getting fresh corn and grinding it just before cooking them at the griddle. These are made only with ground corn, water, sugar and a little bit of salt. They´re topped with guayamano cheese brought to Caracas from Los Llanos or pernil, marinated for 24 hours in herbs and fruits, and then cooked for four to six hours in a charcoal oven.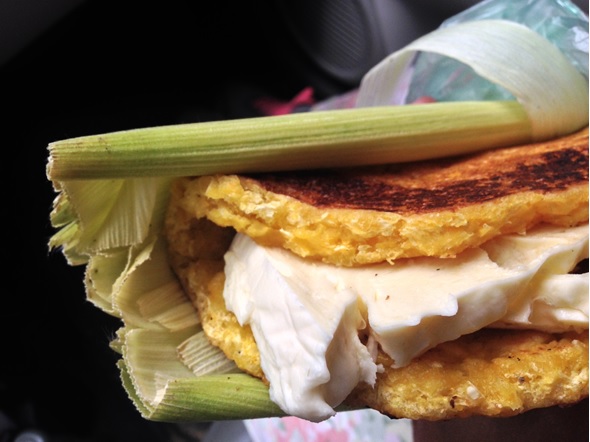 Goreti Viera achieves the perfect balance of texture and flavor in her cachapas. / Courtesy of MilSabores.net
Goreti Viera has been making cachapas for more than six years at her stands in the mercadito del terminal de autobuses del Hatillo on Saturdays and at the mercadito del estacionamiento del Hatillo on Thursdays. Her staff is always grinding corn at the site and cooking at the grill, while she makes the mixture for the cachapas and fresh exotic blends of fruit juices. She mixes the ground corn with a little bit of water, salt and sugar. These are perfectly round and thick, and filled with queso guayanés, ham or mixed. Her creations are one of the most perfectly balanced cachapas in texture and flavor, with a delicate sweet touch. Cachapas are great with one of the juices Goreti creates: guava and pineapple, guava and strawberry, and orange and passion fruit.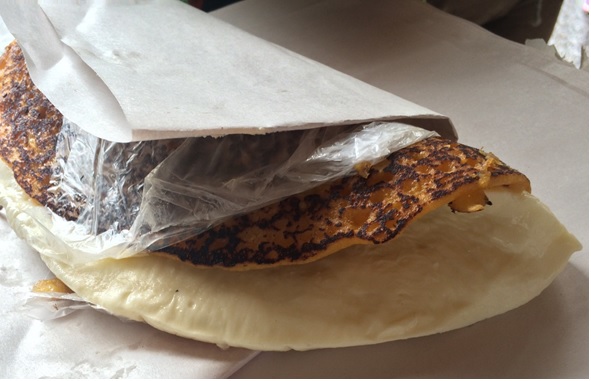 Cachapa con Queso Guayanés from Mercadito de La Urbina. / Courtesy of MilSabores.net
Open only from 4 a.m. to 2 p.m. Saturdays, this stand in a corner of the mercadito de la Calle 4 La Urbina sells fresh cachapas with four types of fresh artisan cheeses, along with mixes to make arepas or cachapas at home. In operation for more than 12 years, the real star here are the fresh cachapas. Prepare to wait in line for 10 or 15 minutes for a steaming cachapa filled with the cheese of your choice – from thick guayanés, telita or Carora white goat cheese from Lara state - or with some of the most flavorful pernil in the city.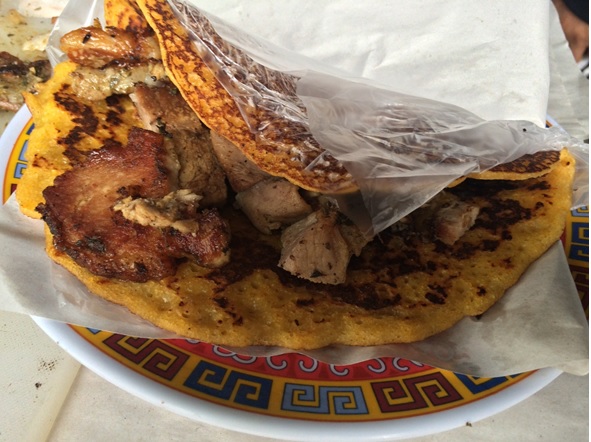 Cachapas stuffed with cheese and roasted pork / Courtesy of MilSabores.net
The most famous cachapas in the Chacao municipality are the ones at the little Saturday market on 3rd Avenue Los Palos Grandes. Their corn mixture is ready to cook at one of four big griddles. They make more than 1,200 cachapas a day, each topped with thick guayanés cheese or pernil. They also sell chicharron and freshly made orange juice.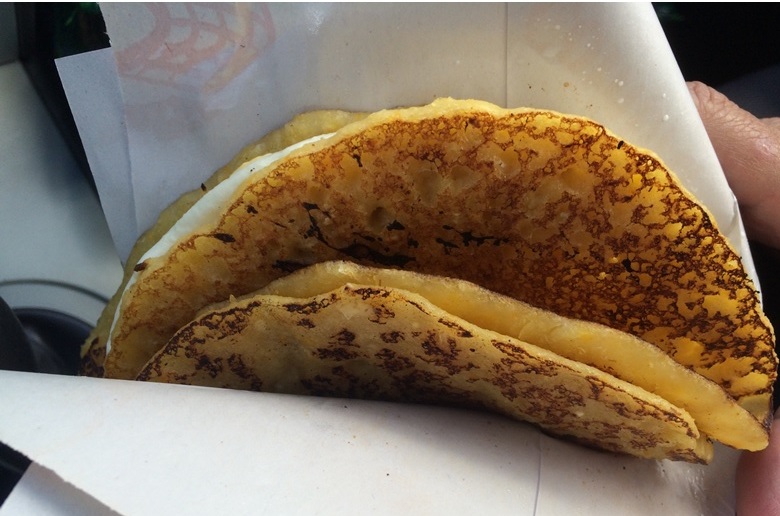 Cachapas del Puente Guanabano cooks some of the best cachapas in downtown Caracas. / Courtesy of MilSabores.net
These cachapas are made on Sundays at the Puente Guanabano, over the Avenida Baralt. The corn mixture is made by an old lady at her house and the cheese is queso de mano from Guárico. You decide if you want the whole round of cheese or half of it. They have one big griddle where they cook this unique cachapas. They put the cheese on top and another cachapa on top of the cheese and then bend it. These are very inexpensive, and the best in downtown Caracas.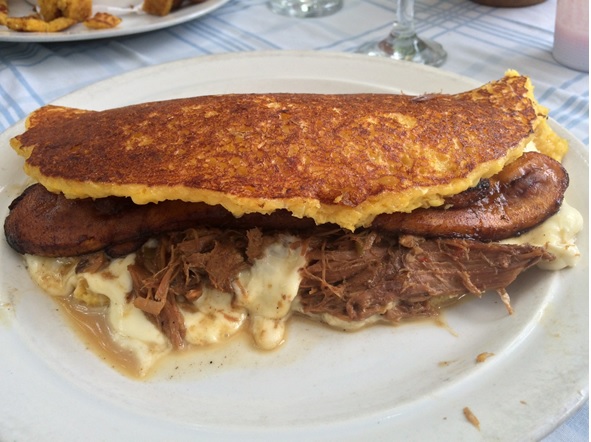 A cachapa with queso and pernil at El Café del Establo. / Courtesy of MilSabores.net
El Café del Establo is a cute restaurant at the Hiparion Club in La Union, where you can enjoy the countryside view while drinking a nice mimosa with breakfast or lunch. They ground the fresh corn with their own grinder at the site, and make cachapas at the moment you order. You can ask for cachapas with different fillings. The tastiest – and the biggest - is called Cachapa Trio, it's filled with telita cheese, baked juicy delicious pernil and tajadas or slices of plantain. They say it weights more than half a kilo, and it is packed with flavor. Cachapas are also served in a unique way at El Establo, with small arepas and plantain balls, and a delicious original fondue made with fresh white artisan cheeses: llanero, guayanés and telita.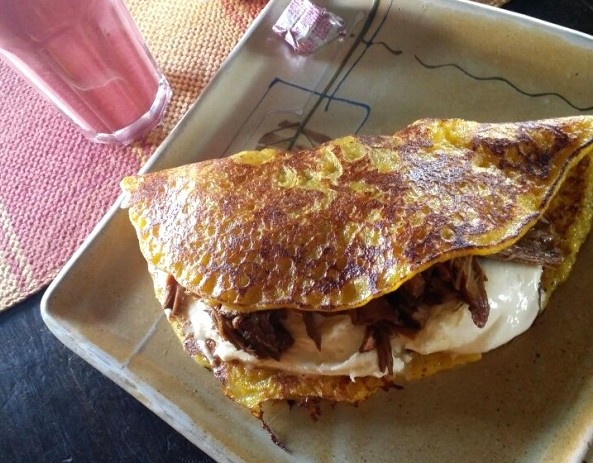 Cachapas at Café con Rosas taste salty and sweet, with a crunchy texture. / Courtesy of Sergey L.
Café con Rosas is a cozy little restaurant with lots of vintage and country details. They buy their cachapa mixture and cook them in a big griddle inside the kitchen. What makes this cachapa different is its unique salty and sweet taste, almost crunchy. These are filled with baked pernil, guayanés or telita cheese. To accompany them, you can choose from different juices, such as peach with strawberries; pineapple, peach, orange and yogurt; pineapple passion fruit and carrot.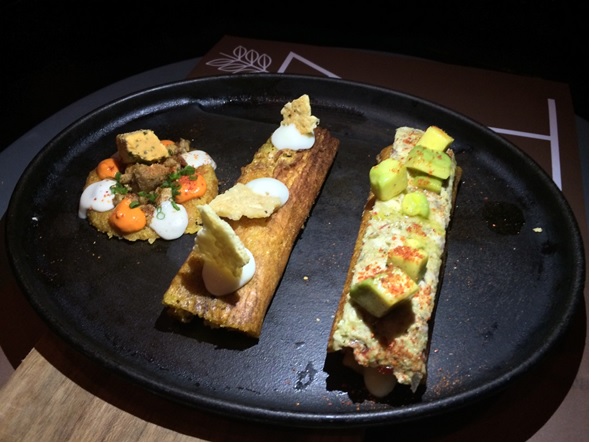 Cachapas con Todo showcases the flavors of Venezuela/ / Courtesy of MilSabores.net
In Venezuela, cachapas are usually eaten at popular restaurants, street market stands or road stands. Alto Bar is a trendy place with delicious culinary creations. Cachapas con Todo is one of the favorite feasts here. It is a beautiful dish with three little cachapas full of flavors typical of Venezuela. One is filled with pernil and spicy butter, cream of Venezuelan ají dulce and aioli. Another one is filled with palmizulia cheese, reina pepiada filling (chicken and mayonnaise with avocado cubes). And the third is filled with cream of telita cheese, morcilla or blood sausage from Carupano. Rounded off with a cookie made with guayanés cheese, it's the fanciest and tastiest cachapas in Caracas, a memorable feast.
Meet the author