Essential Eats in Tijuana



In Tijuana, shuttered souvenir stand doors have become canvases for street artists
This Baja California border town is experiencing a culinary and craft beer revolution. Making its nefarious name in the 1930s during U.S. prohibition, Tijuana offered a safe haven in which to imbibe for a thirsty, north-of-the-border clientele. "TJ," as it's commonly known, maintained a robust tourist trade through the 1980s while maintaining a true Mexican spirit in its food, markets, traditions, culture, arts and people.
When tourism dropped in the last decade, many of the city's tourist-based businesses lowered their shutters for good. About 95 percent of the souvenir stands in the city closed and many other businesses were also affected. But Tijuana is a city that doesn't give up, and loves its culture and food. Those former souvenir stands now house art galleries, coffee shops, microbreweries and cafes. Foodies have returned to the city to enjoy a street taco, or an elegantly prepared "Baja Med" (Mediterranean techniques applied to fresh Baja ingredients) dinner at Chef Javier Plascencia's Mision 19. Borrowing methods and inspiration from nearby San Diego, Tijuana also is experiencing a craft beer revolution. The city has reinvented itself, for itself. And many of us north of the border are taking notice, again.

Tijuana Street Tacos

The Birria de Res (beef) taco from Tacos Rodriguez street cart in Tijuana
Before Baja Med and the culinary revolution happening in Tijuana, there was the street taco, typically served from and devoured at a curbside stand. Tacos include "varios" (where cabeza, tripa, lingua and cuts of meat like skirt steak are used), breakfast, fish and birria. The birria (pictured) has its origins in the state of Jalisco and contains stewed meat (goat, lamb or beef) marinated in dried, roasted chilis and spiced with garlic, marjoram, Mexican oregano, cumin, clove, cinnamon and other ingredients.

Teaching an Old Taco a New Trick

Smoked marlin and "The Kraken: (grilled pulpo) tacos from Tacos Kokopelli
Owned and operated by Tijuana's Pablo Campos and his brothers (Chef Oso Campos and "Cricket"), Tacos Kokopelli offers a new twist on the Tijuana taco. "The Kraken" -- their grilled pulpo (octopus) taco -- is marinated in Pesto Mexicano, grilled to perfection over mesquite wood, and served with a variety of homemade salsas, including pumpkin seed and a fiery habanero. Along with other unique tacos, they offer the Pibil Taco, made with smoked marlin and a Yucateo sauce.
Related Post Link: AGringoInMexico.com

Mercado Hidalgo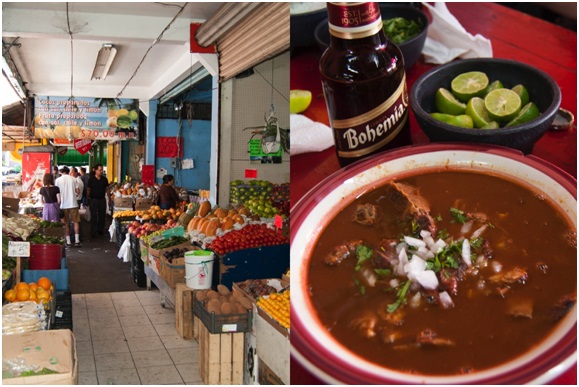 The bustling, colorful Mercado Hidalgo. El Ricon del Oso's Birria de Chiva
Tijuana's Mercado Hidalgo has been in operation since the mid-1900s, providing a place where food and other goods from all over Mexico can be sold. More than 80 vendors operate in the space, selling everything from exotic fruits and moles to piñatas and meats. There are a number of spots to sit down for a quick, cheap bite. El Rincon del Oso specializes in Birria de Chiva, a delicious marinated and spiced goat stew, considered a hangover cure throughout Mexico.

Tijuana: Birthplace of the Caesar Salad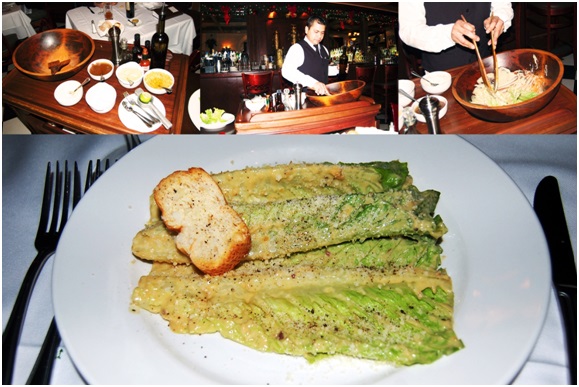 Caesar's Restaurant classic 1927 namesake salad is still prepared tableside
Taking over the historic Caesars Restaurant in 2010, the Plascencia family has resurrected this Tijuana landmark to its former glory. Dating back to 1927, Caesar Cardini (an Italian immigrant) opened the restaurant and hotel during the boom time of prohibition. Cardini is popularly credited with the invention of the Caesar Salad, which is still served tableside in the classic method today.
Related Post Link: AGringoInMexico.com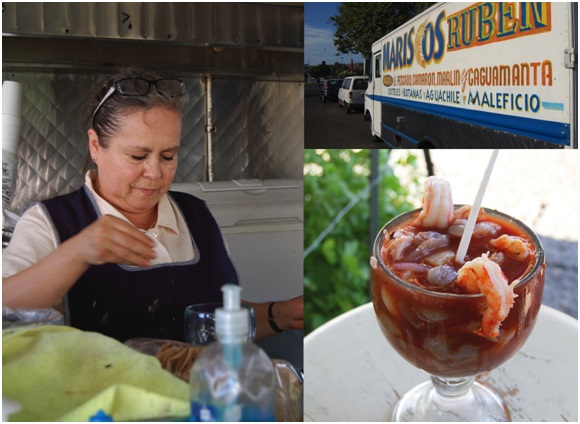 Mirta Rodriguez prepares Sonoran style seafood with a pinch of love and a pinch of chillies
Ruben Rodriguez and his wife, Mirta, have been serving Tijuana's Sonoran population from a truck on the corner of 8th Street and Quintana Roo for more than 20 years. Mirta takes your order, then prepares mind-blowing mariscos with a smile and a pinch of dried red chiles. Their aguachile of fresh Baja jumbo shrimp, pulpo and jumbo callo de hacha scallops will blow away any seafood cocktail you've had on either side of the border.
Related Post Link: AGringoInMexico.com

Tijuana's Restaurant Family

Chef Javier Plascencia and his brother, Tana, at Mision 19. Erizo Raw Bar
In 1969, Juan José Plascencia started Giuseppe's, widely claimed to be the first pizzeria in Mexico. Juan Jose's children (including acclaimed chef Javier Plascencia) were given chores in this and then other family restaurants growing up. Today, the Plascencias own a number of restaurants, including Casa Plasencia, Villa Saverios and others. Javier also operates his flagship Mision 19 -- one of the restaurants that helped make a name for Baja Med cuisine.
Related Post Link: AGringoInMexico.com

One of Baja Med's Founding Fathers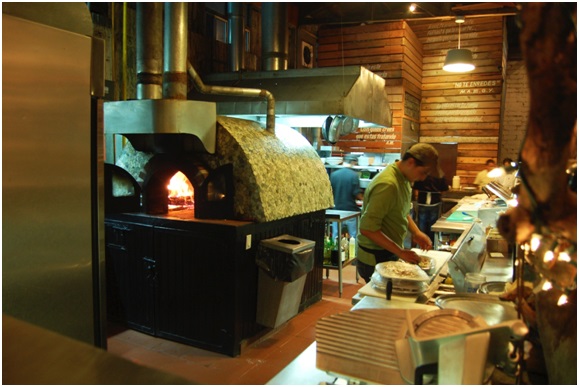 Cooks in the kitchen at Miguel Guerrero's El Taller prepare Baja Med cuisine
Chef Miguel Angel Guerrero opened La Querencia in Rosarito Beach, Baja California, in 2001. According to many, this was the birth of "Baja Med," the fusion of Mediterranean techniques applied to fresh and bountiful Baja ingredients. The chef is also a fisherman, hunter and outdoorsman. Every year he leads a band of adventurers down the Baja peninsula to camp, hunt, fish and spearfish. Much of the meat served at Guerrero's restaurants, such as El Taller in Tijuana, is sourced from the chef himself.
Related Post Link: AGringoInMexico.com

Verde y Crema: Farm-to-Tijuana Dining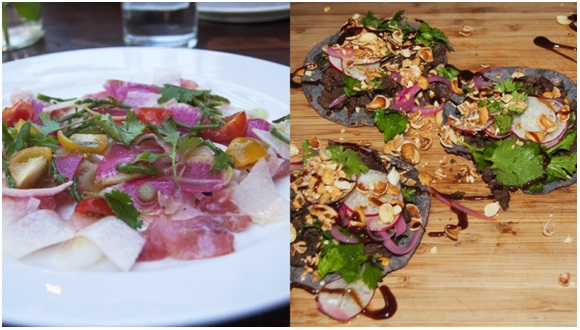 Tijuana Surf & Turf. Verde y Crème's Yellowtail Ceviche and Korean BBQ Tacos
Chef Jair Tellez's Verde y Crema in Tijuana is less than a year old, but already making waves on Tijuana's dining scene. Using only locally sourced, mainly organic ingredients and cooking over olive wood from Baja's wine country, Verde y Crema serves imaginative dishes that adhere to Baja California's tradition of keeping it fresh and simple. Their ceviches and cooked dishes are a revelation and the restaurant's atmosphere is rustic and relaxing.
Related Post Link: AGringoInMexico.com

Craft Beer in Tijuana

Funes Craft Beer in Tijuana provides a wide array of tasty brews
Influenced by the craft beer movement just north of the border in San Diego, Baja California (and particularly Tijuana) are experiencing a craft beer revolution of their own. Imaginative brewers such as Cerveceria Tijuana, Border Psycho, Funes Handcrafted Baja Beer, Mamut and others are using local ingredients that challenge the traditions of European beers. An example is the Funes Saison, a Belgian ale with a twist. It uses a surprising, locally-sourced ingredient … rosemary.
Related Post Link: AGringoInMexico.com

WTF? Clandestine Dining in Tijuana's 'The Kitchen'

WTF? A 12-course clandestine dinner party at Tijuana's "The Kitchen."
Artist Josue Castro and Karla Navarro are holding a monthly, invitation-only, clandestine dinner in Josue's new 1,000-square-foot loft in Tijuana's Zona Centro, "The Kitchen." In attendance at the last event, called WTF? (Where's The Food?) were influential personalities in business, education, art, music and media. The 12 courses included a fantastic Halibut Burger on a bun infused with squid ink, and a Green Oyster with chicharron, spinach and roe (both shown).
Related Post Link: AGringoInMexico.com

Promoting the Cuisine of Tijuana

The Baja California Culinary Expo at the Tijuana Cultural Center
Mexico is a country of fiestas and events, and Tijuana is no different. In 2013, the second annual Baja California Culinary Fest was held in and around the city, featuring the region's artisanal food, premium wines and craft beers. Chefs such as Martin San Roman, Alenjandro Alvarez, Ryan Steyn and Javier Plascencia performed their magic at sold-out dinners. Other events such as the Latin Food Fest in San Diego highlight Baja's cuisine north of the border.
Discover more about the featured eats
Meet the author