Orlando: 12 Essential Eats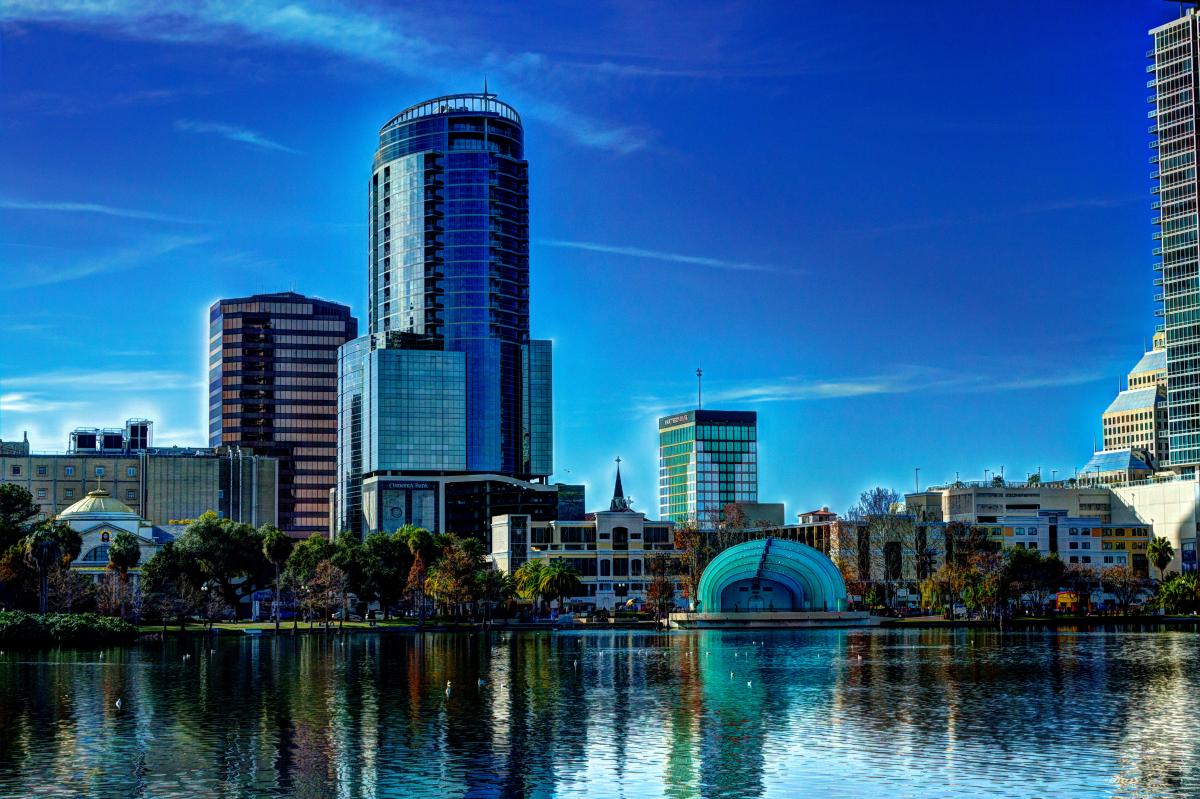 Courtesy of the City of Orlando
A world of culinary wonders await in the 'City Beautiful'
Some say Orlando wasn't really founded until a man named Walt Disney arrived in the 1960s. In addition to Walt Disney World, "The City Beautiful" is now home to Universal Studios, SeaWorld and a world-class convention center. It is one of the most visited cities in the world.
As an international destination, Orlando's culinary scene is much more than the giant turkey legs and overcooked hamburgers found at area theme parks. These days, it is known for having the most James Beard award-nominated chefs in the South outside of New Orleans, and the locally sourced, sustainable food movement runs strong here, particularly in the past 10 years.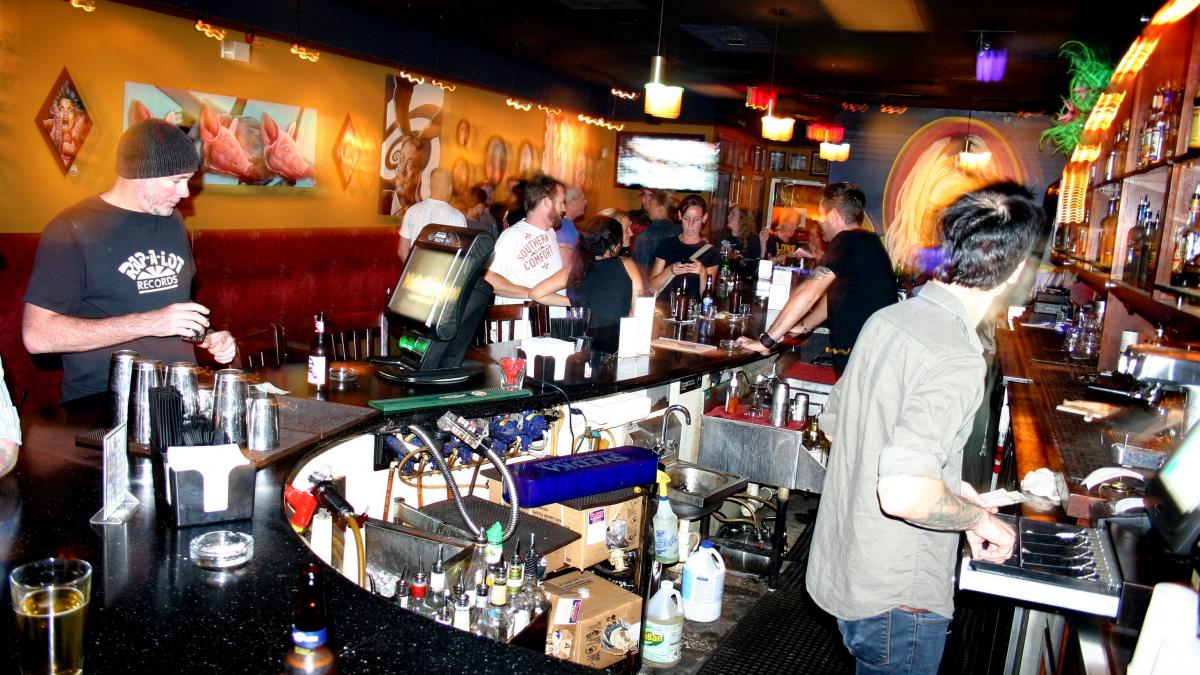 The hipster highway meets Little Vietnam in the Mills 50 district. / Courtesy of Rob Bartlett, Orlando Weekly
The ethnic immigrant communities have contributed greatly to the redefining of Orlando's culinary scene. The eclectic/hipster Mills 50 district, for example, is home to the largest Vietnamese American business and restaurant enclave in Florida. Here are some of the best eats Orlando has to offer:
Chicken and waffles at Cask & Larder. / Ricky Ly, TastyChomps.com
For their brunch, Cask & Larder's Nashville chicken and cornbread waffles is made with Bell & Evans chicken thighs that are brined, smoked, dredged, fried and, finally, tossed with a smoky spicy "Nashville Hot Chicken" rub. The rub was developed as homage to the original "Hot Chicken" from Nashville, Tenn. But don't worry if you can't make it for brunch. This "Southern Public House" helmed by James Beard Award-nominated chefs James and Julie Petrakis also has a version of the Nashville hot chicken for dinner.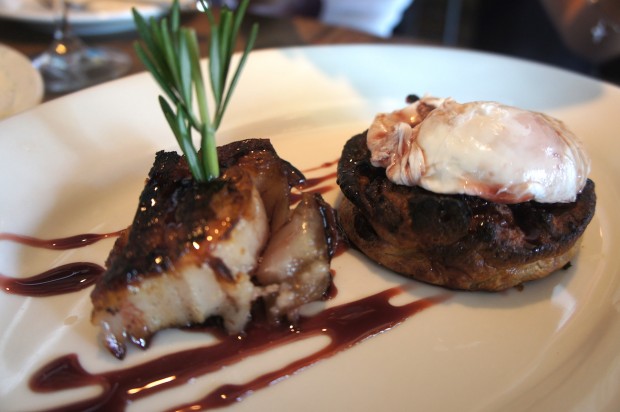 Kalimotxo Pork Belly is marinated in Coca-Cola and wine at Txokos Basque Kitchen. / Ricky Ly, TastyChomps.com
The menu at Txokos Basque Kitchen is seasonally driven by James Beard award-nominated Chef Henry Salgado's access to the East End Market vegetable garden, local, sustainable seafood and many talented Florida farmers. Txokos Basque Kitchen features authentic pintxos (small plates) from the Basque region of Spain, Spanish wines and an outdoor asador for grilling. The kalimotxo pork belly is a favorite, marinated in Coca-Cola and wine, a signature Basque cooking style. While you're here, check out the rest of East End Market's merchants, from the Kappo sushi bar and Olde Hearth Bakery, to Skyebird Juice Bar & Experimental Kitchen, Local Roots and Lineage coffee.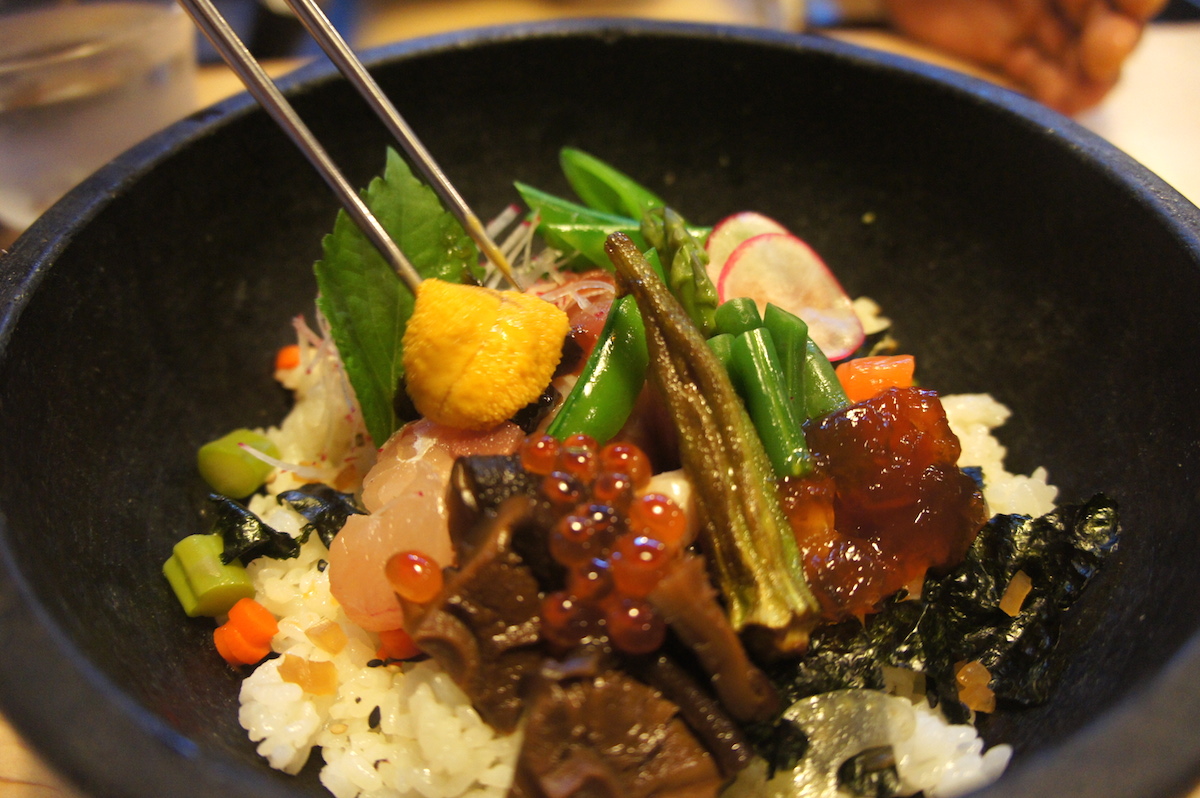 A chirashi bowl at Kappo blends rice with delicate seafood and fresh-from-the-garden vegetables. / Ricky Ly, TastyChomps.com
Started by three University of Florida graduates who trained at high-end restaurants from London to Tokyo, this seven-seat sushi bar serves up some of the freshest and most flavorful Japanese dishes in Orlando. You'd think you were sitting in a sushi bar in Tokyo's Tsukiji Fish market rather than in the heart of Orlando at the eclectic East End Market. Order the Kaizen Chirashi, a sushi rice bowl topped with delicate uni, slices of snowy grouper, salmon, tuna, ikura, roasted okra, simmered aubergine, gobo, takuan, nori, red round radishes, snap peas and sugar peas.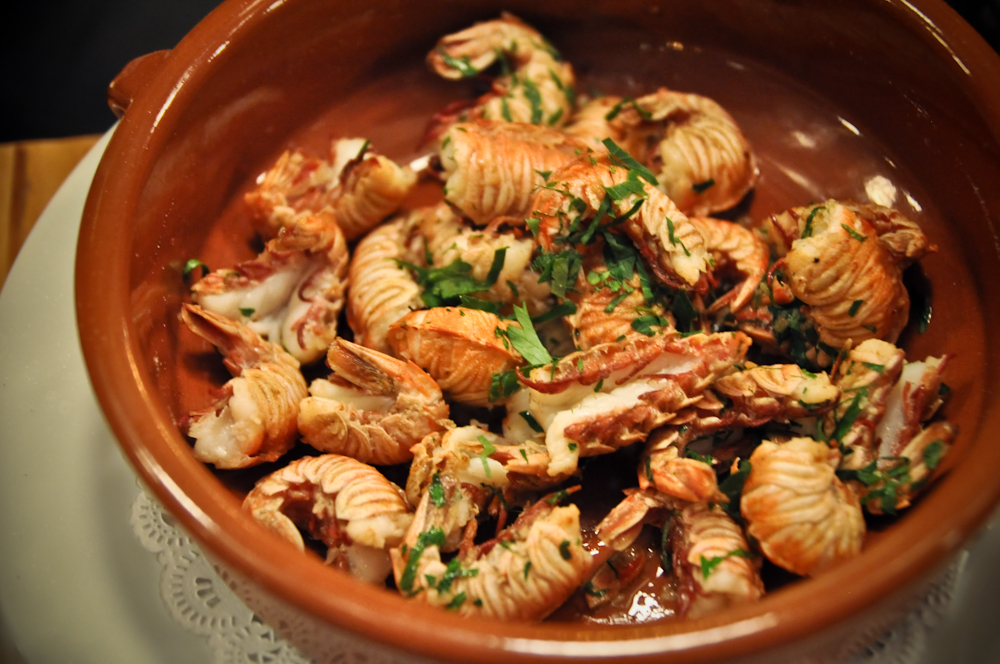 Crustaceans caught off Florida's coast find their way into Garlicky Rock Shrimp at The Pharmacy. / Ricky Ly, TastyChomps.com
From the same owners/chefs who opened The Table comes their latest restaurant concept — The Pharmacy. This 1920s "speakeasy" is open to the public — if you can find it. Hint – check for the elevator. Chefs Tyler Brassil, Loren Falsone and Dominick Tardugno spent more than a year secretly planning their concept restaurant that would transport guests back to the 1920s Prohibition era. From its mysterious unmarked entrance to its celebratory menu of locally sourced ingredients and handcrafted cocktails, Pharmacy's menu changes often. But some of the standouts include the bone marrow with oxtail and fig marmalade, house-made pastas and pizzas, and the garlicky rock shrimp, sourced just off the east coast of Florida near Daytona Beach.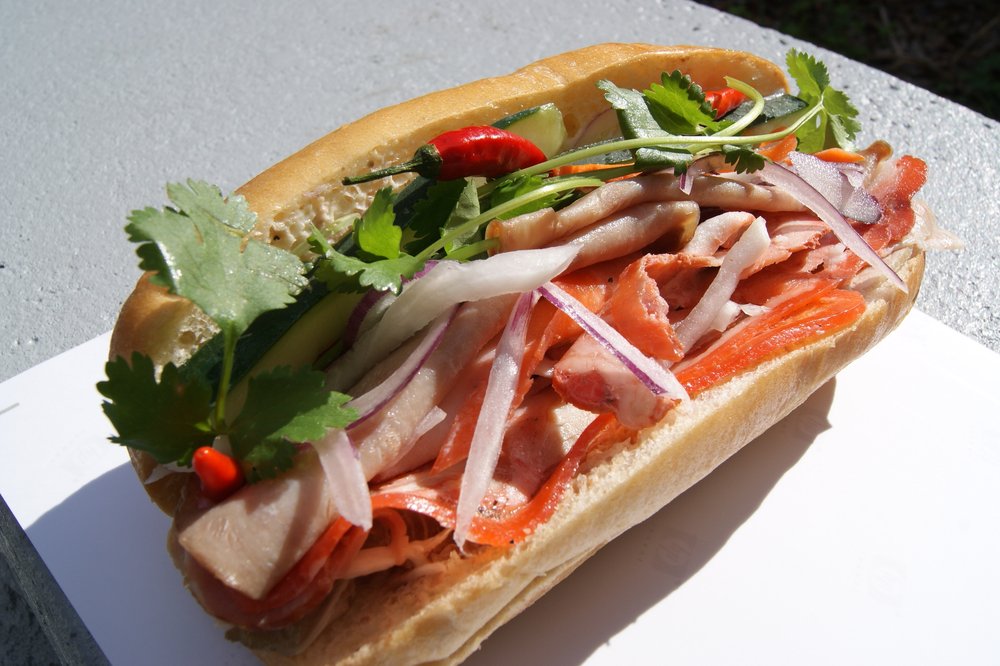 The Vietnamese Banh Mi at Bank Mi Nha Trang. / Ricky Ly, TastyChomps.com
It is not easy to find Banh Mi Nha Trang, tucked in a courtyard on Colonial Drive just east of the intersection with Mills Avenue. This unassuming hole in the wall is run by a lovable, friendly and always smiling Vietnamese lady. The shop sells homemade nem chua cured meat and cha lua pork rolls. But it specializes in banh mi Nha trang, a banh mi from the south central coastal region of Vietnam. Topped with a special garlic fish sauce and peppery goodness, the sandwich is full of various Vietnamese deli meats, like cha lua pork roll and char siu roast pork, pickled carrots and daikon veggies.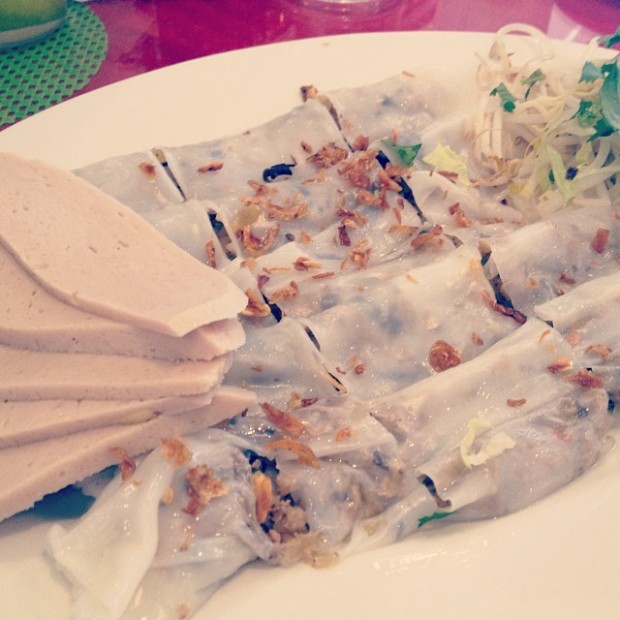 Ground pork and mushrooms fill silky crepes at Vietnam Cuisine. / Ricky Ly, TastyChomps.com
A visit to Orlando is incomplete without a stop at the Mills 50 District's Little Vietnam area, home to Florida's largest population of Vietnamese restaurants and businesses. Many of the pho bowls rival and beat those found in big cities like New York and Los Angeles. Take these Vietnamese rice crepes, called banh cuon. Made of supple rice noodle crepes stuffed with savory ground pork and wood ear mushrooms, topped with pork bologna and served with nuoc cham fish sauce, these "rolled cakes" are a silky taste of heaven.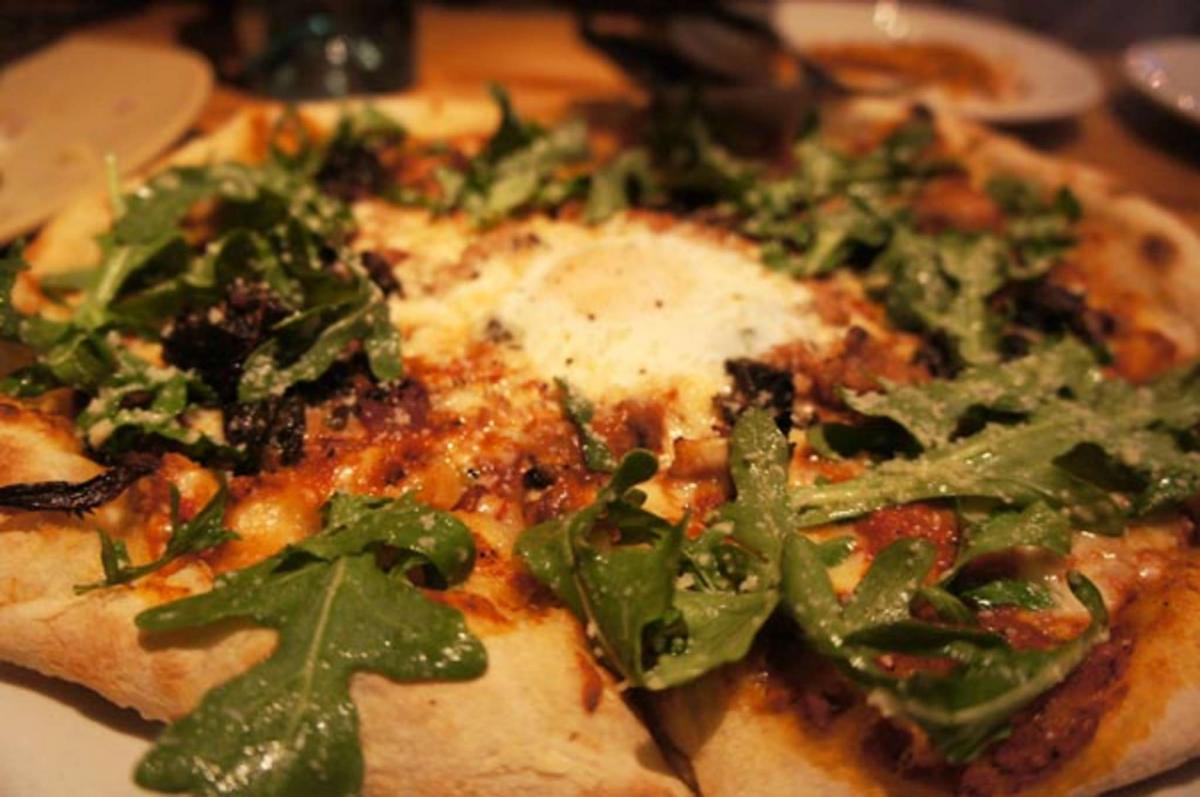 Award-winning chefs craft the Widowmaker Pizza at Prato. / Ricky Ly, TastyChomps.com
Helmed by James Beard award-nominated Chef Brandon McGlamery, a disciple of acclaimed Chef Thomas Keller of Per Se and The French Laundry, Prato in Winter Park celebrates cuisine from Italy's rich culinary landscape. The menu seamlessly blends Italian classics with modern techniques and seasonal ingredients, while the warm space welcomes guests with its contemporary design balanced by rustic elements, including a long bar, which encourages a vibrant and communal atmosphere. Definitely get the Widowmaker pizza, loaded with caciocavallo, romesco, fennel sausage and a whole farm-fresh egg baked in their wood-burning oven.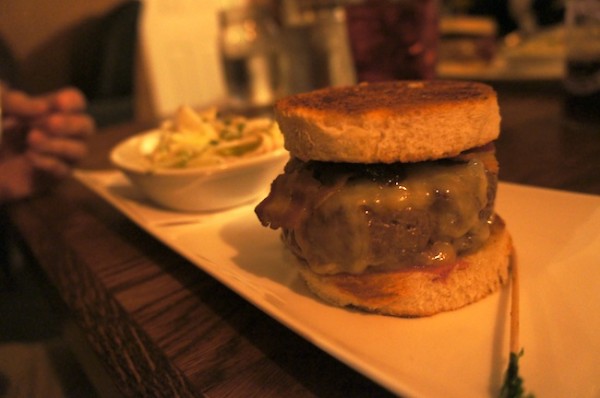 Smiling Bison Burger layers garlic aioli, smoked provolone, bacon and bison on Texas toast. / Ricky Ly, TastyChomps.com
The Smiling Bison's chef/owner Joshua Oakley has quite the resume. Formerly a chef at The Ravenous Pig and the Enzian theater, he brought his skills for making charcuterie, sausages and meats to the menu at The Smiling Bison. This popular Orlando restaurant with a hipster vibe and local food philosophy is home of the fabulous Smiling Bison Burger, a 6 oz. patty of natural bison, garlic aioli, mushroom ketchup, smoked provolone, house bacon and Texas toast.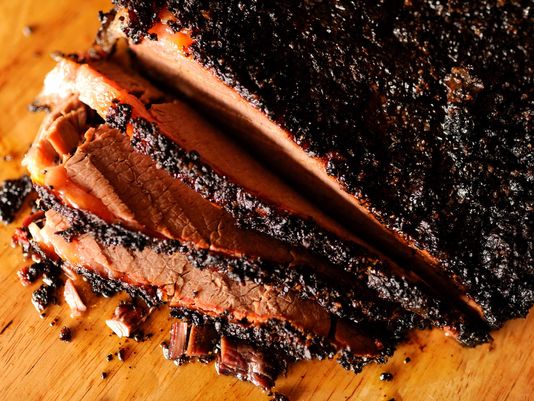 Brisket is smoked for 18 hours at 4 Rivers Smokehouse. / Courtesy of 4 Rivers Smokehouse
No visit to Orlando is complete without braving the Disney-style lines at one of Chef John Rivers' 4 Rivers Smokehouse locations in Orlando and getting some of its famous 18-hour smoked Texas-style barbecue beef brisket. 4 Rivers also is popular for its smoked St. Louis style ribs, pulled pork, smoked chicken, and such fabulous sides as bacon-wrapped jalapeños and cinnamon bread pudding.
Shaped like Mount Vesuvius, the pasta's unique shape helps scoop the butternut squash sauce. / Ricky Ly, TastyChomps.com
One of the strongest points at Fiorenzo, found inside the Hyatt Regency Hotel on Orlando's International Drive, is its house-made specialty pasta dishes. Take the Vesuvio pasta dish, a fabulous dish made with Vesuvio pasta served on a base of butternut squash sauce and topped with fresh sautéed spinach, sweet pear, shaved ricotta salata cheese and roasted pine nuts. These curvy, spirally, squiggly pasta are shaped to resemble Mount Vesuvius, the famed Italian volcanic mountain, and its shape helps scoop up the delicious sauce. The dish makes Fiorenzo an exciting stand-out among the area's Italian restaurants.
Fresh crab is layered with Peruvian causa at Ceviche House. / Ricky Ly, TastyChomps.com
Causa is a mashed yellow potato dumpling mixed with Key lime, onion, chili and oil. Varieties can have avocado, chicken, tuna (typically canned) or even shellfish added to the mixture, usually served cold with hard boiled eggs and olives. At Ceviche House, which specializes in dishes from Peru's Pacific coast, try the crab causa, made with the yellow potato mash and layered with fresh crab.
Ricky Ly is the Chief Chowzter for Orlando and the author of TastyChomps.com.
Pom Pom's Teahouse & Sandwicheria serves some of the most creative and scrumptious sandwiches in Orlando. The menu boosts more than 20 types of sandwiches. But it is most famous for Mama Ling Ling's Thanksgiving - a monstrous creation of turkey, ginger cranberry chutney, Gouda, stuffing, mashed potatoes and cream cheese served with a side of gravy. Now you can have that after-Thanksgiving dinner feeling all year round.
Recommended features by ExtremeFoodies
Meet the author