The World's Tastiest Burger
By ExtremeFoodies on May 11th, 2015
We are fresh from the 2015 ExtremeFoodies Global Awards ceremony, where we crowned the tastiest feasts around. The burger is a thing of beauty; a phenomenon. It deserves our respect. We give you the best burger in the world (drum roll, please…).
This is for the true burger-lovers and a glorious example of what works perfectly between two buns. Two medium-rare slabs of tender, rare-breed minced beef surround a block of rich black pudding. The locally sourced patties are dry-aged for about forty to fifty days, giving them an intense, beefy flavor. To finish: a melty slice of American cheese, burger scratch sauce, and a soft sesame bun. Simple, but so very effective.
The Bleecker Black deservedly takes the prize for 2015, but let's not forget the fantastic nominations that missed out: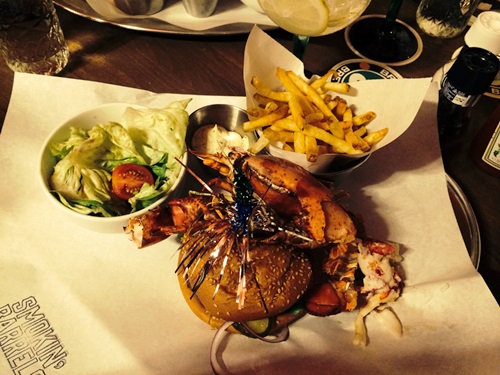 Photo: amsterdamfoodie.nl
Smokin Barrels specialises in surf 'n turf (the surf being lobster; the turf being burgers), but even among the dozen burgers that appear on Smokin Barrels' menu the Arie Gold stands out from the crowd. While the beef itself is exquisite, it's also topped with rich duck liver and a truffle and madeira sauce – pure decadence.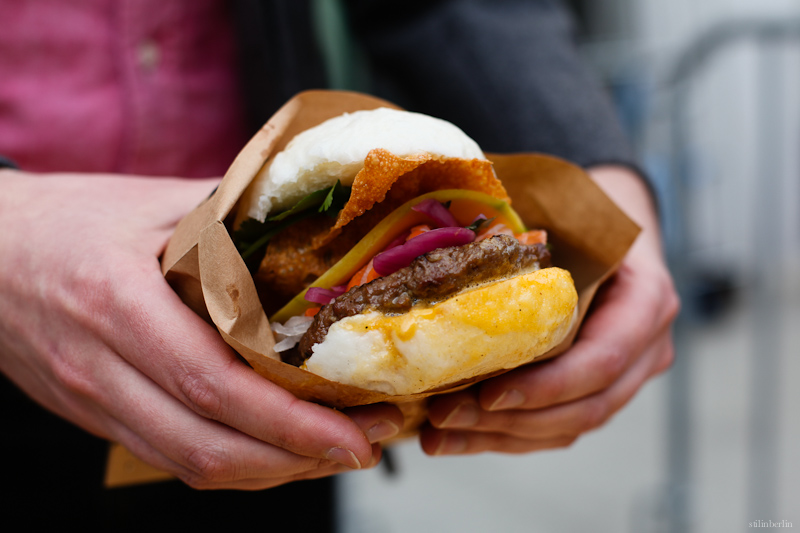 Photo: District Mot
One of the most special burgers you'll ever have: A succulent patty in a steamed bao bun with plenty of herbs, chili sauce, mango and crispy rice paper. Don't miss one of the city's most innovative eats at the coolest Vietnamese restaurant in town.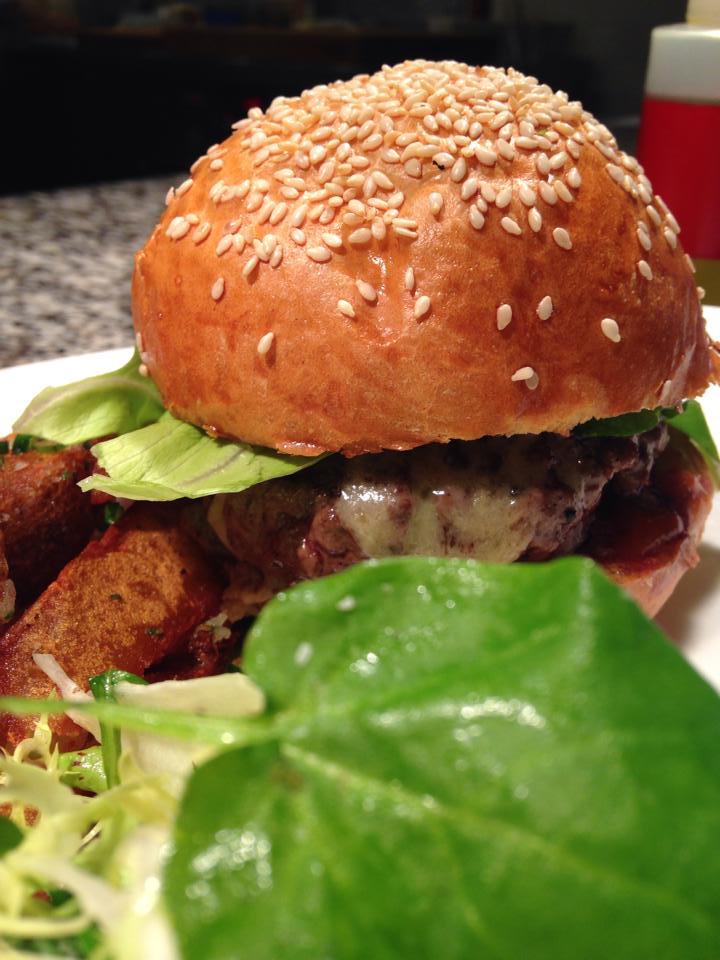 Photo: Craigie On Main
Off the menu and behind the bar Craigie serves only 18 burgers a day and they usually run out at around 6:30pm. To make up for the leanness of grass-fed meat, Chef Tony Maws adds pure beef fat, bone marrow and suet, into the burger mix. He also adds dehydrated miso paste for a kick of umami flavour. A combination of steaming in an oven and then griddling on a steel plancha results in a charred and juicy patty.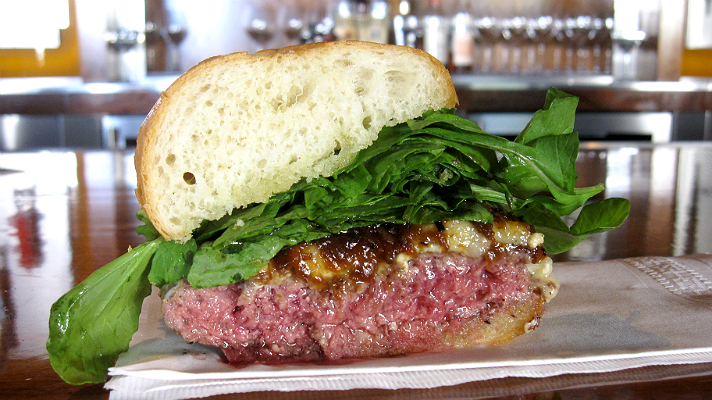 Photo: Joshua Lurie
Sang Yoon has developed a deep reservoir of dishes with Father's Office and Lukshon, but the chef's still best known for the signature burger at his pair of gastropubs. Dry-aged beef, Gruyere, Maytag blue cheese, arugula, caramelized onions and apple wood bacon compote find deft balance between a baguette.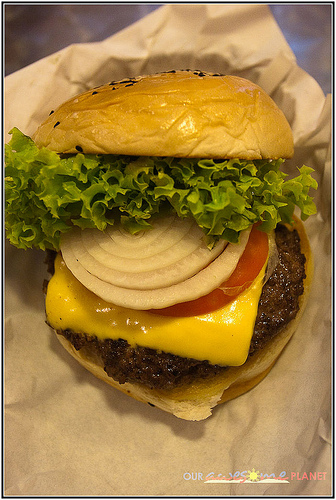 Photo: ourawesomeplanet.com
Voted as the best and innovative burger in Manila by most foodies, it is served with tomato and pickles (and fries, if you order that option).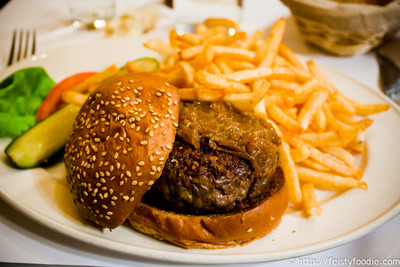 Photo: feistyfoodie.com
The Black Label Burger is masterful in its simplicity, with only a seared medium-rare patty made of prime dry-aged beef cuts with sweet caramelized onions. The burger appears on a buttery sesame-studded brioche bun alongside a single leaf of butter lettuce, tomato slices, a tangy pickle spear.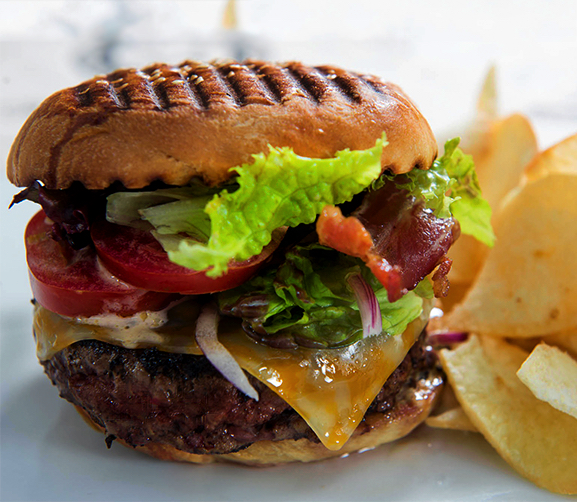 Photo: The Upper Crust
Chef Edna Cochez and her husband run this sandwich shop which makes everything in-house. Chef Edna is an accomplished baker and her artisan bread and desserts are exemplary. A perfect burger is made with Angus beef, served with Colby-Jack cheese and house made mayo sauce, of course the bun is homemade
Photo: zaatran.com
Known for the best hot dogs in town, but the real secret is the burger. A blend of juicy meat and animal fat dripping in a soft roll and instead of the classic lettuce-tomato-onion you get caramelized onion jam, aioli and arugula for a refreshing kick. Really not sure what makes it so good, but when you give the first bite and your mouth fills with meat juices you understand everything. French fries are a mix of potatoes & sweet potatoes with parsley and sprinkle of lemon zest. Heaven!
To see the rest of the award winners, click here.
Recommended features by ExtremeFoodies